INDEX
Day 2 - Hilton Orlando & Manny's Chophouse
Day 3 - Old Key West & Chef Mickeys
Day 4 - Magic Kingdom & Tutto Italia
Day 5 - Animal Kingdom & Outback Steakhouse
Day 6 - EPCOT & Captain's Grille
Day 7 - Discovery Cove
Day 8 - Disney's Hollywood Studios & Yachtsman Steakhouse
Day 9 - Boggy Creek Airboats & Kona Cafe
Day 10 - Premium Outlets & Marrakesh
Day 11 - Typhoon Lagoon & Stroll around The World
Day 12 - Magic Kingdom & DIS meet
Day 13 - Typhoon Lagoon & Chefs de France
Day 14 - Tax Free Shopping & California Grill
Day 15 - Disney's Hollywood Studios & Grand Floridian Cafe
Day 16 - Downtown Disney & Mama Melrose & Fantasmic!
Day 17 - Animal Kingdom & 50's Prime Time Cafe
Day 18 - Magic Kingdom & Disney Hollywood Studios & Hoop Dee Doo Review
Day 19 - Mall @ Millennia & Narcoossee's
Day 20 - EPCOT & Teppan Edo
Day 21 - DTD & Yak N Yeti & Magic Kingdom EMH
Day 22 - Pop Century & Magic Kingdom & Crystal Palace
Day 23 - Goodbye OKW - Hello Disney Dream
Day 24 - Nassau - AquaDuck - Senor Frogs - Enchanted Garden
Day 25 - Castaway Cay - Royal Palace - Pirates in the Caribbean Party
Day 26 - Palo's - Royal Palace - Farewell Party
Day 27 - Farewell Disney Dream - Hilton Orlando Bonnet Creek - Cheesecake Factory
Day 28 - Pool Day - Outback Steakhouse - DTD
Day 29 - THE FINALE - Farewell Disney for 2011
Day 1 - Outbound Journey & Hilton Orlando
Hi folks
………….I'm back with volume 2 of my trippie memoirs "
2011 – What day is it?
" tour
Here is the cast list
Nigel (DISWolves) – me
Sue – DW
Emma – DD.
I am writing this first part, whilst 40,000ft above the Atlantic. Please excuse the odd missing letter, but the big guy in front of me, is convinced he is in a rocking chair!....anyway, back to the important stuff..
Three days prior to departure, whilst at work, I received a call from VA asking if I would be interested in upgrading to PE on the outbound journey for the cost of £179 each. After sleeping on it, I decided to go for it. I gave VA a call the following day and before booking, made enquires of the option of seating in the bubble. I was told that a certain number of seats where held back for check-in at the airport on the day. I did not have my credit card with me at the time of the call but the VA rep said he had a credit card registered against my booking, if I could confirm the last four digits. I did this and the booking was made. I was also advised that a new e-ticket would be emailed to me. The following day, I had not received the email, so I check online. My booking was showing PE both ways. I decided to give VA another call about the missing e-ticket. They offered to resenD it.
Twenty four hours to go, OLCI…..VA page open……….shock horror !!!!!
"Unable to reserve seats – use check in at airport". I guessed this may have been due to the late upgrade, so no problem!.
The day finally arrived and we decided to get any early start, to enable us to arrive at check-in early and bag some seats in the bubble. I received a text from Mart (burt) who was at Gatwick, waiting to start his long haul.
I forgot to mention, I had pre-booked car parking at Manchester T2 Long Stay.
The evening before departure, I received an email from Manchester Airports Car Parks offering a FREE upgrade to T2 multi-storey. For those of you who don't know, this is a minute walk from the terminal building. I duly followed the link in the email and guess what………."unable to process request due to 0 days to go". I made a quick phone call (at 10p/min) to their customer services, only to be told that it was due to my booking being less than 3 days out and it was a general flyer sent out to it's customers. Not happy with the outcome, I fired off an email to the Customer Services manager, expressing my disappointment and also congratulating him on a marketing ploy, generating lots of 10p's from telephone calls of dissatisfied customers.
Arriving at the airport, my trusty TomTom guided us safely to the car park and we were soon heading toward the terminal building on the courtesy bus.
Check in was open, so we headed to PE check-in desk and handed over our passports. I asked if we could be seated in the bubble. The lady at the desk looked a little coy and said she needed to make a phone call. Things weren't looking too good!.
At this point, the assistant manager arrived, to advise us that seating was only available down stairs and that we would also be split up. I said we would travel in Economy and have a full refund. He said that I would need to apply for my money back and that it was not guaranteed.
At this point I advised him that me and Mr Branson would be having half a day out at my local court.
A large queue was now and not being one to hold back, I gave him both barrels. I realise that seats are not guaranteed, but did he honestly think I would give up 3 seat together, booked in October, to be split up and have to pay £537 for the privilege?.
When I mentioned that I had the name of the person who had sold the upgrade, things took a turn for the better. We were ushered across to another desk, where at one point, the manager had two phones on the go!. To my relief, he assured me that the money hadn't been taken and he would sort some decent seats in Economy. It turned out that we were 2 rows behind PE, which wasn't bad!
We then did a quick tour of duty free before having breakfast at ??????
Our plane today was Ruby Tuesday and we were boarded and ready for take off – bang on time.
The flight was uneventful, except for Emma knocking over a cup of water
and the fidgety guy in front of me, banging back and forth on the seat. It was rather unfortunate though, each time he dropped off to sleep, I needed to stow my table away, which was rather stiff, and as you can imagine, took quite a bit of force to close it each time.
We landed in Orlando about 30 minutes ahead of time and we were off the plane in no time owing to being seated near to PE section. On to immigration and yet again, we sailed through in minutes. Luggage appeared quite quickly (better than last year!) and we headed off towards the monorail in search of our rental car. I had pre-booked an SUV with Thrifty via Netflights and for some reason, thought I should collect direct from the garage. I was soon directed back up into the main building for some hard sell. You can usually tell from the opening sentence if the guy behind the desk is feeling lucky!. "Good evening sir – is this your first visit to Orlando?" " No – it's my 10th or 11th – not sure exactly" . With plan A out of the window, he proceeded to issue the paperwork. "just press O.K. 5 times on the machine and sign your name". During each button press I carefully read the wording. "I do not want SunPass thank you" . He replied "Do you know that some tolls are unmanned with no option for cash or credit cards?" "Thanks for letting me know – I will now program my sat nav to avoid all toll roads!". With this, he passed over the paperwork and I headed back over to the garage to select a car from a choice of about 4 vehicles. I eventually went for a high spec Ford Edge with about 400 miles on the clock. With luggage loaded, we headed off to check in to the Hilton Orlando at Bonnet Creek. The hotel was a lot better than I had expected. It has massive conference facilities, a Disney store, Gym and best of all, a superb lazy river and pool which also shows Disney films on large screen each evening. The only downside is $13 per day to park in the multi-storey car park which is located next door to the Waldorf Astoria. Our room was on the 16th floor and we had a super view looking toward Cirque and Downtown Disney. Once inside the room I took a few photos and then headed back out to Walmart (US192) to get a few supplies, since the Hilton wanted to charge $5 for a small bottle of water in the room. As we were about to head towards the check out, the store was plunged into total darkness. A few screams pierced the air, and an announcement was made, asking us to head to the exit doors. We left empty handed (although I am not sure everyone else did!) and we headed back to our short term home, to call it a day.
Here are a few pics of our room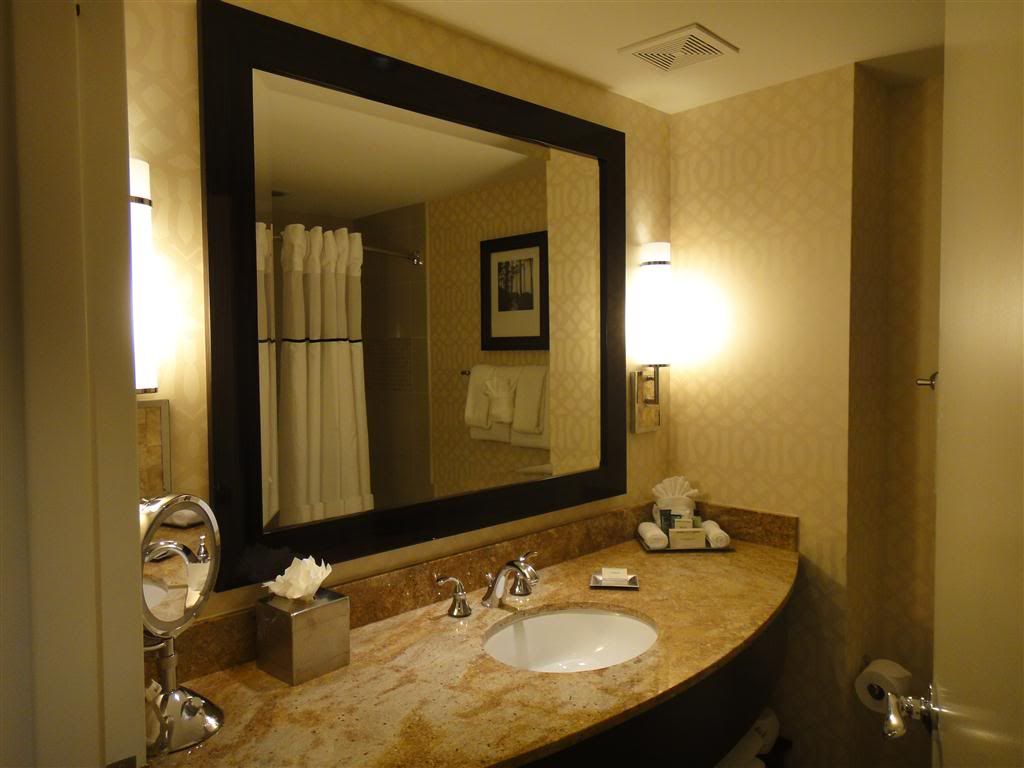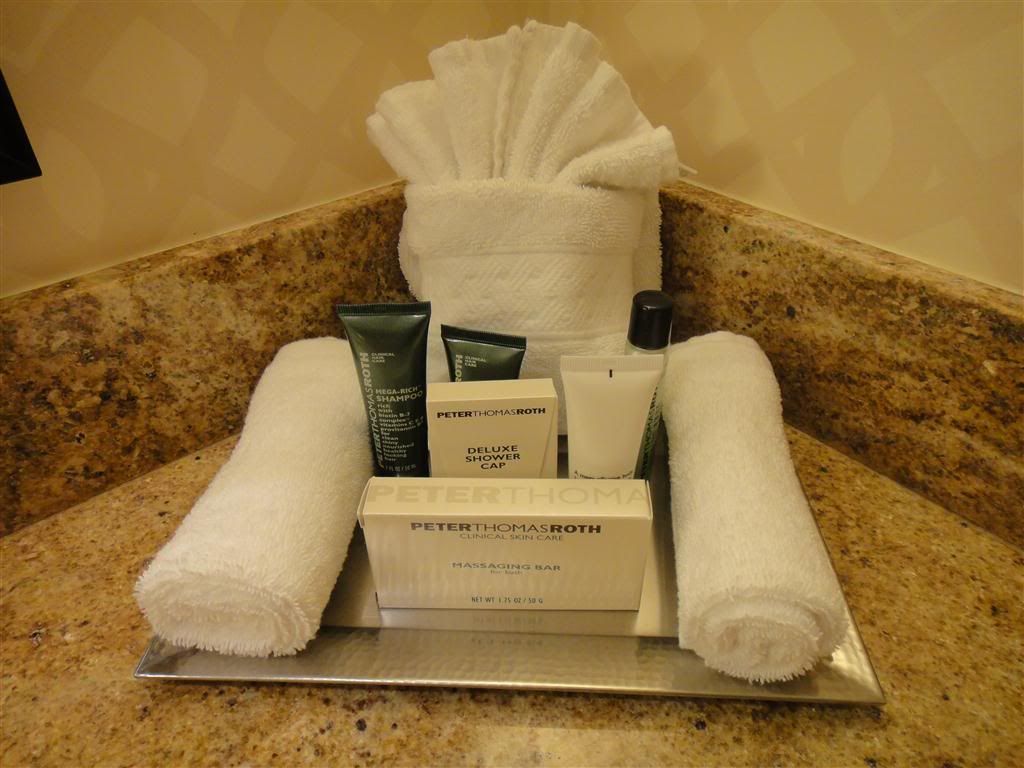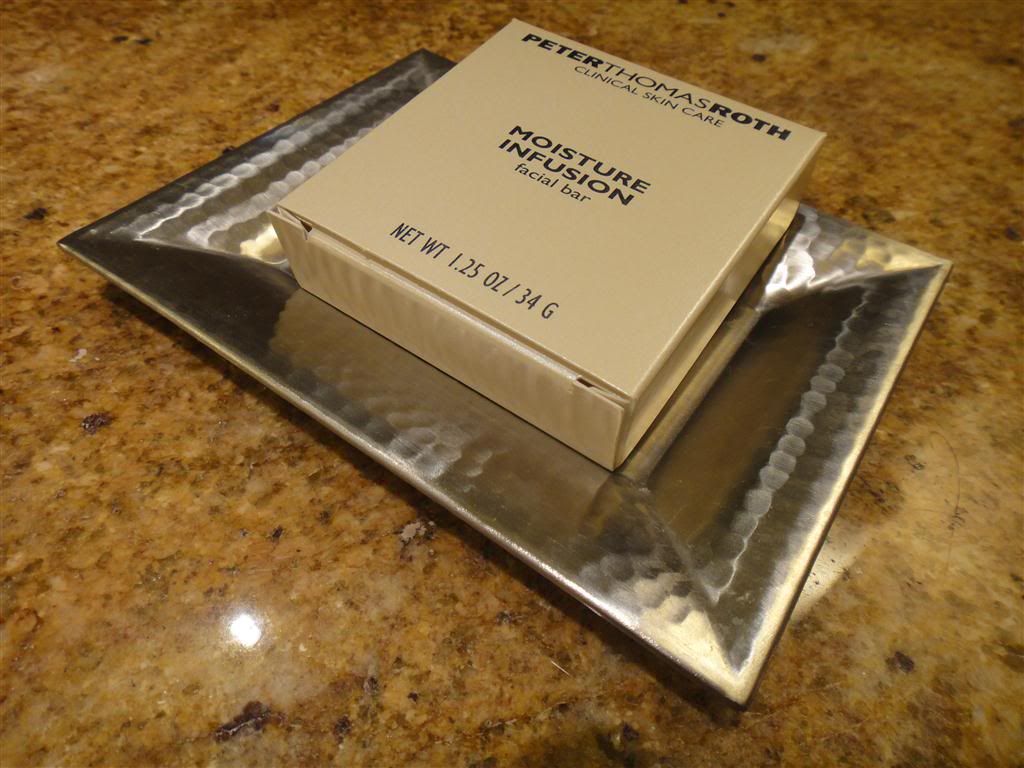 Coming up on the next instalment…….....
Day 2 - Hilton pool day & Manny's Chophouse
(with plenty of pics).