The Force is strong with this Podcast Correspondent

Join Date: Aug 2005
Location: Rochester, NY
Posts: 7,520
Official thread for "Oz The Great And Powerful": coming March 8, 2013
---
Walt Disney Pictures announced "Oz The Great And Powerful" will be coming to theaters March 8, 2013
"OZ THE GREAT AND POWERFUL"
BEGINS PRODUCTION IN MICHIGAN


James Franco, Mila Kunis, Rachel Weisz, Michelle Williams

Topline Sam Raimi's New Fantasy Adventure

From Walt Disney Studios press release:
Quote:
Pontiac, MI., July 25, 2011—Walt Disney Pictures' fantastical adventure "Oz The Great and Powerful," directed by Sam Raimi, went in front of the cameras at the brand-new Raleigh Studios in Pontiac, Michigan, on Monday, July 25, 2011, boasting a stellar cast that includes Academy Award® nominee James Franco ("127 Hours") as the young wizard, Golden Globe® nominee Mila Kunis ("Black Swan") as the witch Theodora, Academy Award® winner Rachel Weisz ("The Constant Gardener") as Kunis' sister Evanora and two-time Oscar®-nominated actress Michelle Williams ("Brokeback Mountain," "Blue Valentine") as Glinda, the Good Witch.

The cast also includes Emmy® and Golden Globe® nominee Zach Braff ("Scrubs," "Garden State"), who will play Franco's circus assistant as well as lend his vocal talents to one of the CGI creatures in the story — Finley, the winged monkey who accompanies the magician on his journey to Oz; and 12-year-old actress Joey King ("Ramona and Beezus"), who will voice another CGI character in the story, China Girl, who also joins the future Wizard on his excursion through Oz.

"Oz The Great and Powerful" imagines the origins of L. Frank Baum's beloved character, the Wizard of Oz. When Oscar Diggs (James Franco), a small-time circus magician with dubious ethics, is hurled away from dusty Kansas to the vibrant Land of Oz, he thinks he's hit the jackpot—fame and fortune are his for the taking—that is until he meets three witches, Theodora (Mila Kunis), Evanora (Rachel Weisz) and Glinda (Michelle Williams), who are not convinced he is the great wizard everyone's been expecting. Reluctantly drawn into the epic problems facing the Land of Oz and its inhabitants, Oscar must find out who is good and who is evil before it is too late. Putting his magical arts to use through illusion, ingenuity—and even a bit of wizardry—Oscar transforms himself not only into the great and powerful Wizard of Oz but into a better man as well.

The film will be produced by industry veteran Joe Roth, along with executive producers Grant Curtis (the "Spider-Man" trilogy, "Drag Me to Hell"), Philip Steuer ("The Chronicles of Narnia" series) and Palak Patel. The screenplay was written by Mitchell Kapner, ("The Whole Nine Yards") and David Lindsay-Abaire ("Rabbit Hole," "Robots").

Raimi has assembled his own band of technical wizards and movie magicians on the project, which includes cinematographer Peter Deming ("Mulholland Dr.," "Drag Me to Hell"), two-time Academy Award®–winning production designer Robert Stromberg ("Alice in Wonderland," "Avatar"), Oscar®-winning film editor Bob Murawski ("The Hurt Locker," the "Spider-Man" trilogy), veteran Oscar®-nominated costume designer Gary Jones ("Spider-Man 2," "The Talented Mr. Ripley"), visual effects Oscar® winner Scott Stokdyk ("Spider-Man 2," "Spider-Man") and Academy Award®–winning special makeup artist Howard Berger ("The Chronicles of Narnia" series), who will create the looks of several of the unique denizens of Oz, including creatures such as the Whimsies, the Tinkers and the Winkies, as well as the ghastly look of the Wicked Witch of the West.

Production on "Oz The Great and Powerful" will take place entirely on site at the new Raleigh Michigan Studios, the 200,000 square foot sound stage facility in Pontiac, Michigan, once the location of General Motors' Centerpoint business campus and truck manufacturing plant.

"Oz The Great And Powerful" will be released through Walt Disney Studios Motion Pictures on March 8, 2013.
__________________
Dave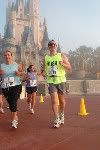 2010
WDW Half Marathon; Mickey's Halloween 5K; Wine&Dine Half Marathon
2009
WDW Half Marathon; Muddy Buddy Orlando
2008
Inaugural Exp Everest Chall
2007 Marine Corps Marathon 4:28:50 PR (Thanks again WISHers!)
2007
WL WDW Marathon 5:05.08 (Thank you WISH Racing Team!)
---
Last edited by Mouse Skywalker; 07-26-2011 at

02:25 PM

.