A Grand Dream of a Honeymoon – June 2011
Introduction
Hello everyone and welcome to my trip report about our Disney honeymoon!
Itinerary
June 20th: one night at Kidani Village, Animal Kingdom Lodge
June 21st – 26th: five night cruise onboard the Disney Dream ship to Nassau and Castaway Cay
June 26th – July 3rd: seven nights at the Grand Floridian, Royal Palm Club concierge level.
Who's Who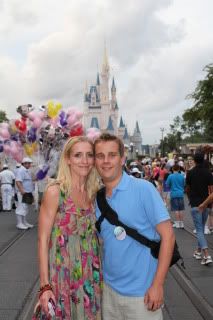 Me – Emma
Huge fan of all things Disney… this was my twelfth trip to Walt Disney World and first ever cruise. I always knew I wanted to go to WDW for my honeymoon… and luckily I found a man to marry who agreed we could go!
DH – Steve
Not as much of a crazy Disney fan as I am, but he definitely enjoys the parks and Pixar movies. This was his seventh trip to WDW and also first ever cruise.
After an absolutely wonderful wedding day on the 18th of June – it was time to start our married life together in the most magical place on earth!
Monday June 20th 2011
Travel Day and Kidani Village
I barely slept the night before we left for Orlando – my mind was full of memories of our wedding day, and anticipation for the next two weeks!
We got up at 5.45am and left the house about 6.30 – my cousin and her husband had offered to take us to the airport which was really nice of them.. despite it being a Monday morning the traffic wasn't too bad and we got to London Gatwick airport about 7am.
My cousin gave us these luggage tags to put on our bags:
As it was our honeymoon, we'd decided to book Premium Economy seats with Virgin Atlantic – I'm so glad we did this as it made the long journey to and from Orlando much more pleasant and exciting!
There was a separate check-in area for PE customers with no queue at all – so we were quickly checked in, giving our boarding passes and also 'fast passes' through the security line too! There was an hour delay on our flight but we weren't too worried about it.
Once we were through security we bought some bottles of water and a box of chocolates (we buy these to give to the cabin crew on our flight). Then we went upstairs to look for somewhere to get breakfast.
As a surprise for my husband.. I had booked for us to use the Sky Traveller lounge! I saw the sign for 'airport lounges' and luckily we were headed that way anyway – so just as we approached the entrance, I said "let's look in here for some breakfast"
He laughed and said "I wondered what surprises you would have lined up for me this holiday" (he knows me too well!)
We checked into the lounge, we have used the Virgin Holidays 'V Room' before and this was quite similar, but aimed more at business travellers and adults, whereas the V Room is designed more for families.
We found a place to sit down.. and within a few moments, a waiter brought over two glasses of champagne and said 'Congratulations'!
Even though it was 8am, we just about managed to drink the bubbly
For breakfast, I had poached egg on a muffin, and Steve had a bacon sandwich – there was also tea, coffee, juice, cereals, fruit and pastries available too.
We phoned our parents to let them know we had made it to the airport with no problems – and looked out the large windows at the planes!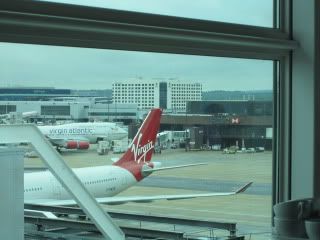 We moved to some comfy sofas and sat there for about an hour – Steve had a nap while I caught up on texts & emails from friends and family about the wedding.
At one point, I glanced up at the departures board.. and saw "Virgin Atlantic… Orlando… cancelled"
Luckily I re-read it and noticed that was for the 1pm flight to Orlando, not ours!
About 10.30am we headed out to the departure lounge and Steve bought some new sunglasses – and soon we had a gate number for our flight so we walked over to it.
Once again – we had a 'fast pass' queue into the gate for being Premium Economy!
We waited 10-15 minutes and then the flight began boarding – we were among the first groups to be called up, so we were onto the plane and heading upstairs to the PE cabin!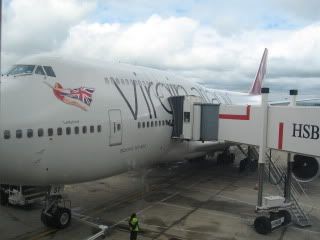 The seats were significantly bigger in this area – and there were only two seats per row, as well as storage 'boxes' along the windows, these were really useful for putting the blankets/pillows and other belongings in during the flight.
We were offered champagne, bucks fizz or orange juice by the crew.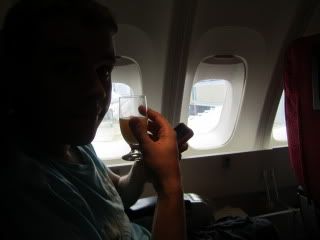 I gave one of the flight attendants the box of chocolates – she was really surprised and said thank you, and that they would 'look after us' on the flight.
After take off, we were served a drink and then handed a lunch menu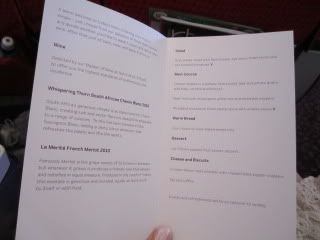 We found the food to be so much better than standard VA economy food – it was served in china plates and bowls, real glasses and we had metal cutlery too! We both chose the chilli con carne, it came with an orzo salad and passionfruit dessert.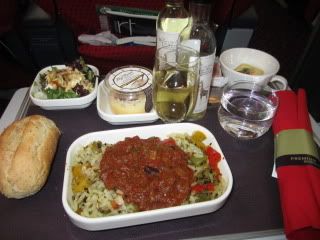 After the meal, there was then a choice of a glass of brandy or Bailey's.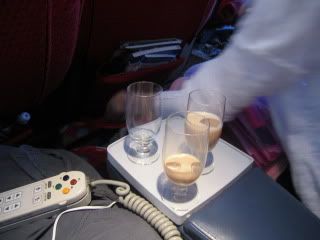 During the flight, they also gave out plenty of glasses of juice or water, there were hot lemon-scented towels handed out, small tubs of icecream and also a basket of fruit! A couple of hours before landing we were also served an afternoon tea of sandwiches, tea/coffee & a cookie.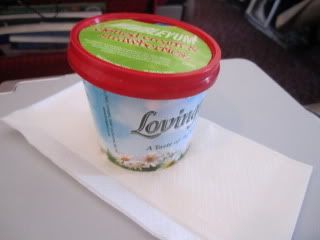 As another little surprise for my husband, I had ordered a bottle of champagne as a present for him on the flight… he was very surprised! The flight attendant said that she'd had it chilled since the start of the flight, if we wanted to drink it now… but we decided to save it to have during our trip. She then noticed the gift card said 'Happy Honeymoon' and said to us "I didn't think you two looked old enough to be married!"
She put the champagne in a bag for us to take off the plane – and with it she put another bottle, as a gift from the crew (I don't think we've ever drunk so much champagne as we did during the wedding/honeymoon weeks!).
A lady sat in front of us turned around and congratulated us on getting married – she asked us how the day had gone; weddings seem to make everyone happy & talkative.
Keeping track of how far we were from our destination…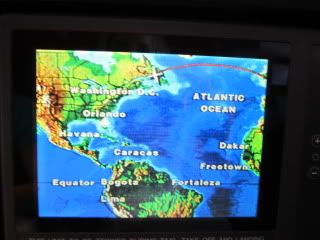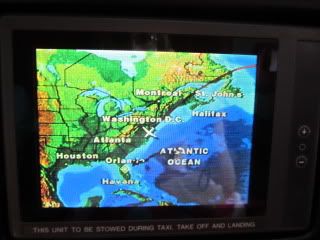 During the flight, the main attendant announced that they were holding two competitions for the passengers (never had this before even though we've flown many times with VA) – for the adults, we had to guess the combined age of all the crew; 3 pilots and 14 crew… and for the children, they had to draw their favourite Disney character. I thought this was a great idea and near the end of the flight the winners were announced!
The flight felt like it went quite quickly, we both watched Little Fockers – then Steve also watched The Fighter and then The A Team on his laptop, I listened to my ipod for a while & slept.
Apart from a few patches of turbulence over Canada and Delaware, it was a really smooth flight – we both really enjoyed the PE cabin and agreed that it made the journey to Orlando enjoyable, rather than something that just has to be done to get to Disney! Being in the upstairs cabin was great too, it was easy to think we were on a small plane – forgetting that there 300 people sitting below us! Every now and then a pilot would come out of the cockpit to speak to the crew, something you don't normally see!
We landed at MCO about 3.40pm – another perk of being PE is being among the first off the plane – we've become experts at weaving through groups of people and making our way quickly to immigration! The line wasn't bad at all, there were screens playing a 'how to get through immigration' video, which was followed by the Epcot Illuminations music.
The immigration officer asked us 'what relation we were' to each other – and we both grinned when we said "husband and wife" – he looked up and said "is this your honeymoon? … congratulations!"
Our suitcases had priority labels on them so they were among the first to come around the carousel… so very soon we were through customs and on the monorail headed to the terminal!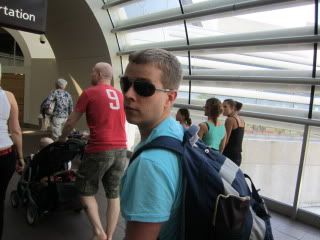 We met our FL Tours towncar driver at the bottom of the escalators, and he led us out to our car.
He mentioned that it had been very hot in Orlando the last few weeks.. he was right, the temperature gauge in the car was reading 100 degrees!
Within 30 minutes, we were driving under that wonderful gateway – and into Walt Disney World!