DIS Veteran
Join Date: Mar 2007
Location: Maryland
Posts: 4,958
We Strapped Sea Turtles to Our Feet! A Summer of Sea & Shore - 11/13 x3 FINISHED!!!!!
---
HELLO!!!!!!!!!!!!!!
Well, here we are! Welcome to the latest edition of a Happy Dog Disney Trip Report! Let's hear it for SUMMER of 2011!!!


We did so many new things on this trip!
I can't wait to share all the fun with you! A quick shout out to all my DISer friends, those of you who have followed me around on all these crazy trips to Disney, AND to any and everyone else who happens to stumble into my madness!!!
Please make yourself known!!!

This trip spans a little over two weeks, and includes stays in FOUR different Disney locations....

We spent FIVE nights aboard the fabulous Disney Dream (my second cruise on this amazing ship)...


We spent FIVE nights at Disney's Vero Beach resort in a one bedroom villa... the first time we have every been to Vero or this resort!!!


We spent ONE very interesting and fun night at Fort Wilderness, and YES, drum roll please, we SLEPT in a TENT!!!

Finally, we spent ONE lovely evening at the Animal Kingdom Lodge in a Jambo house studio.

We have had some pretty great experiences at Disney, but this one definitely goes down in our travels to date as one of the more UNIQUE trips we have been on! UNIQUE for locations and new experiences, but also because we continue to be amazed with all that Disney has to offer before you even step into the parks. So with that quick introduction to our amazing summer trip, Lets get this BOAT out of dry dock!


Who is the Happy Dog Clan? Well.... allow me a quick introduction of the crew .... here is my DH and I, at one of our special evenings at Palo's... Sorry guys, this is a photo of my photo!!!
There is a little glare, but this is DH and I on our second night of the five night cruise! Tan, relaxed, and fully fed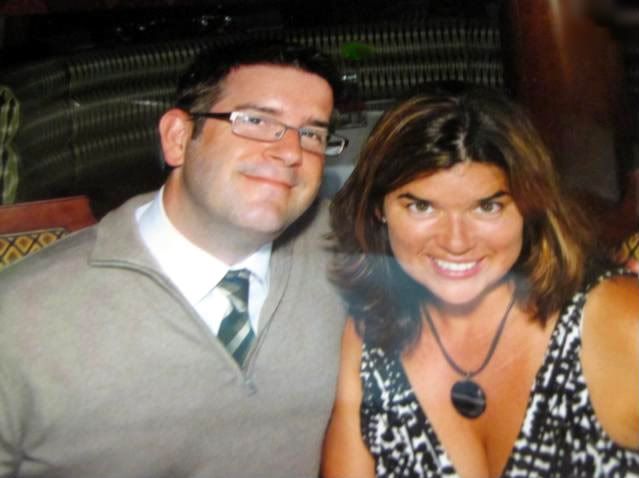 And then our two little pirates...
Two boys, who just turned 6 and 9, and actually did have birthdays a week before we left on the ship!! They are not the best photography subjects, consequently I have a lot of candids of these two
... I have to snap quick!


First, DS6 he is quite a handful of fun, and a bundle of energy, and with too much creativity for his own good.... hence the title for this TR.... strapping sea turtles to his feet became the adventure he was seeking, a'la POTC... and though it didn't exactly materialize as he expected, we did manage something similar....
hey, if it is good enough for Jack Sparrow, it is good enough for him!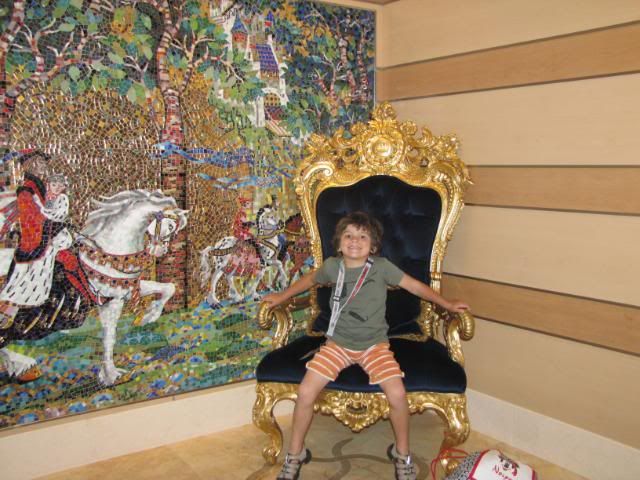 Then my older more photography-complacent child, DS9. Again too much creativity for his own good, and perhaps those fencing lessons were not the best decision we ever made, especially since he likes to "practice" on everything...
and the pirate theme on this trip certainly was inspiration!!!
But nevertheless, he does enjoy all our trips to Disney and especially, as of late, loves the Jack Sparrow character and the POTC movies... over and over and over again.


If you want to know more about us and the trips we have taken as a family and solo, please check out any of the links below! Otherwise I hope you have as much fun reading along as I will have writing!! This one promises to be a fun one!
__________________
Twas the Night BEFORE Christmas 09?!PTR!
Ho Ho Ho!Away we go!A WDW Christmas 09 TR!
All aboard a WONDERful TR!
Boo to YOU! Sept 09 TR
WDW 4th of July 09 PTR!
I Want to Ride the Cotton Ball! July 4th 09 TR!
Snow, Savannah, & NO School! Feb '10 TR
Christmas fix MVMCP 2010 TR
One Family, One Year - a June '10 PTR
The Ingredients for Pixie Dust - June '10 TR
Disney-Landing Halloween - a Halloween '10 PTR/TR
Dream for two - Feb '11 TR
Summer of Sea and Shore - June '11 PTR
Strapping Turtles on our Feet! - June/July '11 TR
MY MAGICal Black Friday Thanksgiving Cruise - Nov '11 PTR/TR
Oct 2000 - Disney Magic 7 night cruise * Oct '03 - Contemporary * Oct '05 - WLV * Nov '08 - SSR * June/July '09 - OKW * Sept '09 - CBR * Dec '09 - BCV * Feb '10 - AKL * Feb '10 - Disney Wonder 3 night Cruise/Disney HH * June '10 - BLT/BCV * Oct '10 - Grand Californian * Dec '10 AKV - Kidani *
February '11 - Disney Dream 4 night cruise/BLT * June '11 - Disney Dream 5 night cruise/Disney's Vero Beach/Ft. Wilderness/AKL Jambo * Oct '11 - WLV/SSR * Nov '11 Disney Magic 7 night cruise * February '12 - Disney Dream 4 night cruise/AKL Jambo * June/July '12 - BCV/WLV * Nov '11 Disney Fantasy 7 night cruise *
---
Last edited by Happydog; 11-13-2011 at

08:23 AM

.