Hi.
After a self-imposed DIS hiatus after my last trip, I'm back and ready to start planning my next Disney adventure.
I'm Leslie, known as LL on the DIS. I'm 29, married to Marc, originally from Maine but living in Massachusetts for the last 4 years. I love to read, take photos, Sex and the City, Dexter and have been known to be crafty as in crafts.
My traveling partner is my husband, Marc. Age 30, has a great sense of humor, indulges my Disney-mania, loves music and cooking.
I have been to Disney 9 times, FIVE times since September 2008, Marc has been twice in that time, three times total. After my January trip of this year, I put myself on a self-imposed Disney hiatus. I told myself NO more Disney trips in 2011, so that I could focus on my weight loss and some financial goals.
Things have been going well. Marc & I have been able to pay some of our debts off, not done but a lot closer. Plus we have been kicking butt on the weight loss front. We both of the Realize Band (gastric band) that has helped us to lose a combined 250lbs in almost two years. Since my January trip I have lost almost 40lbs myself.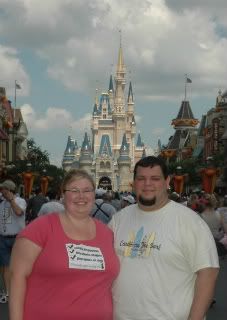 Marc & I on our first Disney trip together, September 2008.
September 2010.
A picture of us last month.
We've come a long way in our weight loss and financial goals and to celebrate our 3rd Wedding Anniversary this week, we have decided to give ourselves a Disney Trip!
But, it's going to be a very different trip for us. Normally we just wing the financial aspect of it and this time we want to be well prepared and know exactly what we are spending on this trip, from Trip Notebooks to Park Tickets. I hope you will join us for all the planning fun.
**There have been changes to our trip! See Chapter 17 for the beginning of the Changes**
Chapter Links:
Chapter 1: Up Above
Chapter 2: A Place to Hibernate.
Chapter 3: Poppin' & Food Budget Decisions
Chapter 4: Contest Hints & Crazy Husband
Chapter 5: 3 ADRs & Many Other Choices
Chapter 6: Planning Confusion
Chapter 7: Over-Planning-itis
Chapter 8: ADR Success
Chapter 9: 30 Day WDW Park Challenge: Day 1
Chapter 10: Countdown Calendar
Chapter 11: 30 Day WDW Park Challenge: Day 2
Chapter 12: A little of this...a little of that & Day 3 of WDW Parks Challenge
Chapter 13: Once Upon a Time....
Chapter 14: Stupid Hole.
Chapter 15: 30 Day WDW Park Challenge: Day 4
Chapter 16: Another Foot Update
Chapter 17: Bad News / Good News
Chapter 18: A Little Update
Chapter 19: Ch-Ch-Changes
Chapter 20: Too Early to Plan....?
Chapter 21: Adding to the Chaos.
Chapter 22: Two Weeks!
Chapter 23: Single Digit Dancing...?
Chapter 24: Baby's First Mickey Ears Will Say....
Chapter 25: Gender, Car Accidents, Oh My!
Chapter 26: Gender Reveal!
Chapter 27: Party Pictures.
Chapter 28: Timing the Trip.
Chapter 29: An Update...finally.
Chapter 30: Remember Me?
Chapter 31: Miss Violet has Arrived!
Chapter 32: Happy Easter!
Chapter 33: Travel Dates & Little Mouseketeer.