Chapter One: Page 1, Post 1
Chapter Two: Page 2, Post 22
Chapter Three: Page 3, Post 45
Chapter Four: Page 6, Post 77
Chapter Five: Page 6, Post 78
Chapter Six: Page 7, Post 92
Chapter Seven: Page 8, Post 120
Chapter Eight: Page 10, Post 140
Chapter Nine: Page 10, Post 146
Chapter Ten: Page 11, Post 158
Chapter Eleven: Page 12, Post 173
Chapter One: On the Road Again!
It's finally here! It's time to hit the road! Of course, if you know me even a little, you know how excited I am at this point. I have been counting the days since the day we got back from our last trip.
I am up even before my alarm went off. Throwing last minute stuff in the overnight bag. Tossing it in the car. And I'm off!
Wait! I knew I would forget something. The passenger seat is empty. So I slow down and roll the window down so the hubby can catch up and dive through the window … and now WE are on the road. One quick stop off at the gas station to top off and get ice for the cooler and look out WDW, we are on our way!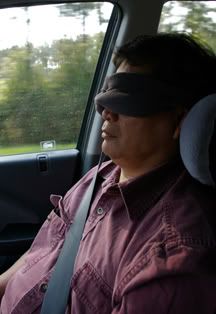 I take the first leg this year. If you read last year's TR, you will know what happened when Leo took the first leg and went into full blown PPM (peepee panic mode) in the DC traffic. It wasn't pretty. This year, he just about immediately fell asleep so I had a pretty quiet run of it for the first 210 miles.
By this time, Leo had woken up and it was time for lunch. We made a quick stop at a Hardee's where we shared lunch with Santa. I guess he is on his way to the World too. Except, when he left, he climbed into a big rig. Maybe his sleigh and reign deer are inside.
After lunch I popped back into the driver's seat. I figured I could get another hour under my belt while Leo gets some more rest. (He works nights, so is used to sleeping during the early hours of the day.) Well, after about an hour I started looking for a rest area. It was another hour later (and about 100 miles) that I was getting rather tired and still found no rest area. Nearing a PPM myself, I left the highway and stopped at a gas station. Jeez, I hate gas station bathrooms.
Anyway, all better now and Leo all rested up, he took the next leg. And, guess what? Literally two miles down the road was a rest area! Sheesh!
While driving through North Carolina, the longest stretch of the trip, I noticed the air was kind of hazy and getting hazier. Evidently there was grass or brush fires in the area. We never did see them, but we sure could smell them.
Anyway, at about 2 p.m. we saw our first sign of the trip south … the first South of the Border billboard. For those of you who drive I-95, you know what these are. If not, they are billboards that are posted for miles and miles advertising this kind of truck stop/touristy area called South of the Border. The signs are fun. The place itself … not so much.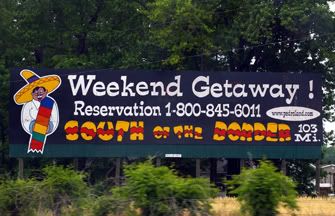 It was about this time we hit that awful washboard section of the highway. I think it's made of cement and the breaks between the sections are big enough to feel and it feels like you are driving across a washboard. I am glad it doesn't last too long. It would loosen the fillings in my teeth if it went too much longer.
Along the drive, I have noticed a few vehicles that have been with us most of the trip. One was a beige/yellow VW bug with an older couple with the license plate Granny T. Cute. Another was big pickup truck with a dresser in the back and a blue tarp flapping in the wind. Yah, I was bored.
But at 6:30 I get all excited because we see our first palm trees! Woo-hoo!!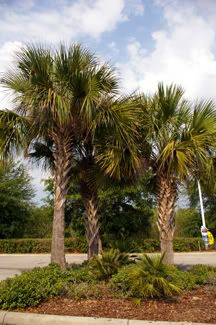 Since it was still kind of early when we hit Savannah where we usually stop for the night, we decided to keep going. After about another hour or so, we decided to start looking for a Comfort Inn. We found one just into Florida and stopped for the night. Yes, we probably could have pushed on for the next four hours and made it all the way to the world, but we would rather get some rest. You know us old farts … we need our rest.
Anyway, we checked in about 9-10 p.m. and called it a day. The room was very nice and I really LOVE the beds in the Comfort Inns. But this was the first of many of my bathroom incidents. I guess they installed some sort of economic low flow toilets or something, but the darned thing was so loud and fast that I thought it was going to suck me in! Pardon the pun, but it scared the crap out of me. OK, so that was a disgusting comment. Sorry.
Good night! Tomorrow we will be at the World! Will I be able to sleep? Yep! The minute my head hit the pillow, I was out.
Here are some "odds and ends" photos from our first day on the road.
Yay!!!!!!!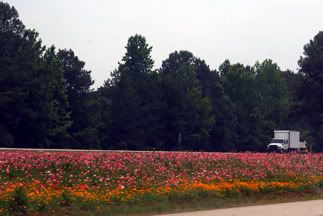 Pretty wild flowers.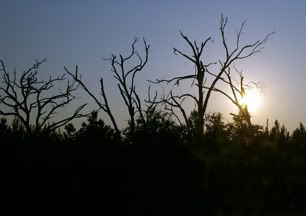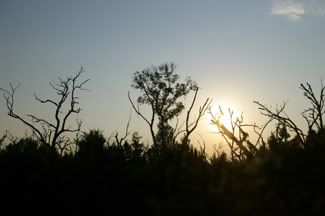 Remnants of previous wild fires.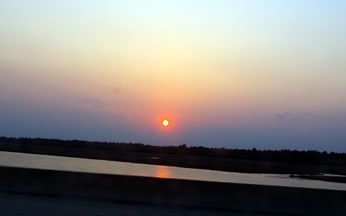 Pretty sunset.