Mommy to Claire
Join Date: Oct 2006
Location: Ohio
Posts: 26,918
Disney Snob Does Cedar Point
---
I thought I would post my day trip to Cedar Point here. I have read a few non Disney TR's here every so often and thought I would share mine...
I grew up and still live about 1 ½ hours away from Cedar Point. In my preteen years we started going. My Grandparents would camp there every summer, and my sister and I got to visit the park a few times. Of course they never took us till the twilight price kicked in and of course no big rides.
As I got older, I realized I liked the thrill rides and went several times in my teens and 20's.

Then something happened….I got old!
I was in pain many times after riding rides and the height was really bothering me. The biggest Coaster I have conquered there is the Magnum. After that, the height just got too crazy for me. And now I look at the Magnum in fear!
Over the past few years, our trips have become less and less to the Point. When my older 2 children were little, my Daughter was a huge thrill fan, while my son hated it. I got a season pass one year and we went as often as possible, with my daughter just tall enough for a few of the rides. My older 2 are now 22 and almost 19. My son stays away from the place ,and my daughter goes with friends who enjoy the rides with her.
I am now a Mom all over again to a 6 year old. I believe this was her 4th trip. She went for the 1st time when she was 2 ½.
She had just been to HER first trip to Disney World a few months prior and LOVED it. We have now taken her a total of 4 times and she and I can't get enough of it. Skip could take it or leave it, but goes because we love it so.

On that 1st trip to Cedar Point we pulled up and parked. We got out of the car and I plopped her in the stroller and started to the front. She took one look and asked "what is this place?" My husband replied "This is the Point!" And Claire responded by saying "I love the POINK!" So now we always refer to Cedar Point as the "Poink".

The last 2 years we had not been able to get to the "Poink". My husband had hip problems and was in too much pain to even walk much. In Oct of 2009 he had his hip replaced. He was still in pain for a long time after, and finally in Oct of 2010 the Dr realized that the new hip had never adhered. (after a huge run around and many Dr visits) So in Dec. 2010 he had it replaced again. It seems to be doing better this time around, and Skip decided it was time to head back for some fun…and also to celebrate his 50th birthday, which was May 12th.

On to the Cast.

First there is Skip ~ He's my Husband.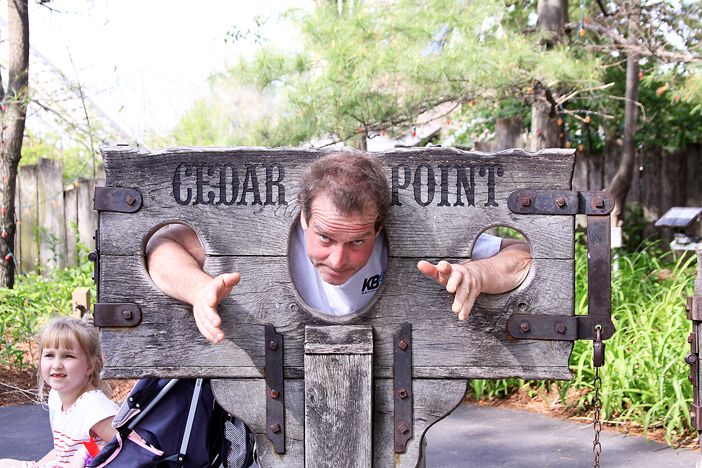 And Me ~ Jen




This is the ONLY shot of me all day. Skip is the worlds worst photographer, so I don't let him take any with my camera usually, plus he hates to as well. This picture was really bad. I had to do a lot of cropping and actually straighten it as well because it was really crooked. LOL!

And then there's Claire ~ Our 6 year old




On to the trip.

We went May 21st. Skip had decided a few days ago that if things worked out well, we would head there that Sat.
I woke early and got a shower and things packed. I also threw the stroller in the trunk. I find that if we bring it along, 1 we have a spot to carry our junk in, and 2 that Claire can last longer. She doesn't get so tired and then Mom and Dad can have a more pleasant day as well. I know some people think a 6 year old in a stroller is wrong, and that's fine, but it works for me. I don't want to hear about tired feet or asking to be carried at the end of the day.
I got Claire up and ready as well.
We are Dairy farmers, so Skip had to be up early to milk the cows and get the day going. Once everything was running smoothly he came in and showered as well.
I think we hit the road around 9:30ish.
We debated which route to take, and then decided to head to the turnpike. The airport exit is only about 10 minutes from our house.
We hopped on and Skip went on to tell me about watching my speed. I always drive. He just doesn't care too, yet he is always critiquing my driving. He had told me that the speed limit was raised, but that they were now stricter. Somehow, in a short amount of time we kind of argued about the speed. I told him had always been 70 and he said no, it wasn't…anyways in this argument I got it in my head that the speed limit was now 75! Not a good thing to do.
We were on the road for about 7 minutes….if that and we passed two State boys sitting along side the rode. They sit in this spot all the time. I was going around 75 ish. The car in front of me was obviously going at least that same speed. As we pass the troopers, the one car kind of lurched a bit. I thought he was going to pull out and hit me and I quickly braked a bit. Not a sudden stop, but it scared me. So then I kept going…at 75. The trooper pulled out and followed me. I got in the right lane when I could and the trooper stayed in the left. Skip then told me to slow down and I told him I was going 75 and that's when we he reminded me that it was 70! Still others were going faster.
And next thing you know, the trooper pulled in behind me and flashed the lights. UGH!

I got a ticket for speeding…going 78 is what he said. I was beyond mad. First off, when the guy came to the window (on the passenger side) Skips first words were "I kept telling her to slow down". I about threw him into oncoming traffic!
The guy took forever too. Claire was in the backseat complaining because we were losing precious time.
Finally he came back with the most expensive ticket I have ever seen. It's been a LONG time since I have gotten a ticket, and I guess the "price" as gone up a LOT!

So back on the road, and now I HAVE to go exactly the speed limit. I can't chance getting pulled over again. And of course there are people blowing by me, leaving me in complete dust…or even tailgating me!

I gave Skip the cold shoulder for most of the ride there. He even asked if I would be talking to him later in the day, or for just the ride…and I told him I hadn't made up my mind yet! LOL!

We finally made it to the POINK! It was around 11:30ish.
We parked and made our way to buy tickets. Of course the line was super long. I am one who likes to prepurchase things, but Skip never wants to stop off and get them, so we wait….

I then finally pulled out the camera and took some shots!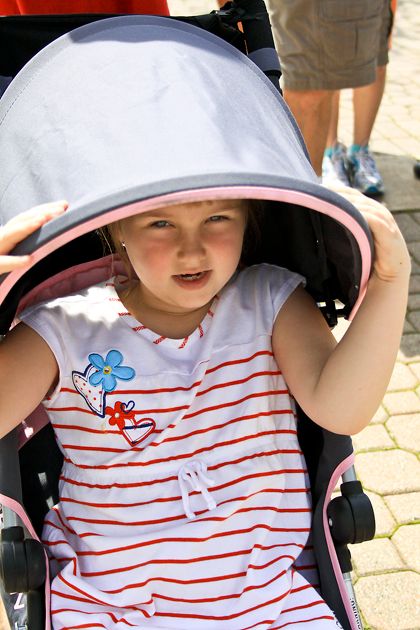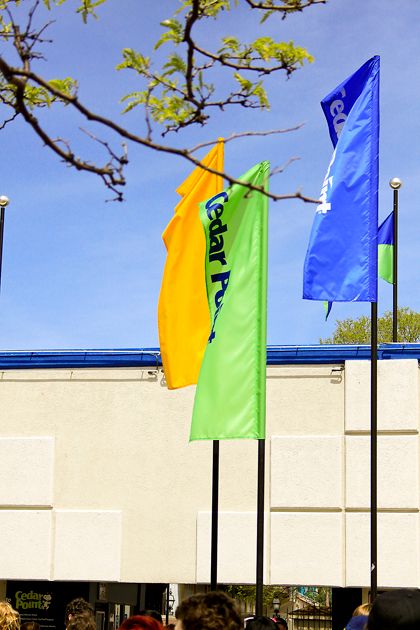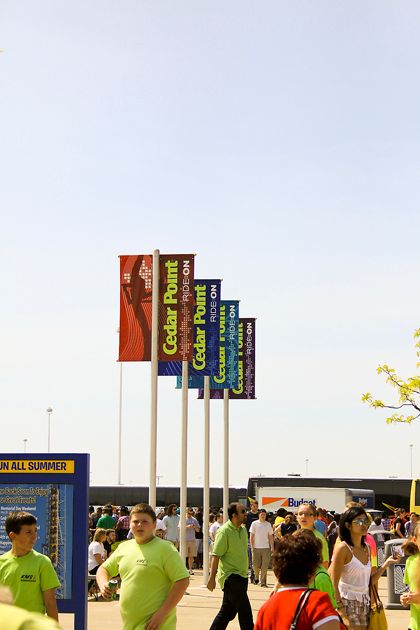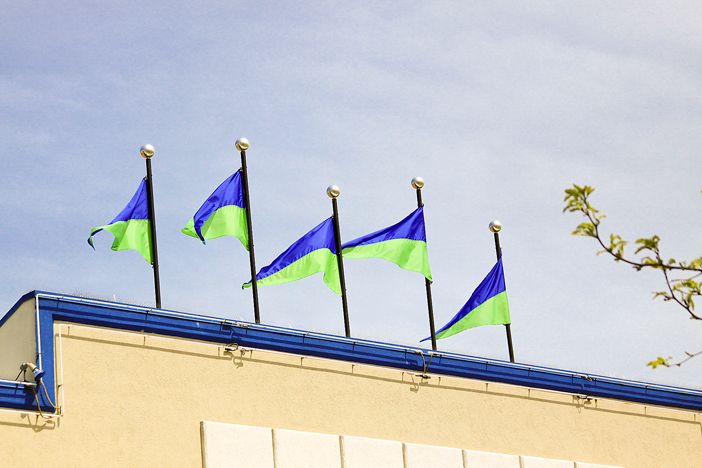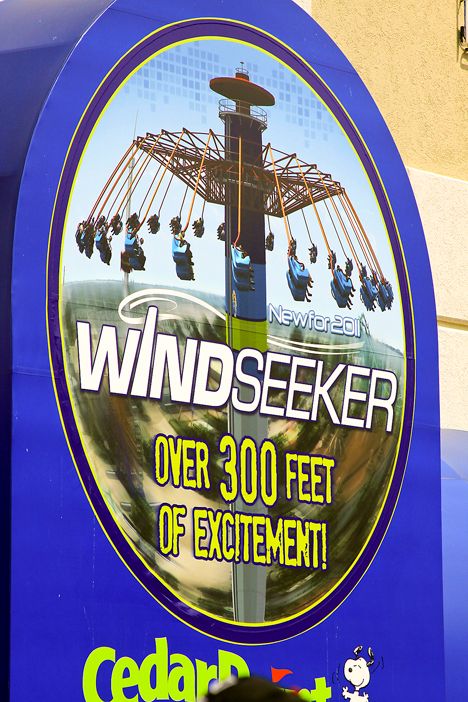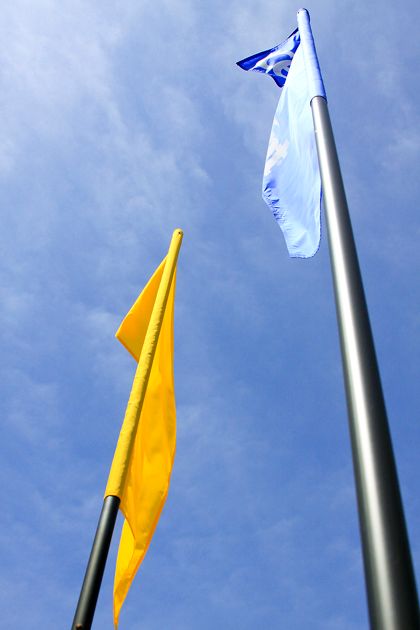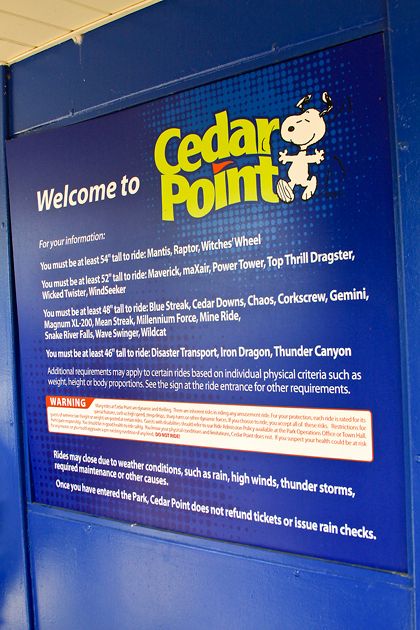 We finally had our tickets bought and made our way to the next line to get in. It was long, but moved faster. BUT when we got up to the ticket taker she said we had to go over to the far left for stroller entry, so we did. Well, Claire and I did. Skip got in another line for some reason. LOL! I told him to get over with me and he did. Then we stood there while this ticket taker ignored us. There was no one in our line, but this is where we were told to go. She just kept taking the tickets of the ones in the line to our right, which was a non stroller line. After about 1 minute I just came out and asked her if this was where I go and she said yeah, hold on. I guess she is anti stroller entry! LOL! But she did take them finally. I don't know if she thought we needed to wait a bit since there was no line on our side, but we HAD waited once already, and I didn't have the patience to wait much longer.

OK!!!!! We are in! Off for some fun!