Hey there fellow fans of Disney dining or those that are just curious what to expect should you plan to dine at WDW!! I may as well share my recent dining experiences since I have photos, I have an opinion on the food, and I have some free time on my hands so this may just work!!
For some quick background, my name is Brenda and this was a girl's trip for my 15 yr. old DD and me. It was her Spring Break and we wanted to make it back to WDW to use our Premier passes that we purchased last August. This visit we didn't use a dining plan - I purchased a Tables in Wonderland (TIW)card. So my perspective will be based not so much on maximizing a dining plan but on eating at some of our favorite restaurants, trying a few new ones, and taking advantage of a pretty good discount while we are at it.
Us: (In our defense, it's not the best photo - we
had
been traveling all day!)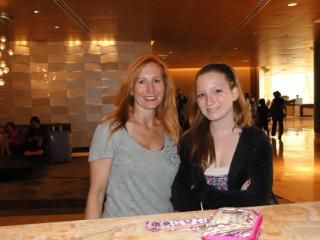 I will be reviewing the following:
Day 1 - Arrival day:
Dinner:
Cosmic Rays
Day 2:
Breakfast:
Kona Cafe
Lunch:
Liberty Tree Tavern
Dinner:
Citricos
Day 3:
Breakfast:
Akershus Royal Banquet Hall
Lunch:
Le Chefs de France
Dinner:
Earl of Sandwich (DTD)
Day 4:
Breakfast:
1900 Park Fare
Lunch:
Sci-Fi
Snack:
Starring Rolls/Beverly & Sunset
Dinner:
Coral Reef
Day 5:
Breakfast:
Ohana
Lunch:
Tutto Italia was swapped for Contempo Cafe
Dinner:
La Hacienda de San Angel
Day 6 - My Birthday!:
Breakfast:
Crystal Palace
Lunch:
50's Prime Time Cafe
Dinner:
California Grill
Day 7:
Breakfast: Tuskar House/Donald's Safari Breakfast - cancelled, again!
Lunch:
Flame Tree BBQ
Dinner:
Teppan Edo
Day 8:
Breakfast:
Grand Floridian Cafe
Lunch:
Le Cellier
Dinner:
Tony's Town Square
Day 9:
Breakfast:
The Wave
Lunch:
Pinocchio's Village Haus & some Main St. Bakery
Bonus:
Snack items
I was very pleased with the food, the service, and our overall experiences. There were some amazing Cast Members that I will mention as well as some unexpected surprises along the way.
Now to make sure that all of my photos uploaded to Photobucket without gigantor sizing!
Let's get this thing started!