Hello Everybody! My name is Candace and I'm pretty new to the DIS, well I've been watching the forums for a while, but just recently started posting
My family and I are planning out our VERY FIRST ONSITE Disney trip, and I've got it bad..... Since my DH gave me the green light to start planning I have turned over a new leaf, and have begun to plan every aspect of this trip....
Here's the cast of this grand adventure:
Starting with myself of course
My name is Candace (already said that) and I am 26 years old. I am a SAHM and have three absolutely amazing kids. I married my high school sweet heart and we are having a wonderful time raising our children together.
My high school sweet heart, is DH Kevin. He is 27 and is the pastor of our church (only three years old) and also works part time at the post office delivering mail.
Next up is DS Isaac who is 6. He is currently in Kindergarten and has such a sweet sensitive personality. Isaac had a obsession with Cars and DH and I watched that movie way more times than we ever cared to. It has mysteriously disappeared over the last few years, and I believe DH had something to do with it.
Now he is really into Pirates of the Caribbean.
DD Ava is 4 and she is soooooo funny. No seriously, she marches to the beat of her "own" drum. She's strong willed but is so sweet too. Ava's favorite Disney Character is....Cinderella, Aurora, Belle, Tinkerbell, Ariel, Snow White....yeah yeah, you get it. If it's a princess or fairy, she LOVES them. Here is a pic of her and DH last year on our visit to MK. They are on the Buzz Lightyear ride.
And last comes DD Violet. Violet is soon to be 2, and is just soooooo much fun right now. She's at the age where she learns something new everyday. Violet's favorite Disney character is "Poo Poo" (
Winnie the Pooh)
Here's some other pics of the family trip last year, just so you can put a face with the name
This is Isaac, Ava & myself on our way in to the MK.
Next up is super dad who had to walk around quite a bit with the girls like this...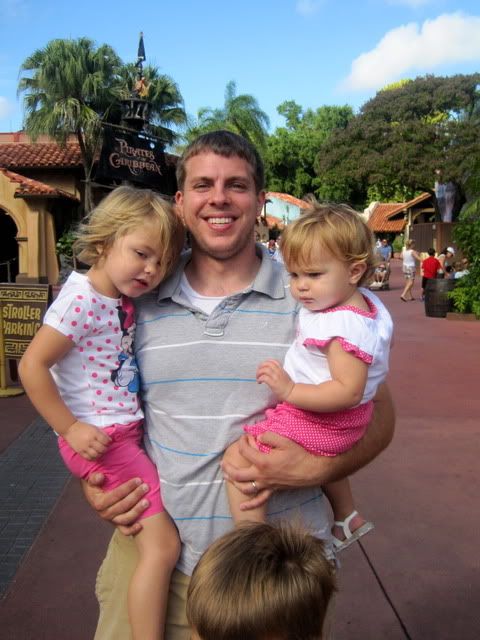 [url]
and here we are at T-REX in DTD. It's kinda blurry, but I love how it shows how goofy Ava is....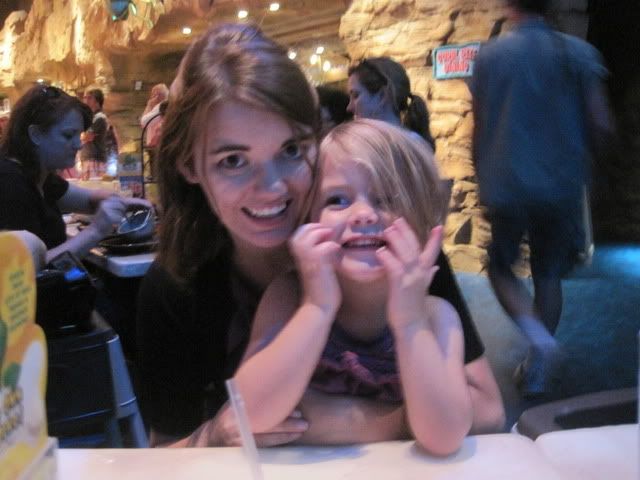 Ooops lost track of time
gotta get Isaac to baseball practice and Ava to dance class. I'll continue this tonight when I get back