Hi everyone!!!
I hope many of you came over from my PTR, but just in case, let me introduce myself.
I'm Sheree, the mom of two beautiful daughters, Sarah and Paige.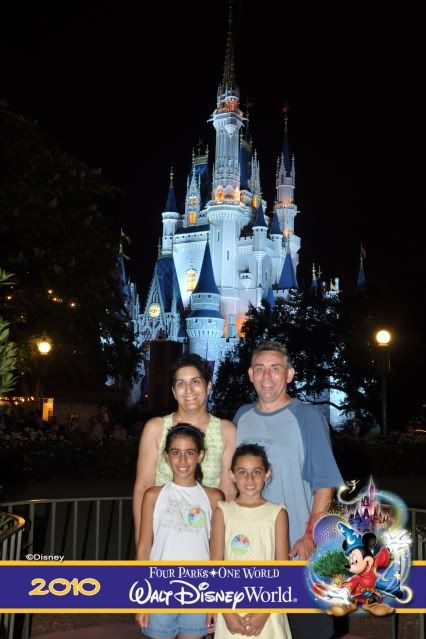 This is us last summer. At that time, we had NO IDEA we'd be buying DVC or returning to WDW so soon. Believe, me, if I had known, I would have bought Annual Passes!
My husband Dave and I planned this trip as an alternative to our originally planned trip to London and Paris. Yup, this started out as the inexpensive trip since Europe was too costly! It really was a low-cost trip when we started. We had just purchased a small DVC contract and thought we'd go to Florida, visit DH's sister and spend a few days at WDW. If you want all the details, you'll just have to go read the PTR!
Suffice it to say, it turned into an amazing trip!
Sarah had wanted to be surprised with our spring break trip since we decided we couldn't go to Europe. So we kept it a secret.
By the time Christmas rolled around, we were all set for a long drive to Florida, a three night cruise on the brand-spanking new Disney Dream, and a five night DVC stay!
We decided to add one night at Pop the night before the cruise, and drive straight through leaving Minnesota on Tuesday, March 8.
After the cruise, we had one night at Saratoga Springs and 4 nights at Animal Kingdom Lodge. All three are new to us!
We decided to participate in the Fish Extender exchange with our cruise mates, so we had more things to keep secret from the girls. We also had to figure out a way to tell the girls about the trip.
They knew we were going somewhere warm, and it was a long drive. They are smart enough to know that probably meant Florida, and at our house, almost every trip to Florida includes a stop at WDW! But we'd been playing it up how expensive it was, and we were trying to spend less since we couldn't go to Europe. I really think they believed we were just going to my SIL's house in southern FL and the beach. They were hoping for WDW, but NEVER suspected the cruise.
Why do I know this? Because when we watched all the coverage of the Dream's christening, all the advertising etc., we kept saying how we'd love to go on it "SOMEDAY". It was way too expensive, we could never get a room so close to spring break etc. We said, maybe in a couple years...
Spring Break for us this year fell on March 14 - 19. Sarah's birthday is March 9, and that was the last day of school before two days of conferences and then break. Paige's birthday is March 24, so the trip really fell right between. We decided to celebrate their birthdays and told them not to expect much in the way of presents. The surprise trip would be their presents.
So we told their teachers we would be needing to reschedule conferences. They were very understanding, and agreed to keep the secret. Luckily, the girls are both good students, and it was no big deal for them to miss one day. It happened to be March 9. So I had to bring treats to school on March 8. Just while I was finishing up all the last minute packing. OY. Sarah's friends were all guessing where we were going!
We had been watching the weather intently. A big storm was expected to hit us just about the time we were to leave, (after school on Tuesday) and we decided that we would pull the kids out early and leave a few hours ahead of schedule to miss the storm.
We packed lots of snacks and some sandwiches in the hopes of avoiding stopping too much and eating too much fast food. The kids each had a pillow, blanket, backpack filled with all their travel "essentials".
So with that - we hit the road on March 8th at 1:44 p.m. with me behind the wheel so Dave could get some rest. He was planning to do most of the overnight driving.
Next up: On the Road Again! How long does it take? Who gets to sleep? Did we miss the storm? What were the gas prices? How often did we stop?
The answers to those questions, and more...in the next chapter!!!