Visiting the Big Apple and the Big Cheese for the Holidays! December 2010
Hi there!
Now that Christmas is out the way, I can finally make a start on a trip report of my latest trip to Walt Disney World.
The cast..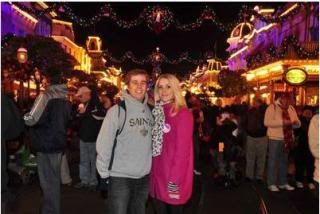 Me – Emma – 26 - huge Disney fan .. currently planning our wedding and Disney honeymoon (see link in my signature to PJ if you're interested!)
DF – Steve – 26 - not quite as big a Disney fan as me, but he loves it once he's there!
This trip to WDW was planned before we got engaged (Christmas day 2009!), and because of the wedding costs, I wasn't sure if we'd still be able to go.. but we worked through the numbers, and decided it would still be possible!
The Itinerary…
December 8th to 11th
….
New York City.. the Big Apple
… neither of us had been there before and really wanted to go! So it seemed a good idea to combine a city break there with 6 days at Disney.
December 11th to 17th
….
Disney World... home of the 'Big Cheese'... Mickey Mouse!
… we booked a studio at the Boardwalk Villas (my family's DVC home resort) for 6 nights; I'd been to WDW with my sister last December, and couldn't wait to show DF the holiday decorations and events!
I hope the Disney fans here won't mind me starting the TR with our stay in NYC… I'll get to the WDW days soon!