Pre-trippie here:
http://www.disboards.com/showthread.php?t=2558071
Day 1 here:
http://www.disboards.com/showthread.php?t=2594850
We are:
Me, Theresa
My DH Tony (Tony64)
My sister Mandy (MandyJane)
My Brother-in-law Peter (FleetPete)
My Nephew Andrew (16)
My Nephew Kieran (12)
And dd Maddie (MaddieB)
Sunday 17th October
Despite having quite a late night, we woke up at 4.15 and couldn't get back to sleep. We poked our heads out of our room (our Master suite was next to the lounge) and saw that Kieran was already up, so we made pots of tea and coffee and popped some cinnamon rolls in the oven for breakfast.
It wasn't long before everyone was up and we were out of the door by 7.30 am, arriving at the gates of Islands of Adventure by 8.30.
Nearly there: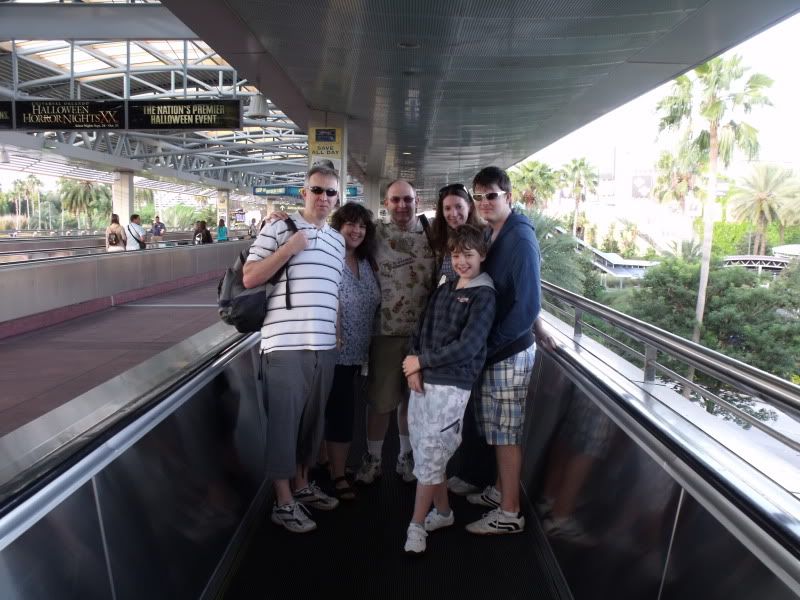 Eagerly awaiting rope-drop: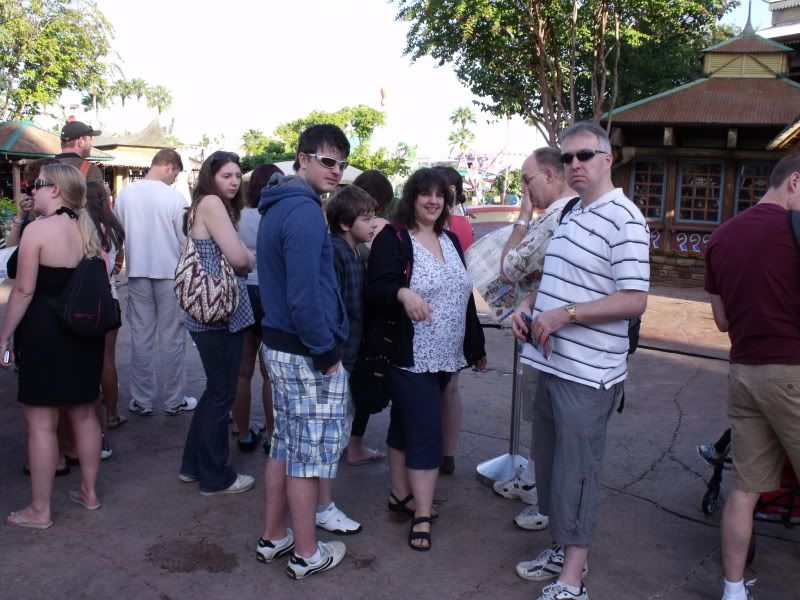 We were let through the turnstiles almost straight away. There was a rope drawn across the far end of Port of Entry, however we were allowed through after just a few minutes wait. With the rest of the hordes, we raced through Suess Landing (some people were sprinting like their life depended on it), taking a short cut around the side of Green Eggs and Ham, to Wizarding World of Harry Potter.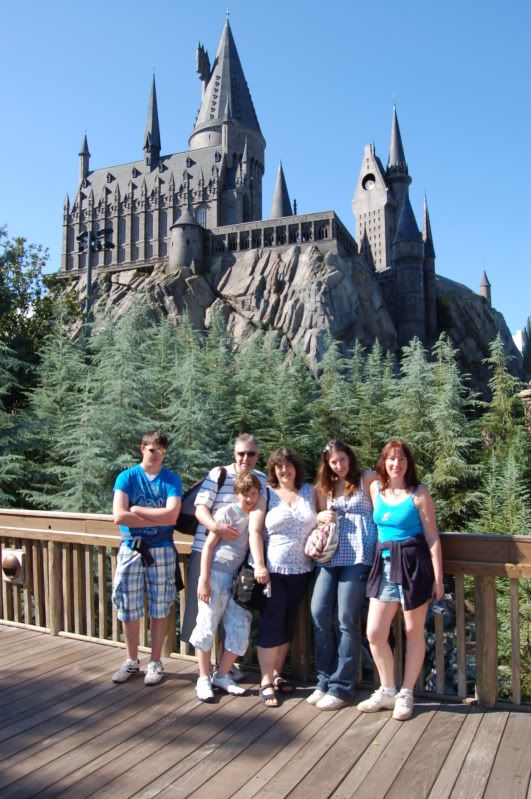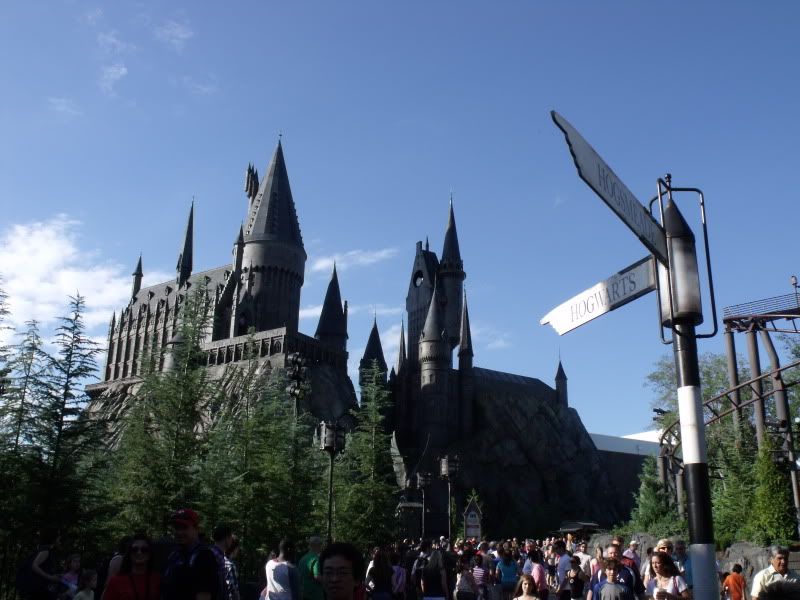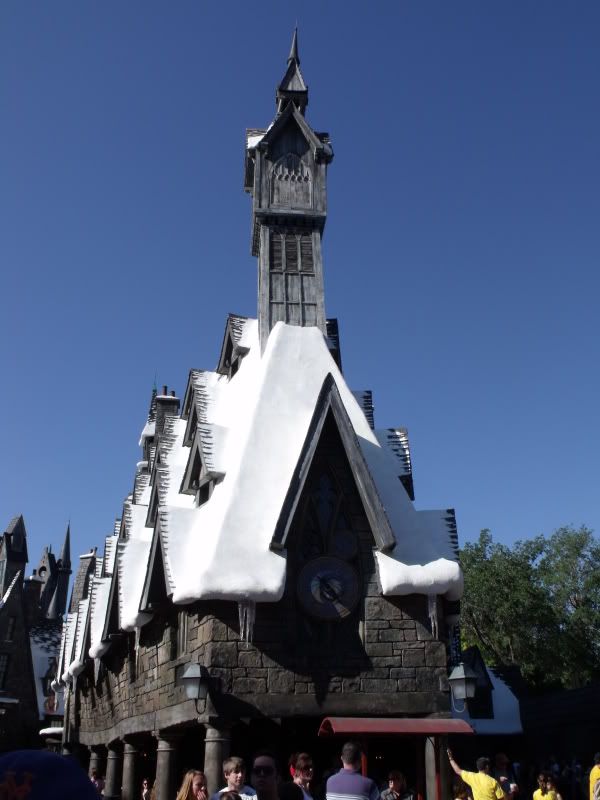 The theming is fabulous, but we tried hard not to stop and look at anything as our goal was to get to The Forbidden Journey as quickly as possible. We grabbed a locker, threw our things in, and joined the queue.
There are so many great features inside Hogwarts as you queue – talking pictures etc, but the queue was moving too fast to take it all in, plus we had put our cameras in the locker so couldn't take photos anyway!
Near to the front of the queue, we were split into two groups as Mandy thought she would be more comfortable in the modified seats (in fact, I think she would have been ok in the regular ones), so they were ahead of us in a different line. As Tony, Maddie and I got to the front, the ride broke down. Knowing the others were already on it, we laughed at the thought that they could be stuck in the spider part we had heard about – and they were! Mandy hates spiders so had to keep her eyes tightly shut until it moved again. Apparently, she was right next to Aragog!
We all enjoyed the ride and agreed we would come back to it another time, as the queue was lengthening rapidly.
After that, we did the Hippogriff ride (no wait) and then Dragon Challenge (5 min wait). So by 10 am we had done all three rides in Wizarding World. It's definitely worth getting to the park early as by now the place was absolutely heaving with people.
The queue for Olivanders was ridiculous and there was also a slow-moving queue to get into Dervishes and Banges, so we gave them a miss for now.
We looked around Zonko's and Honeydukes, where we bought chocolate cauldron cakes to have with our butterbeer!
We all tried it and took the necessary photos of foam around our mouths.
Cauldron cakes: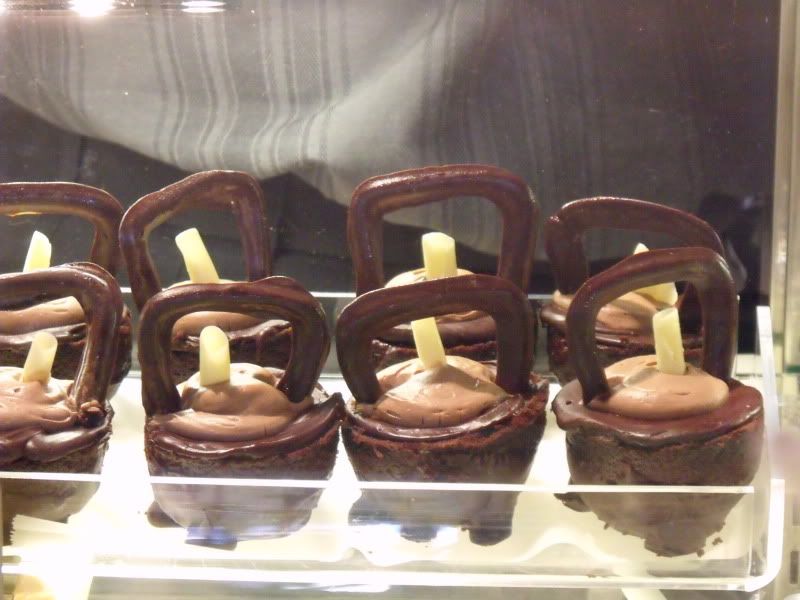 Me: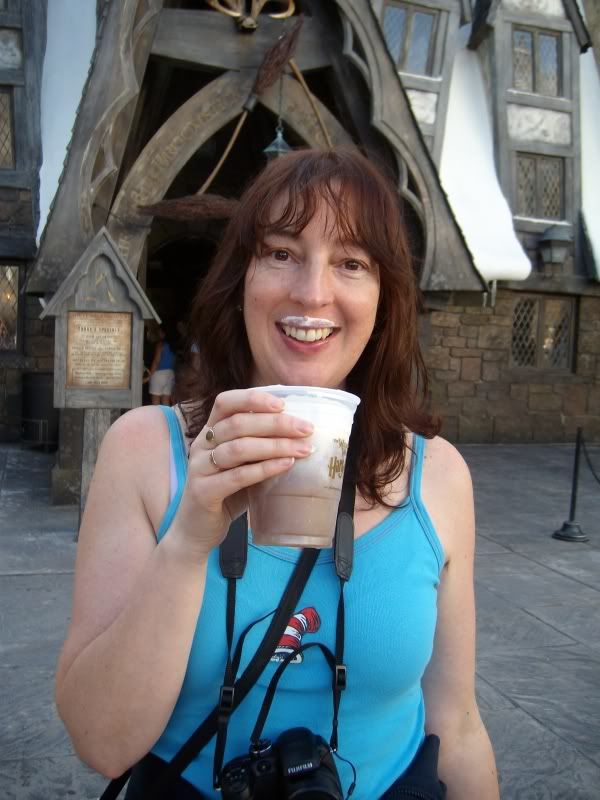 Maddie: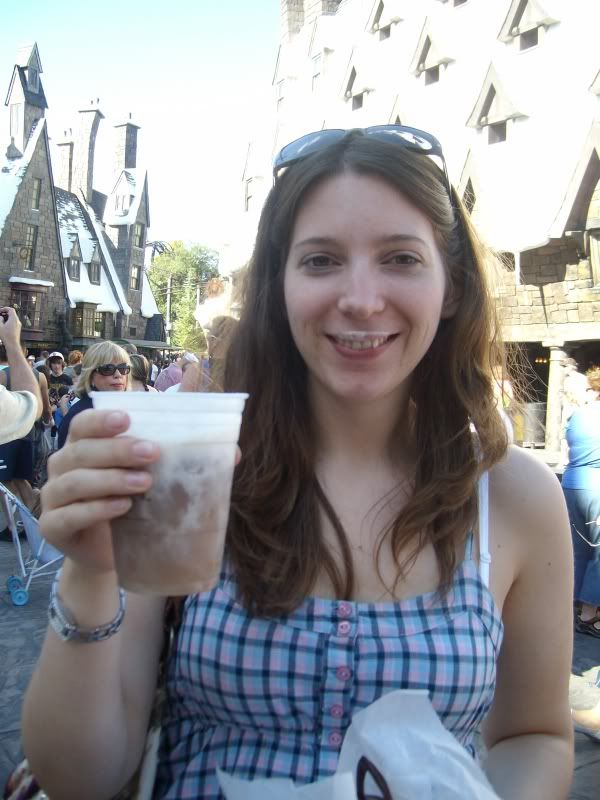 Mandy: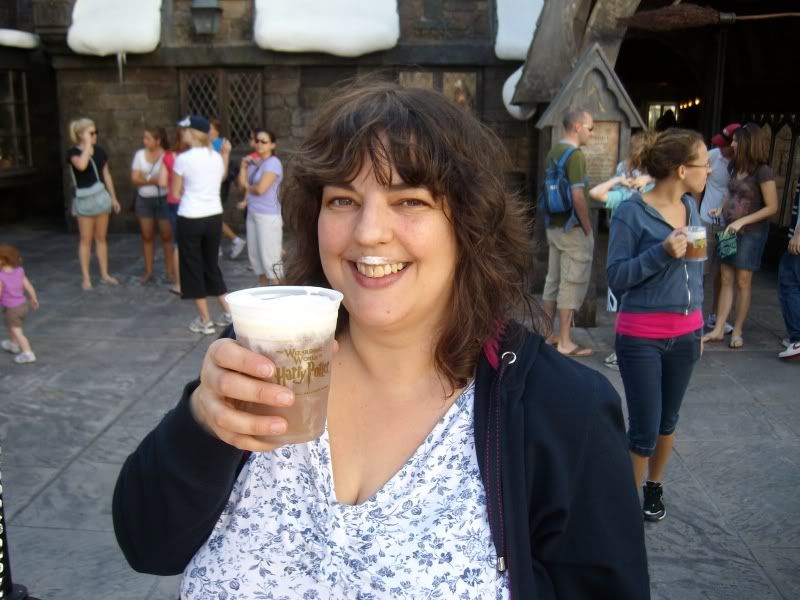 Tony: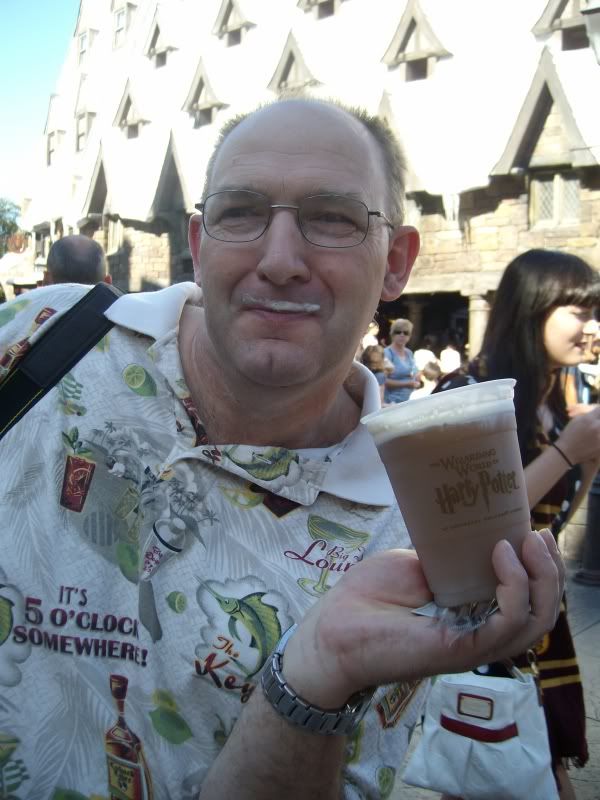 Peter: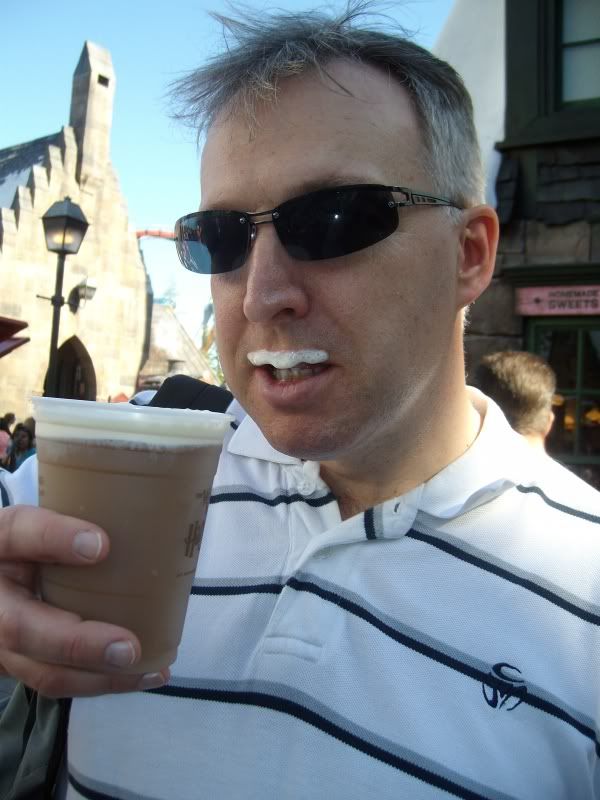 Somehow, the boys managed to avoid the indignity.
We had our photo taken with the Station Master by Hogwarts express. We are all attempting a magic spell. It didn't work – the masses of people remained. Too many muggles watching us, apparently.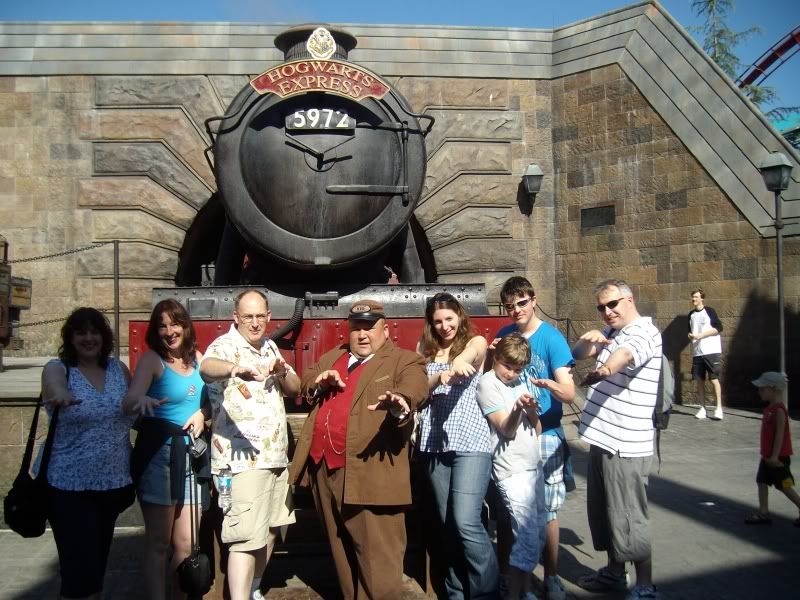 Maddie and Kieran outside Honeydukes: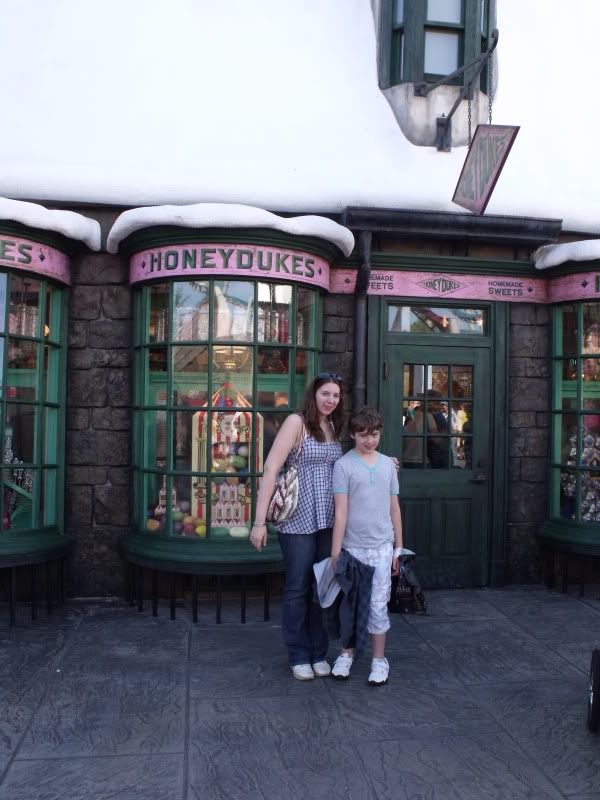 As everywhere was now extremely busy, we decided to come back to Wizarding World later in the day and made our way around the rest of the park; Jurassic Park, Suess Landing and Spiderman, stopping for lunch at midday and splitting into two groups. Tony and I went to Mythos and Maddie went with the others to Burger Digs.
Our lunch at Mythos was excellent as usual. I had crab cake sliders with watermelon salsa and creamy potato salad – so delicious. Tony had the filet steak and we shared the gooey chocolate banana cake, which we love.
We met up with the others and for some crazy reason thought it was a good idea to go on Popeye and Bluto's Bilge Rat Barges. We know you get soaked on this ride, and we didn't
want
to get soaked, but we did it anyway!
Andrew, very sensibly, decided to sit out this ride and took a photo of us instead: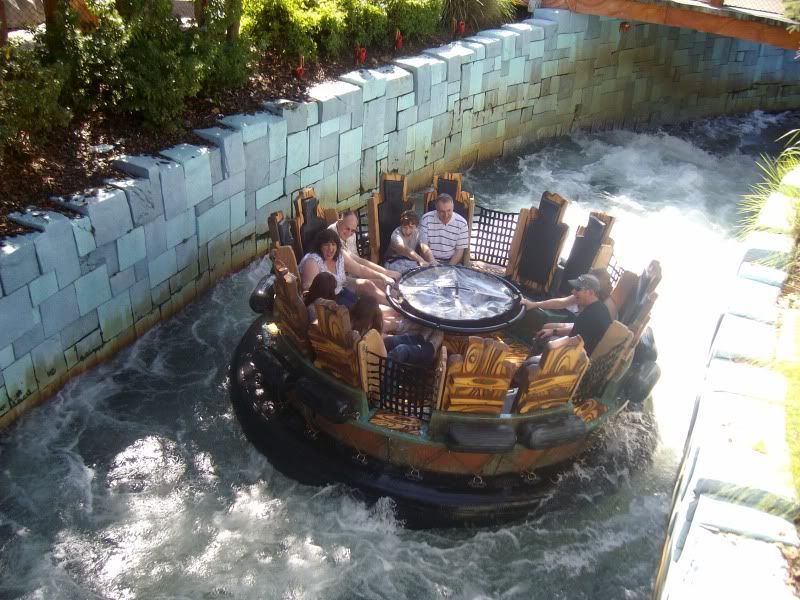 We really were completely drenched.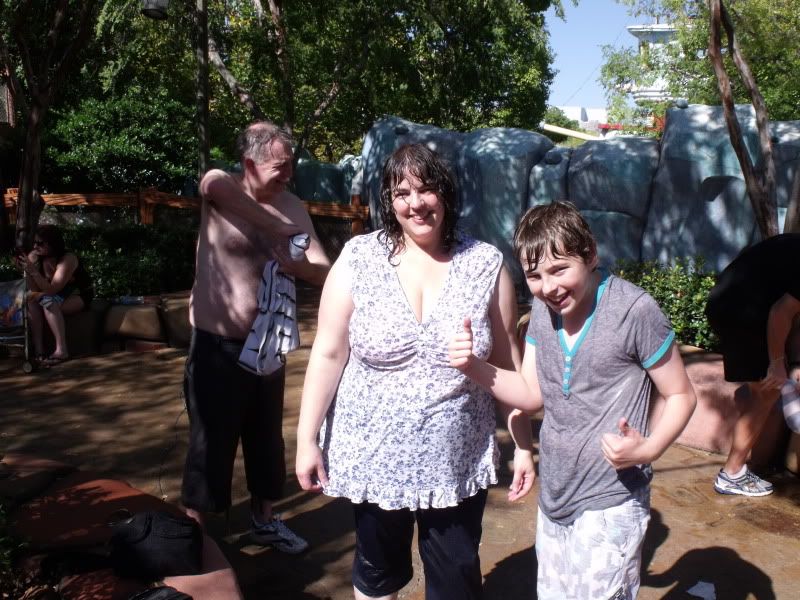 We had to walk up to Wizarding World, dripping all the way. We went into the restrooms to try and wring out our clothes, but it didn't help much.
We squelched around the shops at Wizarding World, which were probably even busier than before, but at least people gave us a wide berth when they saw how wet we were.
Maddie bought a quidditch shirt, a gryffindor crest banner and some Harry Potter tumblers, then some of us joined the queue to get into Dervish and Banges, and in fact it was the longest queue of the day!
It's such a cramped shop so it can't accommodate many people at a time. We bought some postcards (surprisingly there are only four different ones, so we bought them all) and Maddie bought a photo frame. We had all the postcards stamped with the owl post postmark when we got outside.
Then it was time for wand-buying! It's a serious business, making sure you get the right one. Here's Kieran trying them out before settling on Dumbledore's.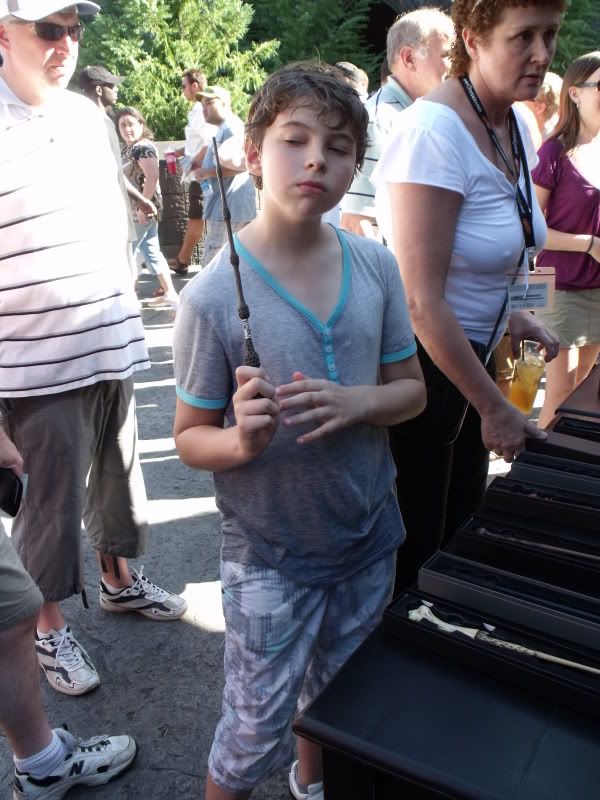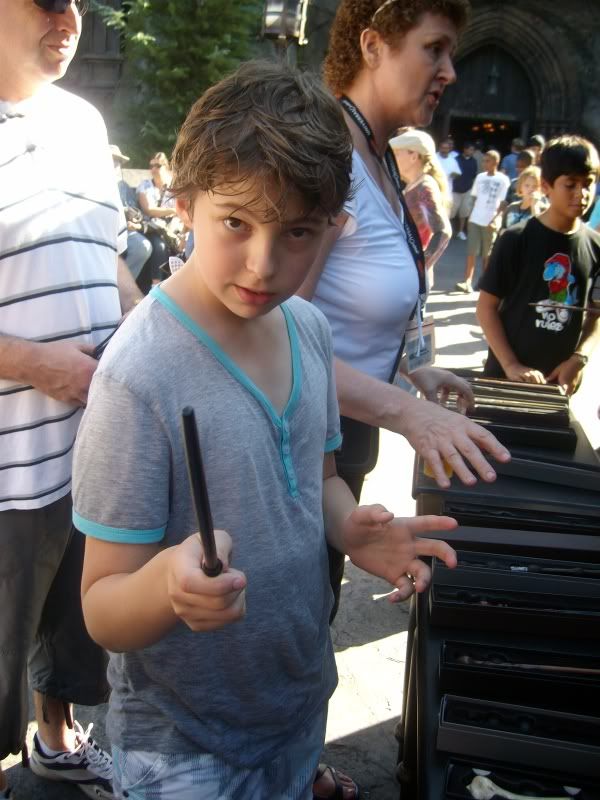 We were still very wet and tiredness was beginning to creep in by now and we decided to go back to the villa. After showering and changing into dry clothes we popped out to Walmart and picked up ribs, chicken, pizza, salad and garlic texas toast for dinner, plus a tray of mixed cheesecake slices and some Ben and Jerry ice-cream that we can't get in England (Peanut Brittle and Milk and Cookies). There were lots of other lovely flavours including one called "Everything But The" which really did seem to have everything yummy in it.
We'd had a really lovely day and the only bad bit was when I dropped my camera getting out of the car and it no longer focused properly. Maddie said to leave it as she's always dropping electronic things(!) and they usually work fine by the next day.
We watched a bit of American football then fell into bed.
Tomorrow: Typhoon Lagoon and the Mystery of the Disappearing Family Members.