Tuesday 28th September 2010
As I knew we'd be out late last night today i'd booked a late breakfast ADR at Ohana. We had this planned on our wedding trip but didn't make it due to the fact that I was sick. This time Mike was sick well hungover, so we gave it a miss again. I let DH go back to sleep and wrote up last nights antics for my TR, after a bit I get hungry so pop over to the food court for something to eat, I get a croissant for myself and a muffin for DH in case he is hungry.
Around noon we set off for the Boardwalk area, first stop Mini Golf at Fantasia. I start off really well with some great long putts but towards the end it all goes wrong and DH wins, we are both under par which is good.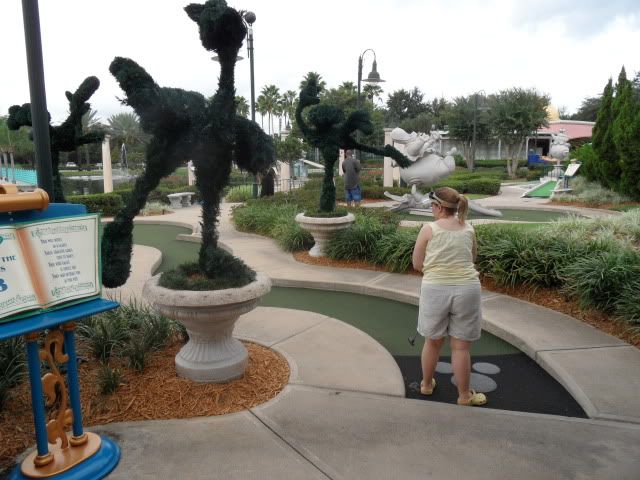 We go over to the Beach Club to try out Beaches & Cream, it takes us ages to find it, it really is hidden away. Its pretty empty but there is loads of staff, probably about 2 staff to every customer. I get the pink lemonade just because its pink but I don't like it, I opt for the burger which it claims they are famous for, it was pretty poor though, DH gets the chicken noodle soup which is perfect for his delicate stomach. We share the fudge mud slide and DH is gobsmacked by how big it is. A lot gets left as DH doesn't have much.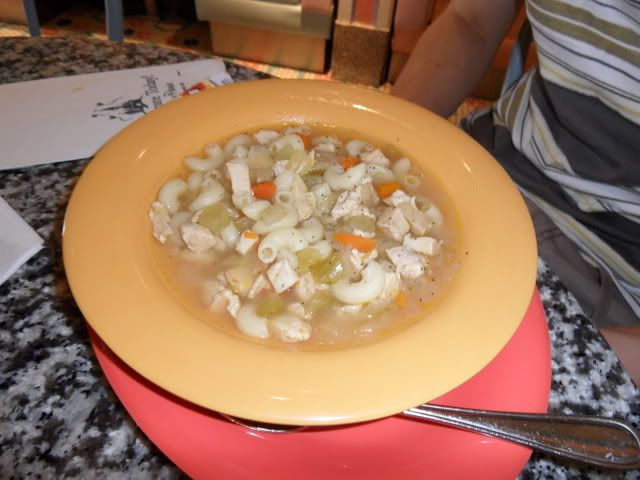 BEFORE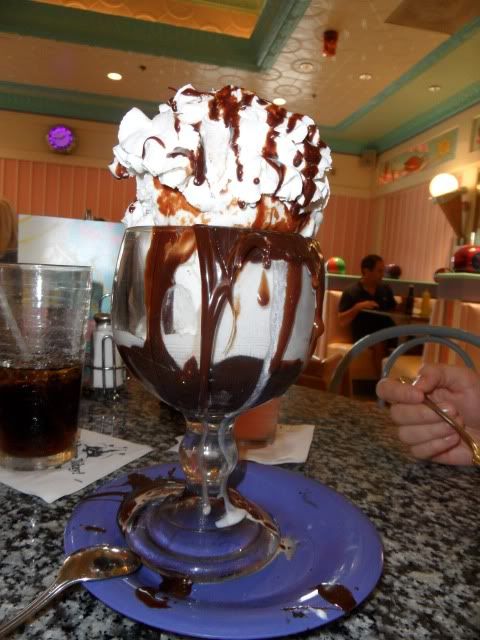 AFTER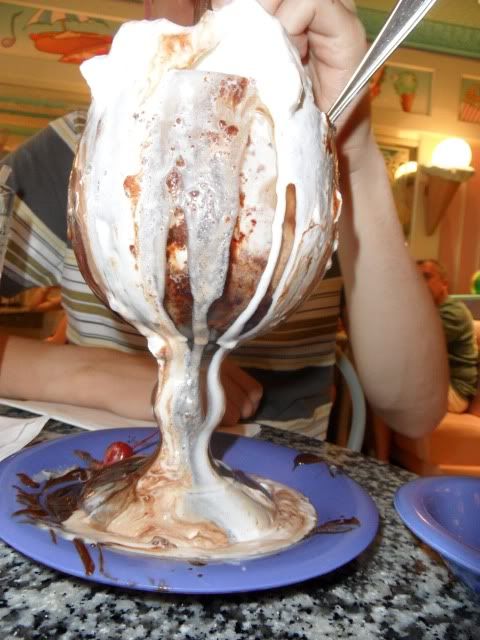 We have a look around the Beach Club shop then head back to the hotel for a swim. By the time we sort ourselves out it is quite a bit cooler and there are some black clouds in the distance. The pool is not very warm but we swim a bit and I have a couple of goes down the slide. We aren't there for that long when they close the pool. We head back to the room and we are only there minutes when it starts to chuck down with rain. We check out the weather report and its not looking good for MNSSHP tonight. We go over to the food court to get something to eat, I try chicken alfredo with salad, DH gets the jambalaya. The weather is still awful so we go to guest services to see if we can switch days which we can. I get a text from Meryll to say she has switched their tickets as well, sadly Lori isn't able to switch hers. It actually ends up stopping raining about 8pm so we could have gone.
We decide to go to DTD and see a film but nothing that's on interests us so what else is there to do but hit the shops. In WoD I get the things my Dad asked for, prizes for the quiz i'm hosting this month, and I get some charms for my new Pandora plus a few other things. I look longingly at the D&B bags but DH says I have to wait and see how much money we have left at the end of the trip. Next stop is the pin store where I get some more pins.
Back to the hotel for an early night.