Day 1: Part 6 -Riding that Attraction is not my idea of courage. It's more like, suicide.
Leaving New Orleans Square, me and Han see a long line for the Haunted Mansion. Since it was the Halloween Season Disneyland had a special overlay called Huanted Mansion Holiday.
I took a picture of the entrance but it didn't turn out well. In fact, after checking all of my pictures I didn't get any of the entrance I liked.
Also, while the overlay is in place they add a fastpass option for the attraction. Unfortunately those had all run out by this time. Looking at the line I decide that it would be better to try later on and continue into Critter Country.
Around the bend we see this...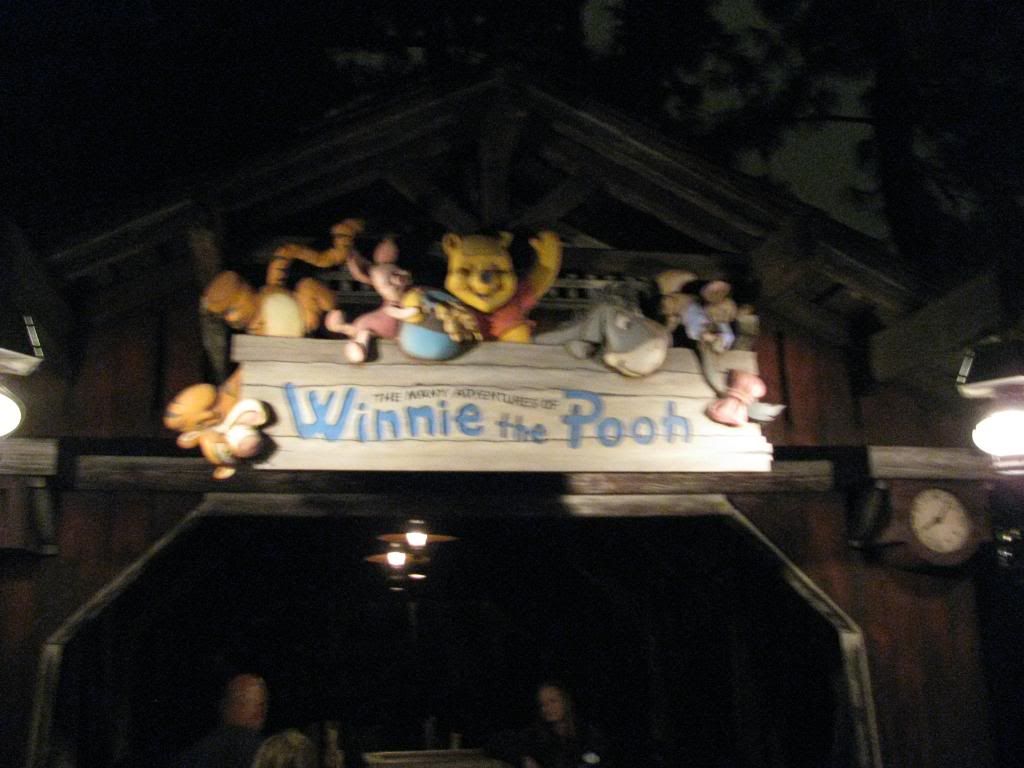 Han immediatly said: "Uh Uh! Nooo Way are you getting me on this ride!"
Me: "Why not?"
Han: "Do you know what would happen to my rougish reputation if anyone saw me here?"
Well, I wasn't going to try to force him since he had the gun so I let him go on his way. We agreed to meet back at the room later on. Now I decided to plow on since I wasn't worried about my manly reputation at all.
The ride was a walk on.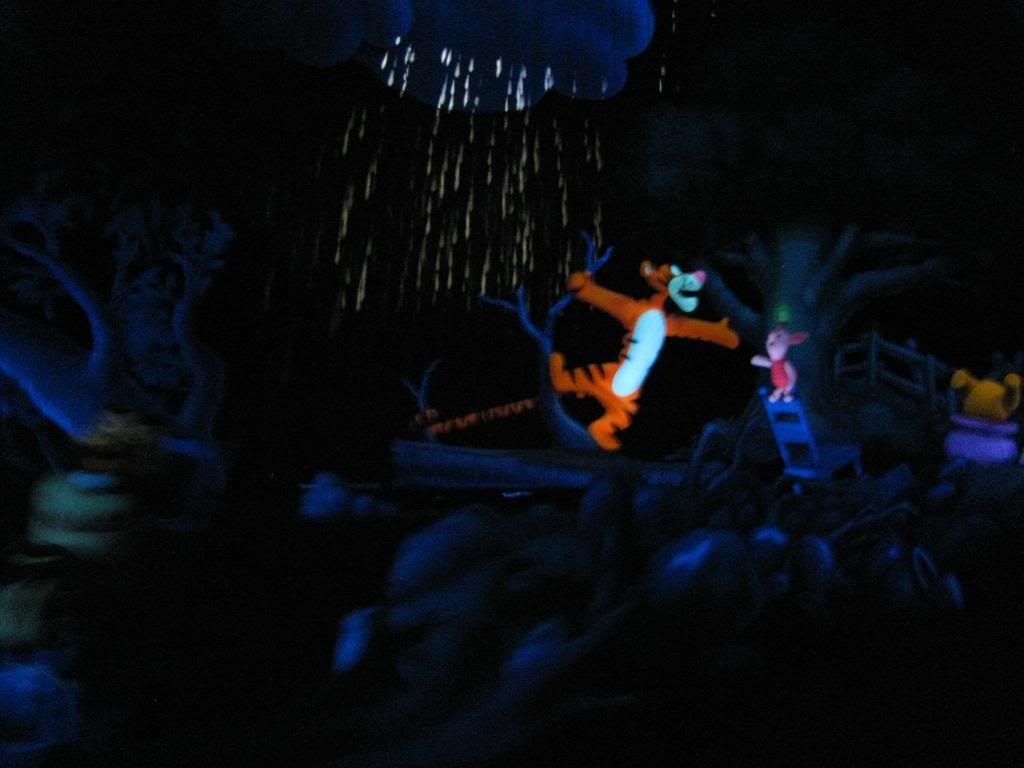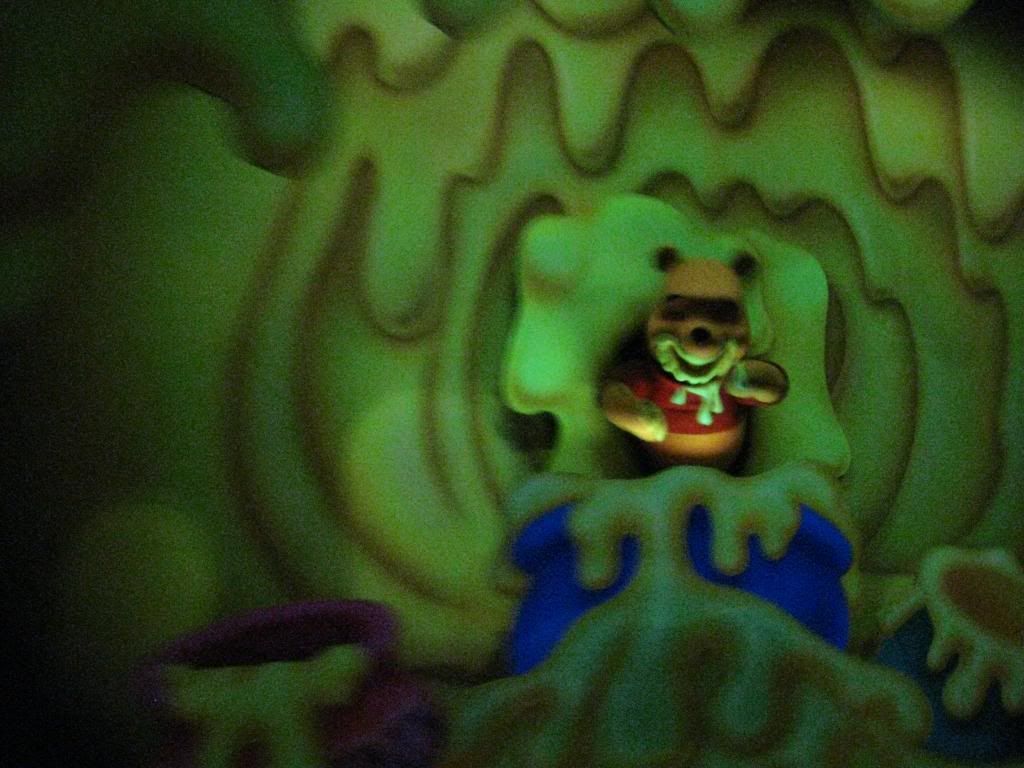 I would have to say that this was the first ride so far that was not as good as the WDW version. No hopping and the honey smell was nearly non-existant. Exiting the ride there is a shop called Pooh Corner. I'm not too sure if there is a quick service spot inside there but I picked up these pictures sometime between Pooh and my next ride.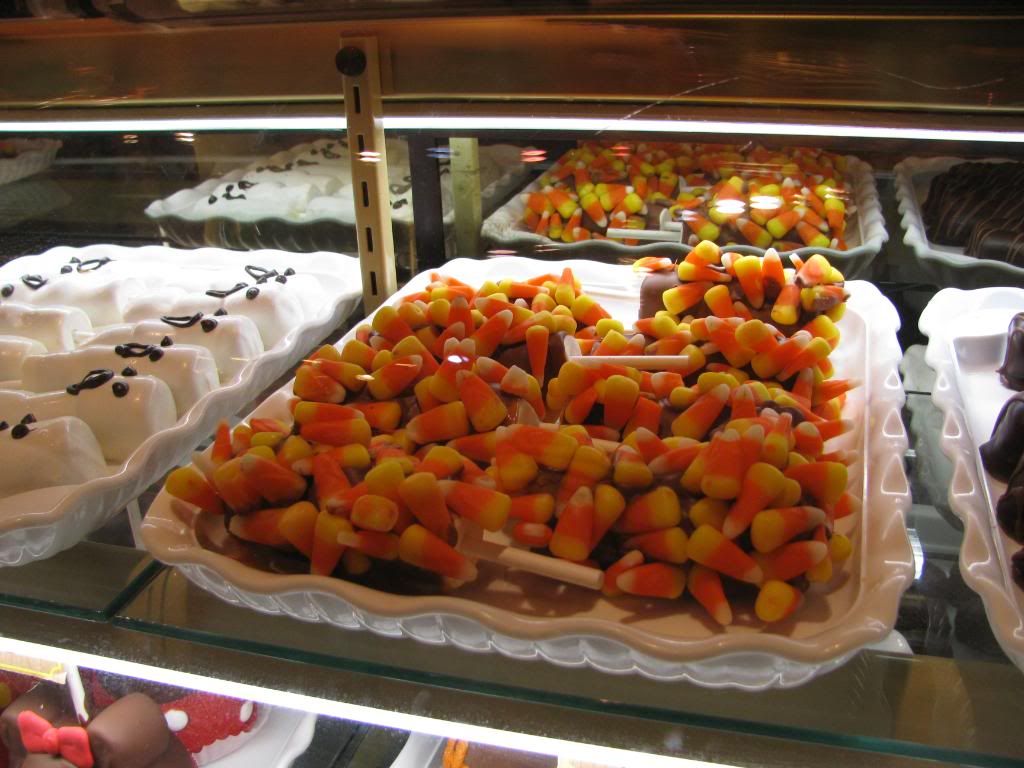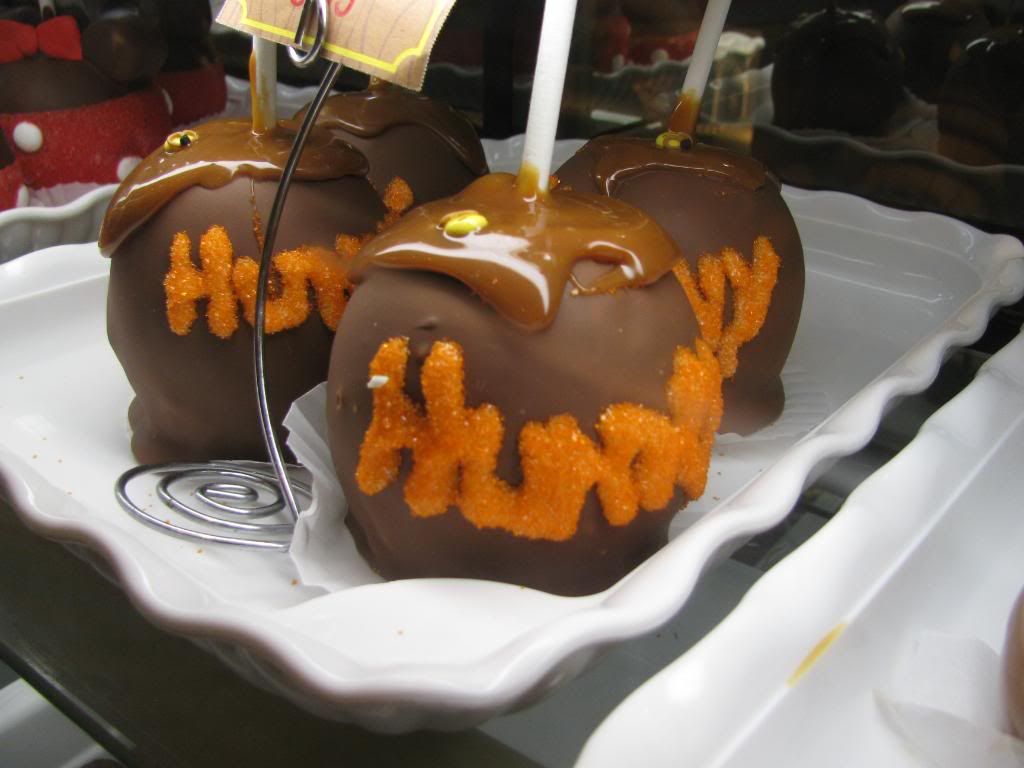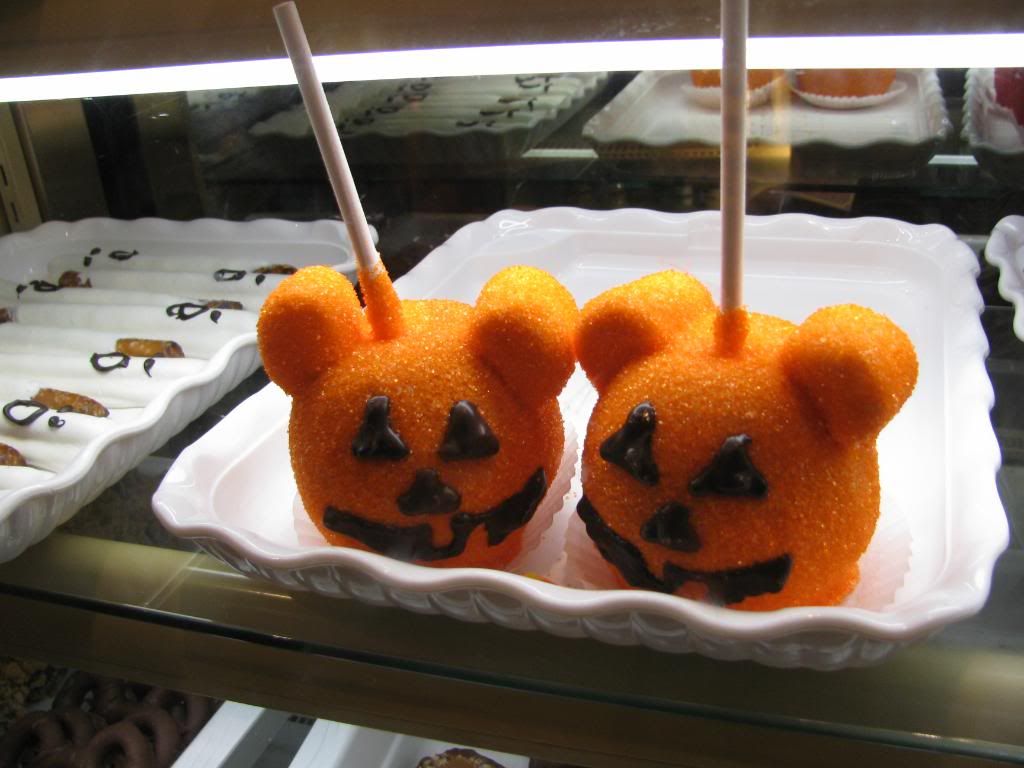 Many of the bakeries and candy stores had selections of Halloween treats just for the season if you are looking for them. Since the Pooh corner is as far as you can go in this direction I backtracked to...
The line here wasn't so bad at about 10 minutes and I was loaded with a bunch of silly teenagers. Again, my personal opinion is that the WDW is better but not by much. There are a few things missing but the view of the park is just as dramatic at night as you sit above the Rivers of America for a moment.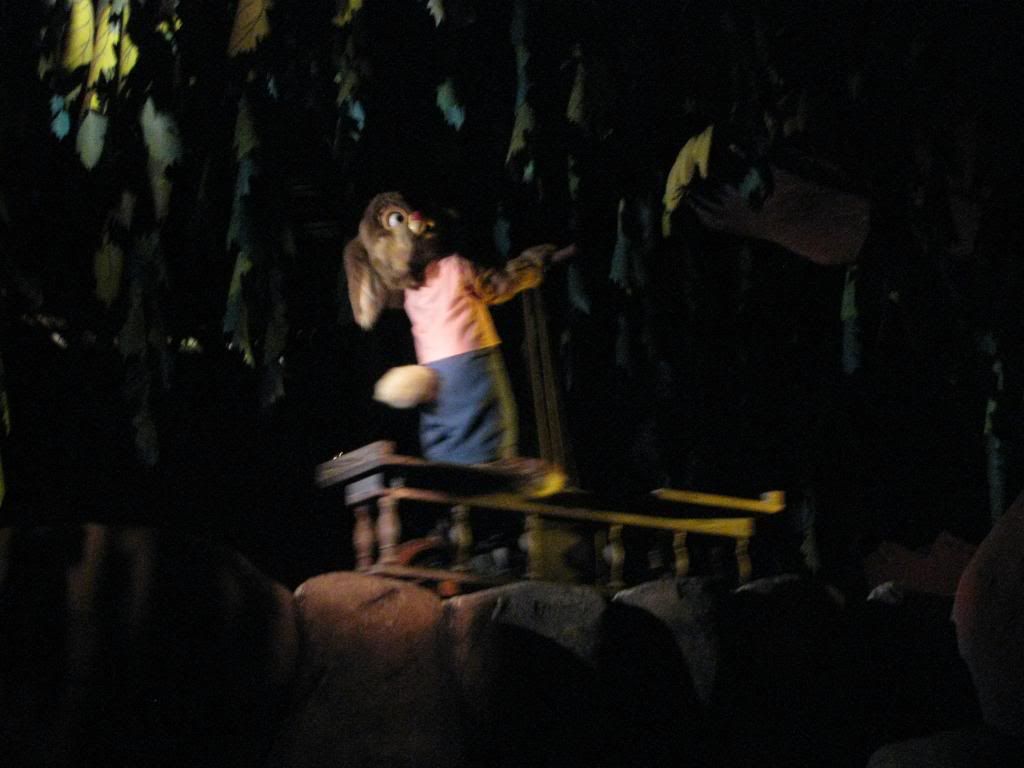 Only a bit wet it was now time to use that Fastpass I had picked up earlier. Circling around the Rivers of America I find that Big Thunder was still at about a 30 minute standby. Happily jumping into the FP line I was loaded within 5 minutes!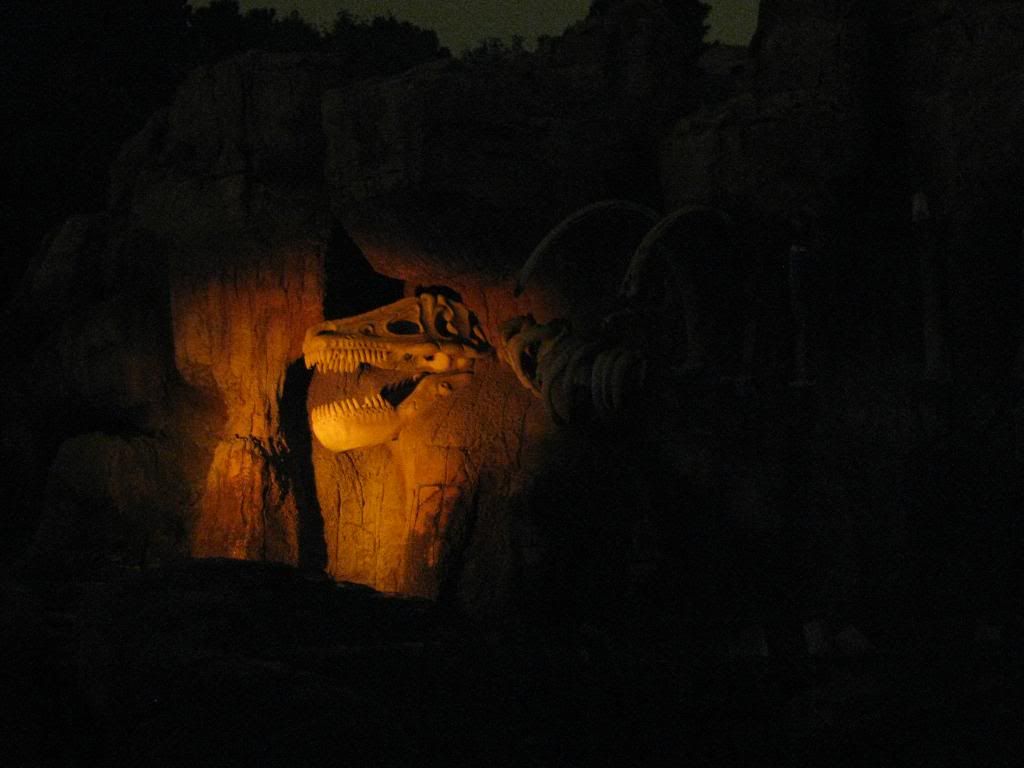 After missing out on this ride during our summer WDW trip I don't have a recent memory but going from my '07 trip the rides are very similar. Also, a mist had started to fall which made the ride very fun as your view became partially obstructed and very few parts are lit at night. All in all a great ride that night!
By now it was approaching 9:00 p.m. and at this point I had covered everything I had planned (plus a bit more) except the Haunted Mansion. Now was a good time for some shopping for the family and get a few pins I had seen online.
D23 Trick or Treat Pin
Jack Skellington with Stained Glass
These first two I really wanted but everywhere I went there were none to be found. I kept seeing other pins in the series but I didn't really like those. The search for these two pins would tie me up for hours in the coming days. The next three I eventually picked up.
Jack and Zero Haunted Mansion Holiday
Mickey's Trick or Treat Party
Halloween Screams Disneyland
While hunting I did pick up a Bolt plush for Madison
and a Princess pin.
A Jedi Micky plush for Michael.
This pin for Kyler.
At this point I still hadn't made up my mind on what to get Dianna so I'd let that be for a while. All told I had shopped nearly every store from Tomorrowland to New Orleans Square and everything in between.
It was now time for the highlight of the night.
Up Next: One Twisted Holiday