Aaaah, time to settle in and re-live the memories of our last Disney World trip! This special trip was our 2nd trip of 2010, and our 2nd trip ever. Our
1st trip in January
was encroached upon by my wonderful but patience-testing In-Laws. The good news is I got a Do-Over trip! Yay! And here is the story.....
The Cast -
Me, Traci. Age 41 - IT Admin (a.k.a. Computer Nerd) and Super Mom
DH, Brad. Age 36 - Geek Squad Manager (a.k.a. Computer Nerd) and Fun Guy
DD, Kythe. Age 7 - 2nd Grade Jr. Computer Nerd and Smarty Pants
The Classic Disney World Family Pose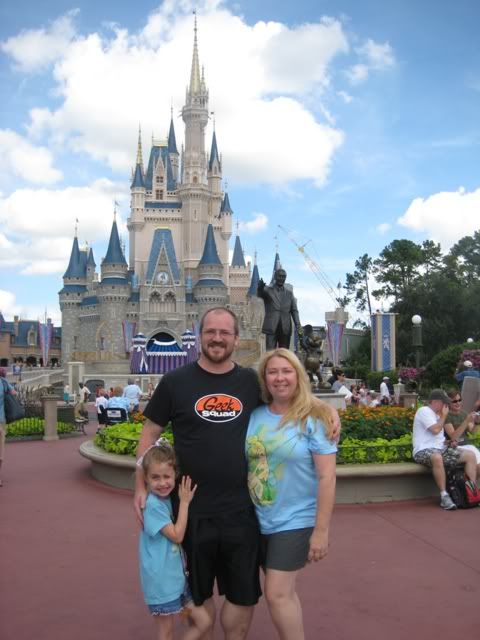 Links to Chapters
Day 1 - Arrival and off to Epcot
Day 1 Continued - Les Chefs, Illuminations and Tinkerbell's Grand Welcome
Day 2 - WE GOT THE YETI PICTURE!
Day 3 - Magic Kingdom and our first Crystal Palace Breakfast
Day 4 - Hollywood Studios and our First Fantasmic
Day 5 - Rare Magical Phenomenon at Magic Kingdom!
Day 5 Continued - Electrical Parade and Wishes
Day 6 - Kidnapped by Norway, Goodbye Mickey
Trip Info -
Dates - 9/23/10 through 9/28/10
Resort - Pop Century
Dining Plan - ADRs for Les Chefs Dinner, Tusker House Lunch, Cape May Dinner, Crystal Palace Breakfast, Grand Floridian Dinner. Plus 1 OOP Le Cellier Lunch (walk-up)
I wasn't sure how well late September was going to work out, hurricane-wise that is. Though we didn't get a hurricane, we were quite damp. And though this trip report will not have all the drama my last one did, it will have lots of fun, excitement, special rare phenomenon and loads of photos!
__________________
Traci, Brad & Kythe
Jan 2010 - Port Orleans Riverside - First Trip Ever
Trip Report
Sep 2010 - Pop Century - The "No In-Laws" Do-over
Trip Report
Feb 2011 - Pop Century - Mickey Valentines
Trip Report
Jan 2012 - Pop Century - Officially Addicted Annual Trip
Nov 2013 - POFQ - Goodbye Pop, Hello French Quarter
Trip Report
Apr 2015 - Pop Century - Birthday with Mickey
Pre-Trip Report