Halloween Disneyland Trip
Friday October 15 – Monday October 18, 2010
Cast of characters: Me Tina (41) huge Disney freak, Cousin Lenette (41) huge Disney freak, Cousin Haley (16) Lenette's daughter, also a huge Disney freak
Back story:
In July I lost my job. I have been very depressed and just not myself. A few weeks ago my cousin emailed me and asked if I would like to o to Disneyland for a weekend getaway. I so wanted to go, but couldn't afford it so I told her no. She replied saying that what she meant was I am going and she is paying for it! WHAT??? OMG! She knew I was sad and depressed and wanted to cheer me up! Usually we have months to plan, but this time we only had a few weeks. We had to go on this particular weekend because of her daughter's school schedule. We knew it would be packed, based on things we read, but we were ready.
All of the Disney hotels were booked as were most across the street so my cousin ended up booking the Hyatt Regency Orange on Harbor. We booked a lunch PS at Café Orleans and a WOC dining package at Ariel's and just waited for Friday the 15th to come!
We had been making plans for the weekend, organizing what our plan of attack would be etc. We had decided that once we got to the Hyatt on Friday we would eat at the hotel then go hot tubbing and watch the fireworks from our room. We were pretty much ready!
On Thursday my cousin emailed me and said SURPRISE we are going to the Mickey Halloween party on Friday night! WHAT??? Another surprise! Woooooo!!!
FRIDAY OCTOBER 15
My husband dropped me off at the BART station at 8am and I was heading towards UC by 8:20. Cousin and I were BBMing back and forth the whole time. We were so excited. I got to UC Bart at 9:30 and she was already there to get me! We stopped at the Disney Store at the mall so she could by our 3 day hoppers and we headed to Haley's school to pick her up. Lenette got her out of school and off we went. We stopped at Starbucks then hit the road.
To keep ourselves from going nuts on the drive down, we played Disney trivia. Lenette had bought all kinds of Halloween candy and lottery tickets as prizes. It really did make the time go by quicker. We stopped for lunch at Subway and to get gas and got back on the road. We were making excellent time until we hit about the Magic Mountain area. UGH! It took forever to get to Anaheim. We should have known it would be bad as it was a Friday night.
We got to the Hyatt at about 6pm. We checked in and went to our room to get ready. We all put on our Halloween shirts we had bought and went down to wait for the shuttle at 6:50. It came right at 7 and we were headed to the party!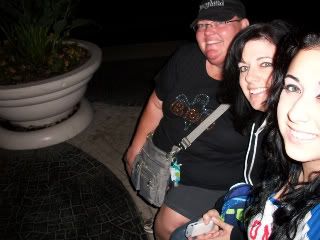 There was no line and we got right in. Right away we were having a ball. The decorations were so cute!! We loved seeing all of the costumes as well. We walked down Main Street pretty slowly and took some pictures. We were starved so we went to the Plaza Inn for dinner. YUMMY! I had the fried chicken, Haley had pasta and Lenette had the Cobb salad. Everything was delicious. We decided we will eat here on every trip from now on!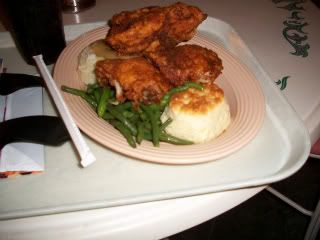 We wondered around DL and hit up some of the trick or treat areas. We thought what the heck how many times can you say you trick or treated at DL right? We had decided earlier that rides were not a priority as we just wanted to take in the party atmosphere and see the special Halloween fireworks. So after trick or treating we watched the parade and headed to the castle to get a good spot. We ended up right in the front a little to the right. It was an awesome spot. We had to wait about 45 minutes. The fireworks show was excellent! We loved it!!!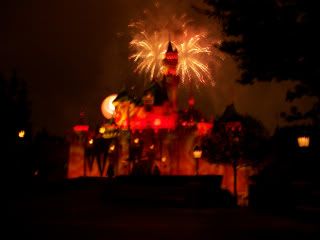 After the show we made our way over to ride Pirates. There was no line and we got right on. After that we trick or treated some more then went shopping on Main Street. We were pretty tired and had early entry the next day so we headed back to the hotel. We got back a little after midnight and fell fast asleep!
SATURDAY OCTOBER 16
We were up at 5:30, got ready, hit Starbucks at the hotel and caught the 7am shuttle. I rented an ECV and we were in DL by about 7:20. We stopped at Blue Ribbon Bakery for coffee and a pastry then hit Tomorrowland Terrace for a breakfast platter for Haley (she won't do sweets in the AM). After eating we hit up Space Mountain. Space is my favorite ride at DL, but I was not thrilled with the Ghostly makeover. I refer the regular soundtrack, but it was still fun. We rode Buzz after that and did a little pin shopping. *NOTE – Lenette and I are pin fanatics, she is worse than me* LOL
Next we hit Matterhorn, Small World, Thunder Mountain, Indy, Pirates and Haunted Mansion. We went over to Pooh Corner and got treats at the candy store. We hit up the pin shop in Frontierland, then made our way to Café Orleans for our 12pm PS. We just love the food there. Everything we had was awesome. We each got soup and/or gumbo then split a Monte Cristo, fries and benieghts. So yummy!
After lunch we shopped for a bit then headed over to DCA. We rode Tower then got a fastpass for it for later. We walked around a bit, it was a bit crowded. We shopped a little then went to the WCT area and had a beer! We rode Tower again then went to DTD for a while. We shopped and had dinner at Tortilla Joes. Another awesome meal! I had a chicken tostada salad and they had fajitas and everything was so good. We think the chips had crack in them cause we couldn't stop eating them!
After dinner we went back to DCA to check out the Electronica thing, which we thought was boring. We were so exhausted so at 7:30pm we called it a day and headed back to the hotel.
SUNDAY OCTOBER 17
We got to sleep in a bit and had the breakfast buffet at the hotel. It was delicious. We got on the shuttle at 9am and headed to DCA.
We grabbed fastpasses for Soarin and made our way over to Toy Story. The line was crazy long and we ended up waiting an hour and fifteen minutes to ride it. It was fun though. We played some games on the boardwalk and shopped a little. We rode Tower (again) then used our FP for Soarin. We went over to DL and tried to ride Indy, but it broke down. We rode Thunder Mountiain then made our way to the Monorail. We took it to DTD and went to ESPN Zone to watch the Raider game. We had to wait an hour to be seated. We got a few appetizers and watched the game. We headed back to DL and rode Indy before heading to DCA. We rode Tower and then pin shopped some more. !
We had a 6:40pm PS for Ariels for the WOC dining package. We checked in and weren't seated until after 7pm. Service was a bit slow, but not too bad. We loved the food and especially the dessert.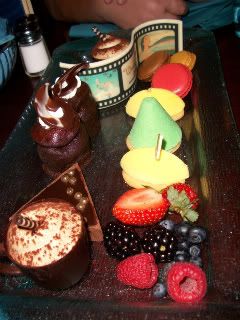 We were done by a little after 8. We headed over to the line up area and at about 8:20 they started letting people in. We made our way over to the preferred seating section and found the perfect spot on the stiars! We sat down while we waited for the show to start and stood when it was time. We had the perfect view! We loved WOC and would do the dining plan again to get this awesome view.
After the show we went and rode Soarin again then hit the candy store for a treat and made our way back to the hotel.
MONDAY OCTOBER 18
This was our last day and only a half day. We got up early, packed up and loaded the car. We drove over to DL and parked in the parking garage. We took the tram over to DL and had a quick breakfast at LaBrea Bakery. Their yogurt parfait is yummy!
We went into DL and rode Space, Thunder Mtn, Indy, Haunted Mansion and Pooh. We walked around a bit then had a quick lunch at Rancho del Zocala. We needed to get going soon so we rode Peter Pan and Mr. Toad then left to head home 
We had an awesome time, even though it was crowded. We rode everything we wanted to, many more than once, and shopped and ate and people watched and overall just had a blast. On the way home all we talked about was getting home and booking a trip in February for Lenette and Haley's birthdays! LOL