Hi everyone! Just back from our first family trip to WDW and we had an absolutely magical trip!
A lot of the magic was thanks to the wonderful people here at the DIS and my friend Karen who introduced me to the DIS in the first place. I love planning and fitting pieces of the puzzle together so the planning phase of this trip was long and detailed... you can read all about that by clicking the link for my PTR in my sig... but be warned it gets a little crazy in there at times!
A little background on us before I begin...
WHEN:
September 25- October 2, 2010
WHERE:
All Star Music Resort

WHO: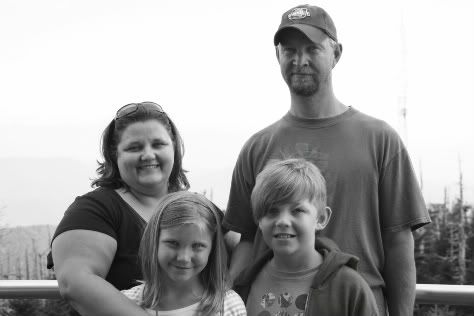 That's me, Hope, in the back. Dh, Robbie, is the one towering over everyone in the back. Kya, dd10, is in front of me and Jace, ds11, is next to her.
In the past our trips have been pretty laid back, this pic was snapped on top of Clingman's Dome on our trip to Great Smoky Mountain National Park/ Gatlinburg last year. We like going to the mountains, the beach and made it to Germany as a family once (for b-i-l's wedding) but even that trip was relaxing and laid back. To be honest a trip to WDW was not even on my radar because it just didn't seem like our kind of thing- until Karen (twoboysnmygirl) got a hold of me.
We are homeschoolers and we were at our annual Halloween party after Karen had just returned from her 2nd trip to the World. She was telling us all about it and then casually mentioned that Disney has homeschool tickets and free dining in September. Well, I'm a bargain shopper so she had my attention! Before I knew it we were planning a trip and I was completely hooked on the entire process!
When Disney made homeschool days earlier in September than we anticipated we decided to keep our original dates but still were able to get free dining!
Since we normally stay in a house or condo with me doing lots of cooking and dishes when we're on vacation I was pretty excited about the idea of all our meals being prepared for us.
So, the next 10 months or so just flew by as I researched, planned and, well, obsessed about making our first Disney trip as magical as possible. When it was finally time to go I kept wondering if Disney could live up to my expectations...
To make it easier to follow along I'll link my next update at the end of each update post. Then you can skip the extra stuff if you're joining in later.
Up next:
Traveling to Disney