DAY 6 - Magic Kingdom - Les Chefs de France
Early rise today, to make rope drop for EMH in Magic Kingdom. First call was to collect Fast Passes for Space Mountain. Once we had got he passes we made a beeline for Buzz Lightyear.
I can't remember what scores we all got, but I know I won!.
Next, onto TTA. This was closed for refurb during our visit last year, so I was curious to see if anything had changed. The section that travels through Space Mountain is now in complete darkness, you cannot see any light at all. A quick hop over to Carousel of Progress and a nice sit down for 10 minutes!.
This song has a lasting effect on you (just like It's a small world!).
Next on the list was Monster Inc Laugh Floor. I am always wary of being in the spot light on this one, it happened once on a EMH late night, but fortunately, the show was half empty.
We had left OKW without breakfast, so we made our way over to Columbia Harbour House, but we still had 15 minutes before opening, so Haunted Mansion seemed a good option. It always amazes me that I must have ridden this ride dozens of times, yet I still seem to see new things.
On exiting the ride, Columbia was just opening it's doors.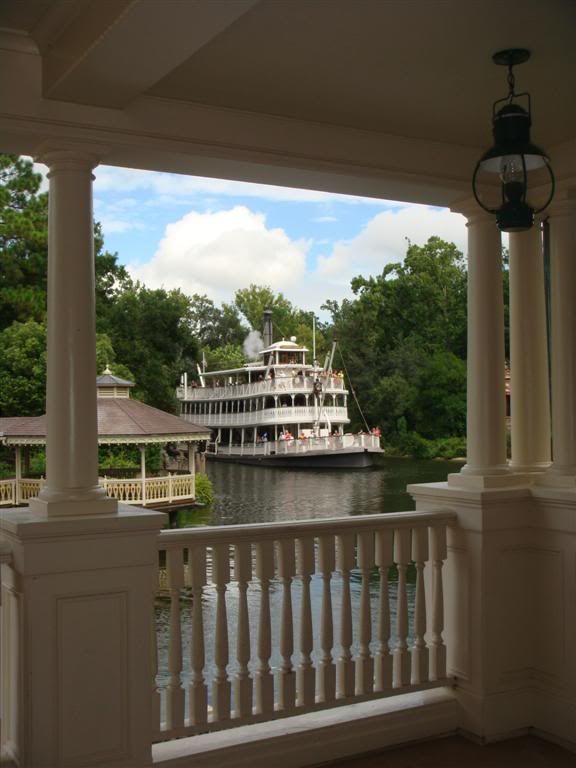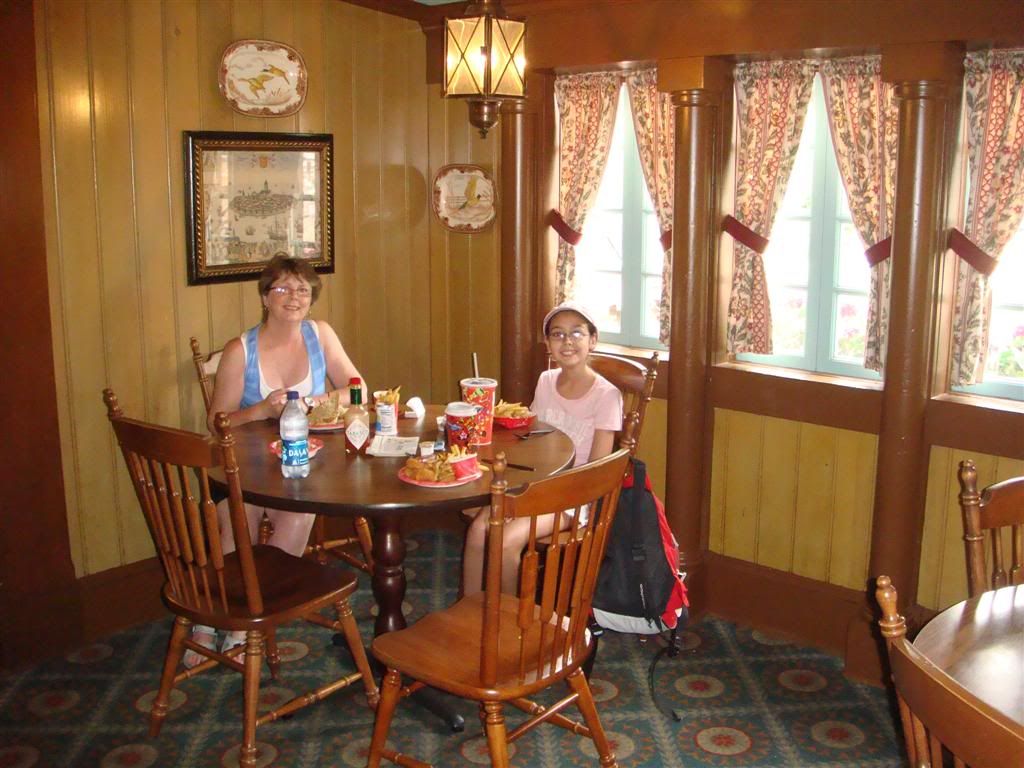 Nigel: Deep fried shrimp with fries, coleslaw & dipping sauce + coffee + Apple crisp
Sue: Vegetarian Sandwich with fries + Strawberry Yogurt + Bottle water
Emma: Chicken Nuggets with fries + Chocolate cake + Diet Coke
Just around the corner, we managed to see Princess Tiana and Prince Naveen.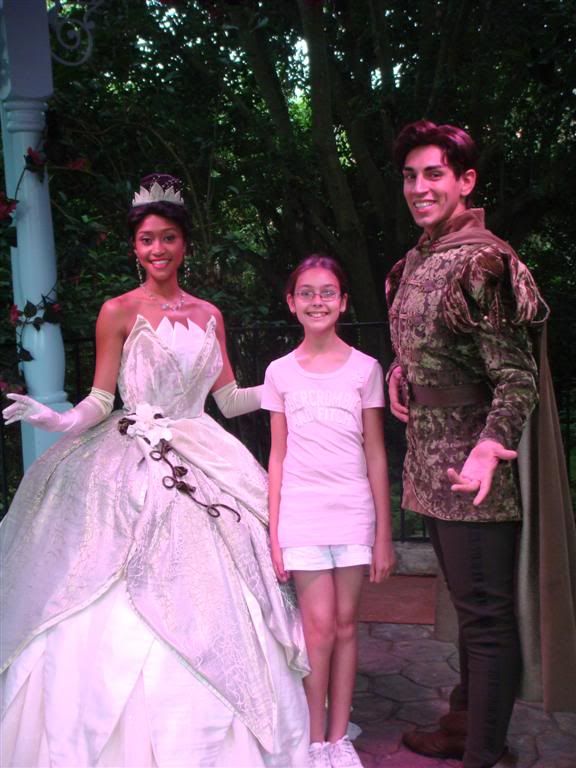 After lunch, we travelled back to Tomorrowland to use our SM fast passes, but there was a technical failure and the ride was out of action. We moved on to Toontown and joined the line to meet the Princesses (Cinderella, Belle & Aurora). The line moved a lot quicker than the one for the Disney Fairies.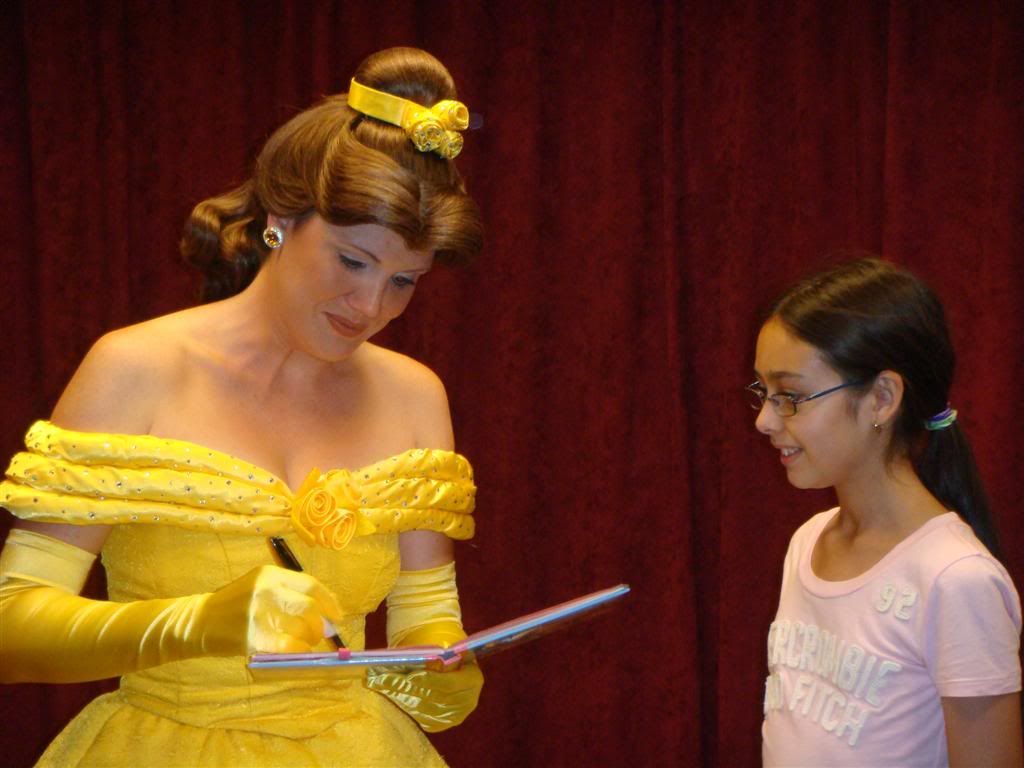 There is a lot of construction happening near to Dumbo ride, it appears a new Ariel attraction, together with a Beauty & the Beast restaurant is planned for the future. Mickey's Philarmagic was next and this was a walk in, just as the doors were opening for the theatre. It started raining quite heavily on our way out, so we took shelter with a couple of Pineapple floats from Aloha Isle.
For anyone who listens to the DIS Podcasts, this was a favourite place of the late Bob 'Bawb' Varley.
The rain did not look like stopping soon, so we made our way back to OKW. We spent a few hours in the 'quiet pool' near to our room after the rain had stopped.
Our ADR at 19:00 for tonight was Chef de France in EPCOT. After last night's events I was not looking forward to this. We parked at Boardwalk and had a stroll via the International Gateway into Epcot. Soon after checking in, we were seated within 10 minutes. Our server was a nice Gentleman named Lidio. We got chatting and he told us he was born in Menton on the French – Italian border, then moved to Monaco until 25 years ago when he moved to Orlando. From the badges that he wore, he could speak, English, French, Italian, German, Spanish & Portuguese. The service was outstanding, both speed and quality and soon our meals were served. (What a difference from the previous evening!)
Sue: Salade Au Blue + Demi poulet fermier roti + Creme Brulee + Diet Coke
Emma: (no starter) Demi poulet fermier roti + Gateau au Chocolat + Diet Coke
Nigel: Bisque de homard + Filet du saumon + Profiteroles au Chocolat + Diet Coke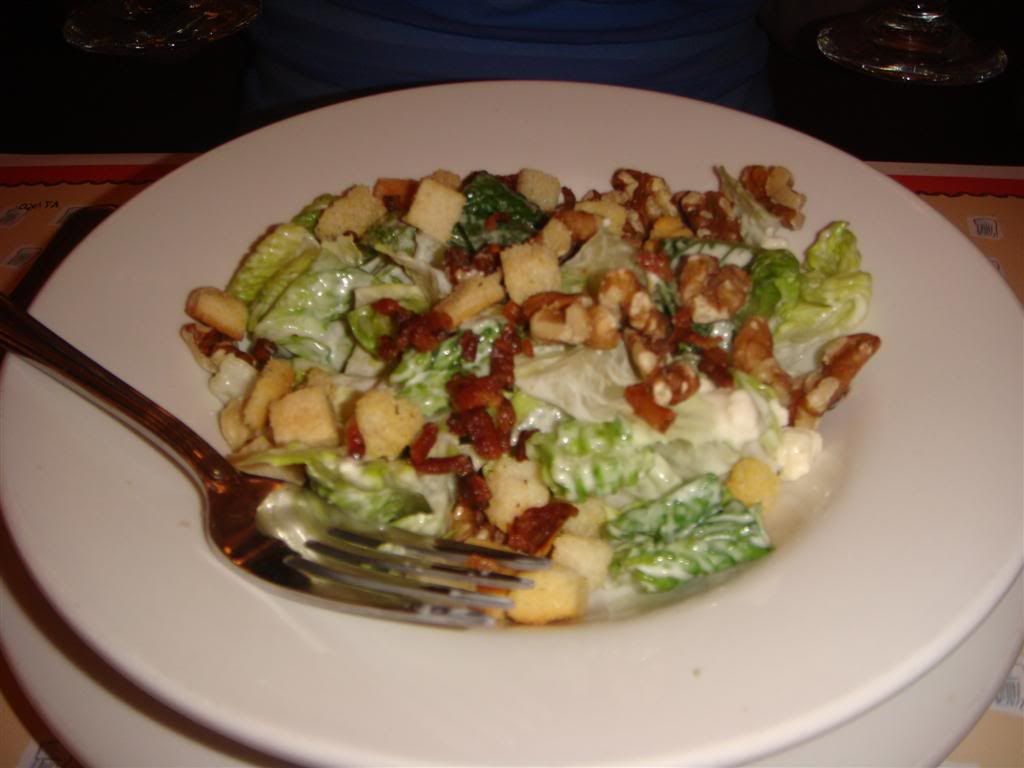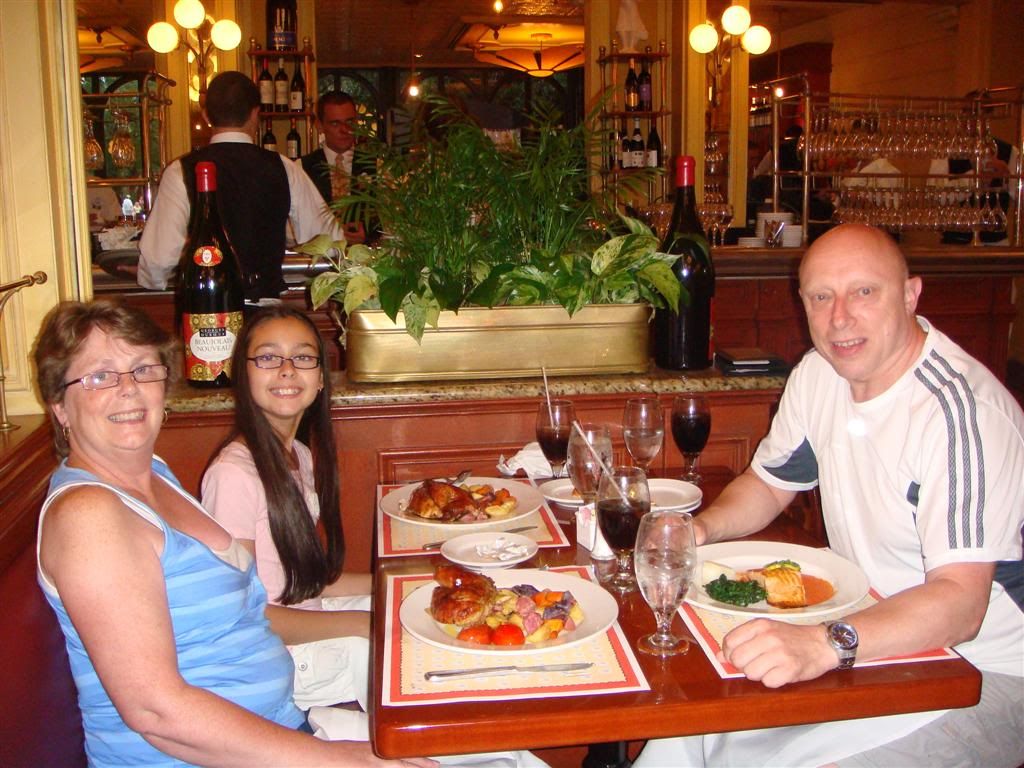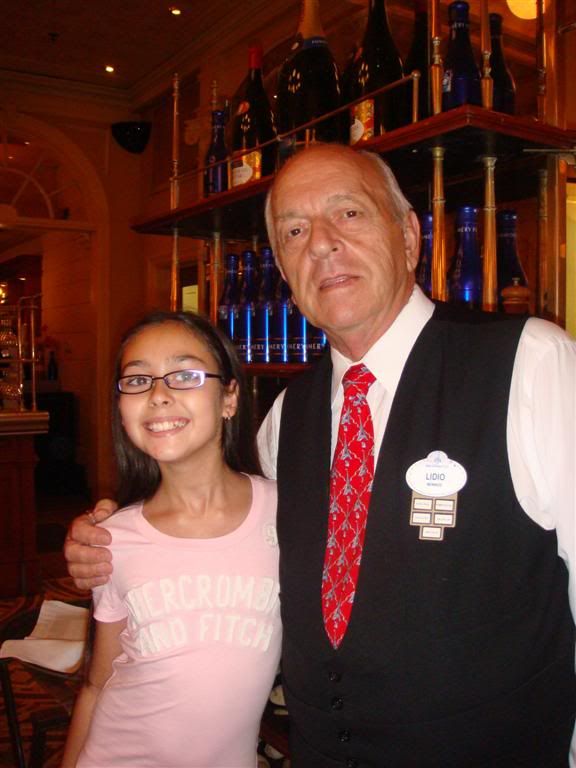 Sorry about the Lobster Bisque picture (I stirred it before I took the photo
The food was magnificent. We left the restaurant at 20:50, and so decided to watch the fireworks from the bridge, between England and France. I like the music to this display and bought the CD a few years ago.
We left the Boardwalk at 21:30 and made our way back to OKW, ready for bed after another busy day.

RETURN TO TRIP INDEX