I first lost my notes
as to what we accomplished every day, then got sick
, so it has taken me a while to try and get this together, but here it goes:
Cast: Me & DH (30-something's), Brother & his wife & 4 kids 2 1/2 boy, girls 5, 9 (turns 10 today), 11, & our parents, in their 60's.
Sunday June 13th
Arrived without any drama. Caught the Super Shuttle right away, unfortunately DLH is the last hotel on the route so we landed at 6:25 but didn't get to DLH until around 8:00. Checked in, unloaded our luggage then went to House of Blues (we had the $25 restaurant.com certificate that we bought for $2 to use). They said the wait was 15 minutes, we were seated in less than 5! Good dinner, and we had no problem spending the $35 (2 entrees, 2 beers, 1 dessert + tax came to $52).
We did have some drama regarding our grocery order (the short of the issue was I called DLH to make some room requests, at the same time I confirmed that they would accept a grocery delivery on our behalf. We scheduled it for Sunday before we arrived so we would have the goods waiting for us....Vons called me around 10:30 that morning saying that they've had problems with DLH accepting deliveries, but he would try any way. At about 1:00 he called back to say DLH refused the delivery & we would have to be present to receive the groceries, so we cancelled the order)
click here to read more
.
So we got back to our hotel from dinner around 9:30 -- just as the fireworks were starting. We rushed to our room to watch the rest of the fireworks (Standard View room in the Magic Tower
), then at 10:00 we took our grocery list & grabbed a cab. $40 cab ride later we had our groceries unpacked at the hotel....finally got our showers in & turned the light out shortly before midnight. We both slept poorly that night....not sure if it was the anticipation of DL or the hard bed.
Monday June 14th
DL: 8am-midnight; DCA 10am-10pm
DH & I woke up early & were at the security check point at 7:20. They didn't start letting people through the gates until some time after 7:30. We were towards the front at the turnstiles & at rope drop at the end of Main Street. We "walked with purpose" to Space Mtn. I grabbed FP's & met DH at the front of the line. We were #40 & #41 in line for the ride
! Rode Space twice in a row, then hit Buzz, the Matterhorn, & then Big Thunder Mountain before we got the text from the rest of the family saying they were almost to the hotel (they lucked out - by the time they used the bathroom their luggage was waiting for them, they walked outside & the DL Express was just getting ready to leave but they made it on the bus). So DH & I hopped on the Monorail to meet the group & get their luggage stored in our Room.
They got changed & we were back in the DL (via the monorail) by 10:30. I ran to get Splash Mountain FP's (12:00 RT) then we rode Pirates with a 5 minute wait & then Haunted Mansion with a 15 minute wait. Then waited at
River Belle Terrace
until 11:30 when they opened the lunch menu. While they finished eating I ran to get BTMRR FP's with 1:00 RT. I can't remember exactly what we got in the rest of the afternoon, but I do know we used our Splash (I was soaked) & BTMRR FP's in the afternoon.
We had 4:30 reservations for the
Big Thunder Ranch BBQ
. Decent food..........BUT we were seated in the sun. There were several tables in the shade but the host said they had a party of 68 coming in so we couldn't have them
. The next party gets seated in the sun & also asks for one in the shade & the same host said they were expecting a party of 44(party size changed?) Well, we ate very quickly (we were dying in the hot sun & wanted to get out of there). About 10 minutes after we were seated, a party of 3 gets seated at the same table we had requested in the shade
. The party of 68 (nor the party of 44) ever arrived. My father complained to the manager who agreed that there was NO reason we should have been seated in the sun. We never heard if there really was a large party coming, but even if there was we were done long before they arrived (and probably would have only stayed another 10 minutes had we been in the shade). The manager did knock 20% off the bill, but we would have rather paid that $40 to have a spot in the shade where we could have enjoyed a more leisurely meal. As it was, the "show" didn't start until 5pm & we were out of there by 5:15 (45 minutes from start to finish).
After this we rode Buzz. I think the whole party together got in 9 attractions in less than a full day. Most of the party went back to the hotel around 7pm (DH & I went & used our set of Space FP's, then took the monorail back).
Tuesday June 15th 7am EE day!
DL: 8am-midnight; DCA 10am-10pm
Up at 5:30, out of the hotel by 6:20.......waited until 6:45 for the security checkpoint to start letting people through (I thought they opened it 30 minutes prior to opening?) Anyway, we were on the first round of guests on Dumbo, then waited about 10 minutes for Peter Pan. 5 minutes for Mr. Toad's Wild Ride, about 8 minute wait for Alice in Wonderland. Then it was 8:00 and a few of us did the Tea Cups while others took a bathroom break & my dad went to get Space Mtn FP's. He noticed the wait for Matterhorn was short so we rode that on the slow side & then hopped over to the fast side. We then went to the Tiki Room & Jungle Cruise. I can't remember what else we fit in but we did Buzz again and at some point we went to Captain EO (a few of us wanted to go see it, others just wanted out of the heat), and Star Tours. We also got to hunt down Buzz too which was great for the 2 1/2 year old! At one point when my brother & I got Space FP's the rest of the group rode the Steamboat.
A bit before noon the bulk of the group got lunch in DTD & went back to the hotel. DH & I split off and took our 11 year old niece to DCA to get FP's for Soarin' to use later in the day (there was a 5 minute wait to get FP's, with CM's managing the line & not letting people come through the exit....they thought it was due to WOC crowds). The wait for WOC FP's was around the mountain too -- looked to be over an hour long if I am guessing correctly. We then rode Screamin' Single Rider. Grabbed lunch at
La Brea
(very good sandwiches) & then
Haagan-Dazs Ice Cream
. Got back to the hotel & took a long afternoon break.
At around 4:30 we got together & went back to DCA & caught the 5:15
Pixar Parade
-- cute parade! We then ran to use our Soarin' FP's (DH stayed with the toddler , we didn't do the stroller pass thing & the rest rode Soarin' with a large group of Asian tourists & it was hilarious
, I've never ridden Soarin' with such a loud/vocal group!) & then made it to
WCT
for our 6:30 reservations just in time. We had 2 reservations, 1 for 8 & 1 for 2. They couldn't fit all 10 of us together, but they could seat us immediately upstairs breaking it up to 2 parties, 4 & 6. We chose that option as we knew we were on the tail end of reservations. Dinner was blah. The bread was fine, the salad was different but nothing outstanding. We were told that there was a problem with the Roaster in the kitchen & the "New York" was only coming out medium-rare & anything more would take 20 minutes more. All adults got the New York & when it came out there wasn't a speck of pink in the meat. It was still tender, but was well done. The potatoes (the ones that were cooked) were good. The green beans were pathetic. And the amount of gorgonzola cheese & garnish on the steak was very minimal. Dessert was also underwhelming. Our waiter changed at the time our bill was presented & when I paid they didn't give me the WOC tickets. I had to go up to the stand and request our tickets (which is a minor thing, but still irritating). Everyone used the restrooms (we had bathroom issues the entire trip with the nearly 10-year old that really put a damper on things) and went straight to WOC.
We stood in the 3rd tier, there was still enough room at the railing for all the kids to stand. There was a family with AP's next to use who we chatted with and shared our glo -stiks (from the dollar store!) with their daughter. The pre-show was so cute, we loved it! The lit up characters were fun & I loved the energy. WOC itself was good, but I felt it dragged along at some points due to the lack of any story-line. The constant water screens were very impressive, but in the third tier we believe that we missed a lot of the show that can only be seen from close-up. After the show was over we stalled, allowing the masses to exit before us. Then most of the group walked back to the hotel while 4 of us returned to DLH to use the rest of our Space Mountain FP's, then rode the monorail back.
Wednesday June 16th 7am EE day!
DL DL: 8am-9pm; DCA 10am-6pm (grad night)
We had such a great time with low crowds on Tuesday that the group decided to take advantage of our second EE morning. I had planned for an afternoon break, but we ended up going the whole 14 hour day. My father stayed back at the hotel with the 10 year old who wasn't feeling well until around 11. We had the same experience with the security gates being opened later than expected.
Our group split up. Group 1) was my SIL, my mother, & the 2 year old. Group 2) was DH, DB & his 2 daughters, & myself.
Group 1 went to Buzz & rode it 6 times. Nemo once & Astro-Oribitor once
Group 2 rode Space Mountain twice with minimal wait (nearly walk on), then rode Matterhorn & BTMRR. At 8 am I ran to get FP's for Space & then 1 for Buzz for my mom to use later on with the toddler. At one point we walked by Nemo & saw there was NO LINE, so I called my mother & told her so that they could get the toddler on Nemo with no wait (and then they went back to Buzz again (can you tell the 2 year old loved Buzz?)
Around 9 we reconnected (while waiting for SIL & her son to get off Buzz we rode Astro-Orbitor (my first time ever, don't need to do it again!)) & left DL for DCA... They promptly opened the turnstiles at 9:30. We were at the rope to the left of GRR for rope drop. I decided to NOT go get Soarin' FP as I wasn't sure I would be able to get back up to my group. Instead I walked faster & got FP's for Screamin', then met my group at the beginning of the TSMM line (it was perfect timing
). We still waited about 20-25 minutes to get on the ride, but it was a hit! After we got off we road Screamin' standby with minimal wait, & then headed over to get FP's for GRR. At this point my Dad re-joined us for a mediocre lunch at
Taste Pilots Grill
by Soarin' around 11. Right before we ate we got in line for Aviator Minnie....she left right before we got to the front of the line so we instead met Aviator Goofy. When we were done with lunch, Minnie was back out so we got to see her as well. And we did pictures with Lightning McQueen & Matar. Then my brother had to take the 2 year old back to the hotel for a nap. The rest of the group (minus my mom) rode GRR with our FP's & then we rode TOT (virtually walk-on).
I'm fuzzy on what we did the rest of the afternoon, my SIL did take the girls on Jumpin' Jellyfish (DH & I did Silly Symphony Strings) and then Mullholland Madness while DH, myself, & my parents rested. My brother met back up with us & we did catch the 4:15
Aladdin
(got front row of the Mezzanine level!) I have to hand it to the CM who managed the lines for Aladdin. For some reason the wouldn't open up the Mezzanine area until the Orchestra was full, so we were waiting off to the side with several other groups. When they finally opened Mezzanine, they stopped everyone in line & let all of us who had been waiting for 30+ minutes enter the queue area first. The show was great, as always (I really hope they don't replace it). After the show we rode Monster's Inc and then at 5:20 we left DCA (some lucky late-arrivals received our 8 Screamin' FP's that were leftover) for DL. We split up for dinner (had mediocre food at the
Mexican place
, but the lime chips were tasty!) My parents were off on their own for dinner & they called about 6 saying there was NO LINE FOR
PFF
! We scrambled to finish eating & went against the tides (lined up for the parade) to get to PFF. Turns out there was no line because it was closed? There was a CM saying the princesses would be back shortly. We assumed it was closed for the parade which was just starting as we got there. We were about the 5th group in line & waited for about 25 minutes before the Princesses returned. Once they started allowing groups in, it went very fast, and in 3 trips this was our quickest time to wait & get through. We lucked out & met Cinderella, Aurora, & Snow White. We then decided to knock out Toon Town. We went through Mickey's house, but at the end we thought he wasn't home so we left.....as DH & I walked past the door to the room where Mickey usually is a group was leaving & we saw him in there....so we turned around & went back inside (while I ran outside to find my dad & get him back in as he'd left earlier to check to see if Minnie was home, she wasn't) Anyway, we got to see Mickey without too long of a wait (the kids loved him!) We looked around TT, went through Goofy & Donald's places. RR was down, and the Go-Coaster had too long of a wait...so instead we decided to walk-on to Small World (woo hoo). By this time we were all pooped, so the bulk of the group grabbed the Monorail to head back. DH & I went to see if there were any okay spots for Fantasmic!.....I decided it wasn't worth it so we decided to just leave.
Thursday June 17th
DL: 9am-9pm, DCA 10am-6pm (Grad night again)
We had 8:40 am reservations for
Plaza Inn with Minnie & Friends
). The past 2 trips the entrance has been on the Harbor Blvd side of the turnstiles, so we headed down there just to find out that
, the gate for Character Breakfast was at the opposite end. Once we got there, there was a long line of people waiting -- people with reservations for as early as 8:20, and they didn't open the turnstiles until 8:30
....we were never given any instructions on what to do once inside the park...luckily I saw the sign (I was at the tail end of our group) for Plaza Inn to go through a store on Main Street....had we not seen that sign we would have been upset & waiting as close to the rope as possible. We got through the chaos & into the store & got seated right away. They didn't do this on the previous trips, but this time they took a group photo & gave us a "free" copy
. Breakfast was as-to-be-expected and the characters were awesome and everyone had a great time.
By the time we were done it was already 10 am so after I ran to get FP's for Space we went straight over to DCA. I went and got 2 FP's for Soarin' (for my mom & the 6 year old) and then more FP's for Screamin'. Then met up with the group & got in line at TSMM. We waited about 45 minutes (but needed to do it since my dad & 9 year old niece weren't with us the previous day). When we got off the ride we got GRR FP's. Then we split off with my mom & niece doing Soarin' (which was nice they got some one on one time) and the rest used our Screamin' FP. We then all got Ice Cream at various locations (we finally tried
Catch-a-flave
- yum!), then rode GRR. I went to get more Screamin' FP's then met the group at Animation Studios for
Turtle Talk w/ Crush
(so cute, I can't believe we never heard about this attraction before DH & went to WDW last year & experienced it at Epcot!)
At this point we split up. My parents took the 2 year old to Bug's land & did all of the attractions in there including ITTBAB while we did TOT twice. The TOT group also caught Sully in the back lot - one of the best character interactions we had (we were sad the toddler missed it). We met up again so we could use our last batch of Screamin' FP's, then went back to DL.
My memory is failing me & I can't remember exactly what we fit in. We did hit Splash Again (used FP's I had gotten earlier) and then Winnie the Pooh. We gave away our Space FP's after our group split up again. My group included my parents & the 11 & 5 year-old girls...we went to the
Main Street Cone Shop
because we saw online that they have Ice Cream Cookie Sandwiches which we thought we be similar to the massive one we had in WDW/MK (sadly they weren't
). We pissed off a group of young girls though...if you've ever been here there are not many tables. I eye-balled a table with a couple who was done eating & went and stood behind them. I didn't want to be "too" obvious so I was playing on my phone cleaning out the dozens of text messages from the week. Then a young girl came on the other side, also eye-balling the table. My Dad then came over to ask me a question and since he is older, I whispered to him to ask the couple if they minded if he sat in one of the chairs as his knee was bothering him (which was true, he had knee-replacement surgery that didn't turn out great). The younger girls (I'd say late teens or early 20's) were fight-to-be tide & couldn't believe we scooped their table & DH heard them call us "sharks", lol. I guess they didn't realize I was waiting for the table & really, 2 little kids needs to sit when eating their ice cream sundaes, not to mention the 2 senior citizens. Oh well.
We rode Buzz again, and when we went to use the monorail at about 6:45 & there was a long line. I asked a CM at the front what was going on as previously in the week we'd seen a monorail every 5 minutes & I was told they only had 1 train running (didn't say why). We made it in the next group (total of 3 trains before we got on, waited about 25 minutes) and when we got loaded on, our "car" was virtually empty
! It was the 6 of us and another party of 4. They could have fit at least another 15 people in our car alone. The looks on the faces of the people who were first for the next car was classic -- shock & anger. I couldn't understand why they wouldn't load the cars more, it seemed wrong. In addition they were letting people ride round trip. In past years when we've used the MR as a "break" we were told that if there was a long line at the other end we would be forced to exit & get back in line, but they did not enforce that policy on this night. This pretty much made all of us mad, but what are you going to do?
We got back to the hotel. Mom & I changed into warmer clothes & then started back to DL for
Fantasmic!
. The boys all got dinner & stayed in the hotel watching the final NBA game, and my SIL took the 3 girls down to the pool. Mom & I got a spot in front of the French Market Restaurant....we were on an upper tier right at the railing. We arrived there about 7:20. We sat and chatted for about an hour, but once it started to get crowded we stood up. We ended up chatting with a nice family from Australia & then when the show started let a few of the children who were behind us come in front so they could see the show. We got to see the Fireworks first (they switched Fantasmic! & Fireworks that night, I can only guess it was to clear out Main Street since it was a grad night)....I was worried we wouldn't be able to see Tinkerbell or Dumbo (two of my mom's favorite Disney characters) but we did catch a few glimpses of them! I think the "Dreams" fireworks show from a few years back was better (and also last year's show in WDW seemed cooler). And then we saw Fantasmic! which I have to say is so much cooler than WOC! The live characters, the story line,, the boats, it is just so neat! All of the families around us who had seen WOC agreed that Fantasmic! was much better than WOC. Anyway, mom & I took our time & waited for the masses to exit before we headed back to the hotel.
Friday June 18th
DL: 9am-midnight DCA 10am-10pm
Yowsers there were a lot of people! But still, crowds weren't too bad early on. We Split up our group again. The 10 year old was again sick
so my brother stayed with her in the hotel. DH & I took our 2 other nieces on coasters, then my parents & SIL had the toddler. My group went to Space Mountain first & I grabbed 4 FPs... by the time we got off the line was already to 45 minutes! We left & I went to get 2 Buzz FP's and had an error with one of the park tickets saying it wasn't scanned at the gate. So DH took the girls on Buzz while I went back to the front of the park. I had them scan it again, I saw the screen say "0 uses left" which (I think) meant this was our last day. She said it should work now for FP's. So back I went to Buzz & again it isn't working
. The guy managing the line wrote a note on the 1 valid FP that it was good for 2 & said that sometimes it takes 30 minutes for the ticket to register as scanned (???? then why can everyone get FP's 5 minutes after park opening? Didn't make sense).
We then hooked up with the other group in Fantasyland (around 10) -- they had ridden Dumbo twice (walk on both times) the Carousel twice (didn't have to get off) and Pinocchio twice. We went on Snow White & Pinocchio as a group. We split up again (same groups). I ran to get FP's for Splash while DH & the girls went on BTMRR. Splash wasn't working, so I went back to get BTMRR FP's & guess what -- that ticket wasn't working still. There were a couple Disney "suits" talking to the CM managing the BTMRR line so I spoke to them & they said that if we have a big batch of FP's to keep the one saying the ticket wasn't scanned & explain what happened to the CM & they should let us on the ride. Hmph. We then went on BTMRR standby again.
By then it was nearing 11:00 . The other half of the group was waiting to get a silhouette of the toddler after riding Casey Jr Circus Train & Storybook Canals so we rode Pirates & Haunted Mansion, got some snacks (Pretzels & Cotton Candy). By now my brother had made it back with his other daughter, so I collected their Park Tickets & went to get more Space FP's....And then my brother's ticket had the same problem as his wife's showing it wasn't scanned at the gate
. We rode BTMRR with the FP's from earlier which brought us to noon -- DH's & my departure time
.
We grabbed a Dole Whip on the way out (I had never had one before!) We took the 2 tickets with us that weren't working so they could still collect FP's, but we were planning to go to DCA so I was worried we wouldn't be able to get in. Before leaving DL I spoke to a CM at the hand-stamp exit, she scanned the tickets & they were now showing expired. She called someone else on the radio who took our tickets & a few minutes later he had loaded them with another day so they were working. We were able to get into DCA & got Screamin' FP (just in case my brother & his wife made it back over) and then rode Single Rider. We left & grabbed lunch at the
Jazz Kitchen
counter service, then some more
Haagen-Dazs
. Grabbed our luggage from our family's room (left our 2 park tickets & FP's in the room as a present) & caught our 2pm shuttle to John Wayne.......get checked in for our flight just to find out it was delayed
TWO HOURS
!! We could have had
TWO MORE HOURS IN DL
!!! We had checked the Southwest website before leaving (and checked again once through security) and they still showed the flight as on time. Oh Well.
After we left the rest of the group grabbed lunch, did Pirates & the Haunted Mansion again. They also made it on Matterhorn -- the night before Grandpa had told my brother that the toddler was tall enough to drive the bumper cars in Bug's Land ...which made my brother realize that he was then tall enough to ride the Matterhorn
!! Sadly we missed this due to the 9 year old saying she was sick that morning (we all have her suspicions she was just trying to get attention). The toddler reportedly had a death grip on Dad, but LOVED it! The also did Buzz as a group, and finished off the rest of the FP's (plus some more they collected) & caught the Celebration parade before leaving the parks around 4:30. My parents had 5:30
Blue Bayou
dinner reservations, mom had the portabella mushroom, but it was disgusting. When the waitress asked them about their meal she was honest. The waitress was apologetic & without asking she took the dinner off the bill (and got herself and nice tip). My brother had dinner with some family from the area at the
Jazz Kitchen
. No one went back to the parks after dinner, they just chilled in their rooms & enjoyed the fireworks, yet again, from their rooms!
~~~~~~~~~~~~~~~~~~~~~~~~~~~~~~~~~~~~~~~~~~~~~~~~~~ ~~~~~~
Overall it was a good trip. It was much different that past years in regards to dealing with higher crowds, warmer weather (really wasn't
that
bad though), grad nights, WOC crowds, plus 2 less people in our group (my other brother & his wife couldn't make it). We did add an extra day thought (usually we have 3 1/2 days in the parks, this time we had 4 1/2 days). We also had to deal with bathroom issues (every half an hour either the 9 or 5 year old had to go to the bathroom even though every time we made all the kids go...not sure if this was an attention/bored thing? But really how can you be bored in DL????) We also dealt with the 9 year old pretending to be sick (her parents know how she acts when she is sick, and she was NOT acting like her normal sick self, so we think she was out to get whatever attention she could, good or bad). This was why I tried to peel the 11 & 5 year olds away to reward them for their good behavior with time with DH & myself + treats.
It was also different because I had a rough plan of what to accomplish each day (never did that before, I only joined the DisBoards when planning our '09 WDW trip) & we had dinner reservations made before-hand (previous trips we made our ressies once we were there). I earned the nickname "MP" for Master-Planner, and though everyone groaned on Monday when I reminded them that EE was 7am the next morning, be there or be square, everyone really was glad that I had done my research and encouraged everyone to sacrifice sleeping in on their vacation to get ahead of the crazy crowds. And they were even up for getting up early again on Wednesday to beat the crowds!
A few things we didn't do that I wanted were Great Moments with Lincoln, Pixie Hollow, and the Railroad. I also would have liked to see the kids' reactions to Muppet 3-D & had hoped to get into the Redwood Creek Challenge & Tom Sawyer's Island. We also never made the time for the Disney Visa Rewards member Meet N Greet at DCA.
Wow, I wrote a lot...I hope this helps others in some way & isn't too overwhelming a TR!
Here's my new avatar blown up from this recent trip: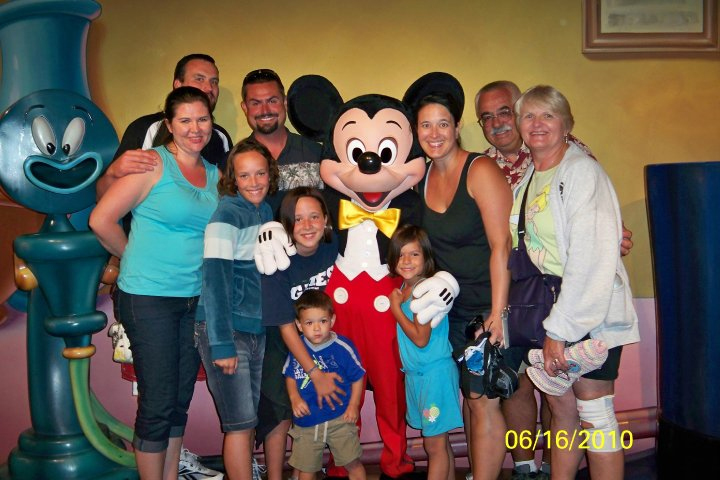 from left to right adults: Me (in Turquoise) DH, Brother, MICKEY!, SIL, Dad, Mom....kids left to right: 11, 9, 2 1/2, 5