Hello!!!! Welcome to my November PTR!!! I'm so excited to finally be starting this PTR, I've been planning this trip for almost a month already and haven't really gotten to talk about it, so I'm very excited!
For those of you who followed my Disneymoon TR, you know who will be on this trip, but if you don't know, here is the "cast":
Me, Jen, obsessed with all things Disney! My favorite Disney movie is probably Alice in Wonderland, although it's REALLY hard to pick just one, and my favorite princess is Belle, although Snow White is a close second. If I had to pick a regular Disney character, I guess I'd say Minnie Mouse, but I love Tink almost as much!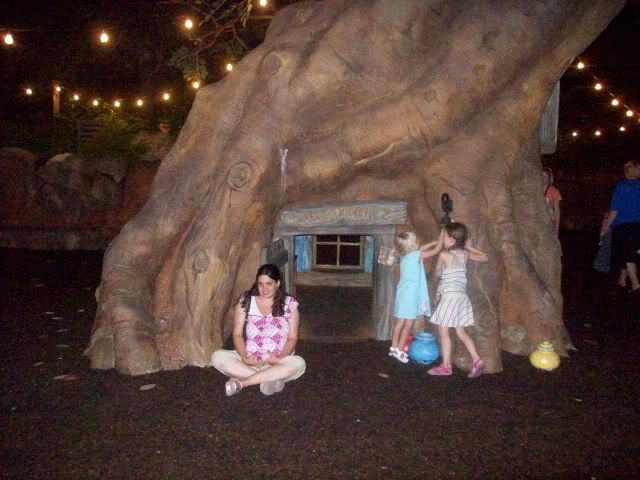 This picture was taken on my 2008 trip which I just found, and I love...I was sitting in the little doorway of Pooh's house originally, and those 2 little girls asked me to move so they could go in, which is why they are in my picture!
And my DH, Brandon, who pretends not to like Disney World and pretends he's sick of it, but really, I think he likes it almost as much as I do, I mean, he has Mickey Mouse crocs, how much can he hate it?
I have no idea his Disney favorites, he would never tell me even if I asked. I know he likes the Pooh characters and he loves Peter Pan, the movie. I don't think he has a favorite Princess, although my guess would be Jasmine.
That picture was taken at Chef Mickey's last November...I don't know why he's smirking like that, but it's the only picture I could find of him with his hat on backwards, which I happen to like much better than when he wears it the normal way!
Here is another picture from our 2008 trip
That is the only picture we took with a character that trip, and I believe the only picture we had taken together as well! I hated this picture at the time, I thought I looked so fat...and now, looking back at these 2008 pictures I realize how much weight I've gained...ugh!
Now that you know who is going, I'll tell you guys when and why this trip is happening:
November 13-20!
We went this same week last year and it was perfect! Perfect weather, no crowds, and the Christmas decorations were amazing! The whole time Brandon kept saying he never wanted to go again at any other time, so while we were there, I asked him if we could go again the same week next year and he said yes!
There were times I considered going in December, but I couldn't decide on a week! Between waiting for Thanksgiving crowds to leave, the MK parade taping, and Pop Warner, I just didn't want to chance it with crowds, so I decided on the week that we know is a great time to go! I would like to go in December someday, because I really want to see the Candlelight Processional, but it will have to wait a few years!
Ok I don't want to make my first post too long, so I will stop for now, but I will be back soon to update you guys on where we are staying!