Day 3:
We had 7:30am ADRs for Cape May Cafe, a character breakfast just a short walk from our villa. The kids were raring to go armed with their autograph books, and me with my camera, of course!
Here they are waiting for Cape May to open.
These character meals always make me a little nervous. Since DH and I take turns taking the kids up to the buffet and go up for ourselves too, I'm always afraid someone will miss a character, or I'll miss taking the picture. I guess DH could take one.
Anyway, it's not exactly a laid back meal, but it sure beats standing in line to see characters at the park! And the kids love them!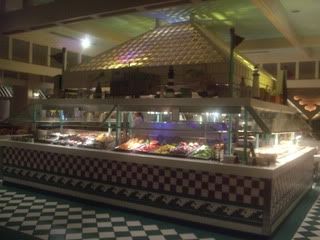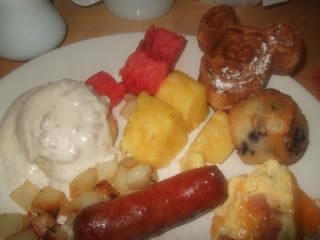 Ella's response to Goofy: (She warmed up pretty quickly after that, thank goodness.)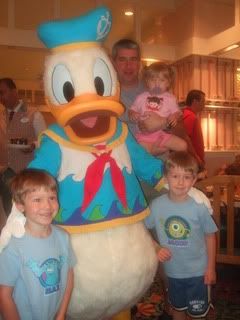 We had enough time to get the boat to DHS and get there minutes before rope drop.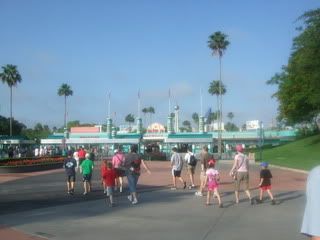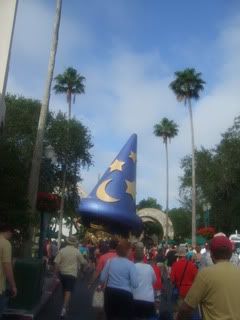 We followed the massive but relatively orderly crowd to Toy Story Mania. Max and I got in the FP line while Marc parked the stroller and got in the standby line which was out in the street. Even the FP lines are crazy long first thing in the morning. It's cute that the Green Army Men were out in force to direct the traffic.
We got our FPs to use later and joined DH and the others just before they went into the real queue. Max was afraid to go on this ride and I spent the whole time in line convincing him that he would like it. He had even been on it before at DL. Sure enough, as soon as the ride was over, he wanted to go back on it! I told him we'd come back later with our FPs.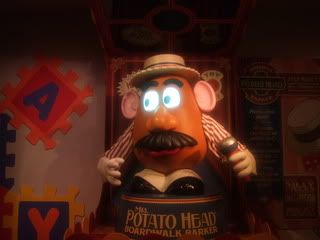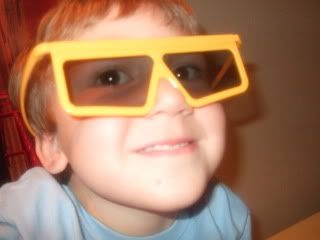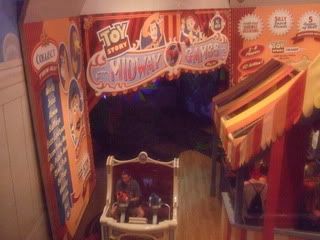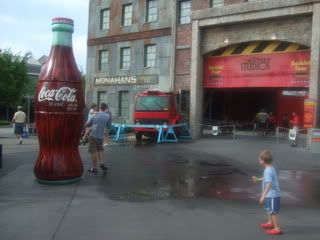 Next was Star Tours. We had watched Star Wars the week before our trip so that the boys would recognize the characters. Jacob was really looking forward to this ride. He went on it with both DH and I. It was another hot and humid day! I broke down and bought one of those water spraying fans. Jacob had been wanting one ever since he saw them, so he was excited and it basically became
his
fan. He was more than happy to spray anyone who wanted it/would let him.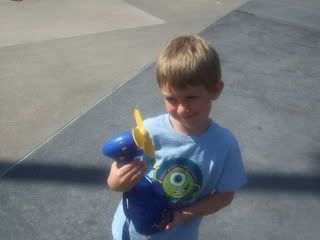 DH ran over to Rockin' Rollercoaster and Tower of Terror to get FPs. We walked at our normal pace and stopped for a bathroom break. DH was waiting for us at ToT. We didn't time this very well. We had figured DH or I would ride R&R through the single rider line, but it was shut down for an unknown length of time. We ended up walking all the way back over to Toy Story to use our FPs.
Ella loved TSM so much that she was dragging DH through the line!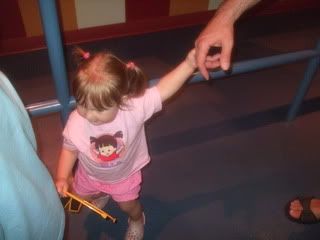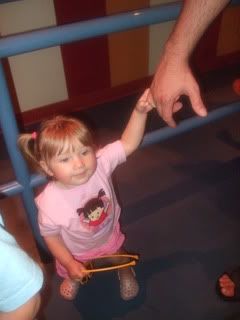 Then we walked all the way back to R&R again where only DH had time to ride before we headed back to Sci-Fi for our lunch ADR! That's a lot of walking for a little riding. Not our best planning! Somewhere on one of the walks back and forth we stopped for a frozen lemonade.