Dinner at Napa Rose
(April 16, 2010)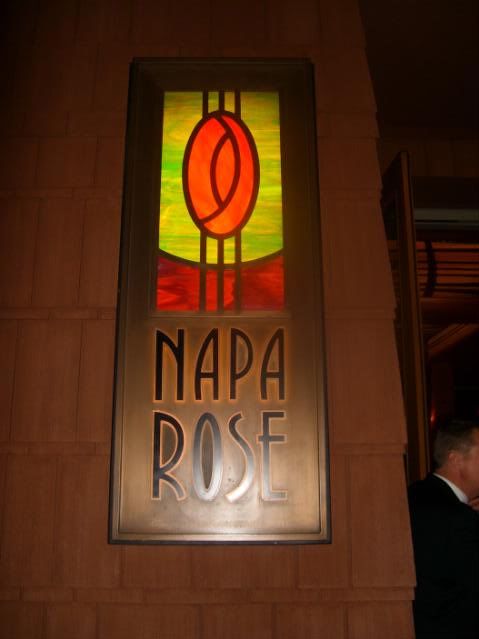 Prior to our Adventures by Disney Tour, Bill (DH) made a Priority Seating at Steakhouse 55 for this evening. We looked at the menu for Steakhouse 55 and Napa Rose and thought Steakhouse 55 fit our tastes better. However, after our first night dinner fiasco at Steakhouse 55 (check out my Trip Report), Bill changed the PS to Napa Rose. I believe, sometimes things happen for a reason. If we didn't eat at Steakhouse 55 that first night, we may never have eaten at Napa Rose this trip.
Napa Rose was just an elevator ride away from our room. It was conveniently located inside the Grand Californian Hotel. We arrived about ten minutes before our PS and were told they were running behind and that we could wait in the bar area. We made no other plans for the evening. So, we were fine and appreciated the slow-dining experience here. We sat in some comfy chairs near the bar and a waitress came over and took our cocktail orders. It was a nice relaxing way to start dinner after our hectic and fast-paced day at Disneyland Park. Before I could finish my cocktail, our table was ready. The Maitre' D carried our drinks to the table. Now, that's service! We were seated at a prime table near the kitchen.
Bill and Jennifer at Napa Rose.
We could see the hustle and bustle behind the line. Chef Andrew Sutton was there that evening overseeing the kitchen and I actually saw him cooking a bit. He's from Dallas. So, we knew of him.
Chef Sutton in action.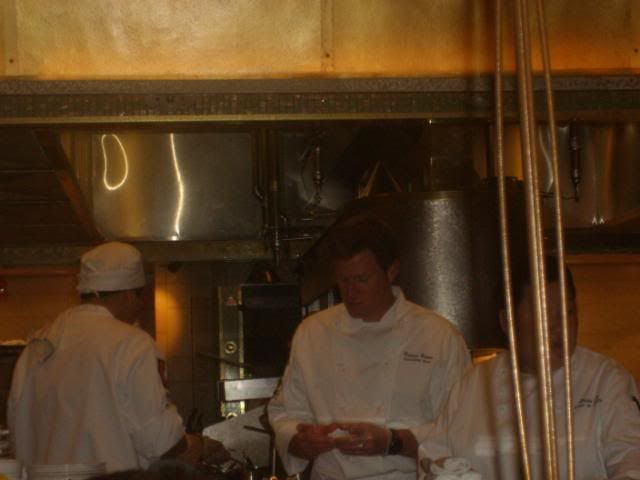 To be honest, the reason this wasn't our first choice this trip was because I wanted a casual non-stuffy meal. I was pleasantly surprised. Yes, it is a four star restaurant with a price tag to prove it. But, I never felt uncomfortable. We even saw a couple of children enjoying dinner with their parents when we first arrived. By the time we left later in the evening, it was strictly adults. The staff was very friendly unlike some upscale restaurants we've dined at. I think sometimes, servers forget
WE
control their tip. Luckily, this was nothing but a positive experience.
Bill and I are not big wine drinkers. But, we do appreciate a good wine when we find one. Bill had a Riesling at our Steakhouse 55 dinner and really liked it. So, he was looking to try one here. Every server at Napa Rose is a sommelier. That really helped with wine novices like us. Our server was great. She picked us out two wines she thought would compliment our entrees. Bill had two glasses of his Riesling this meal. He really must have liked his wine! I had one glass of a red wine. I honestly can't remember the name. But, it was good.
Bill enjoying the evening (and wine).
Jennifer showing off the menu and enjoying the evening.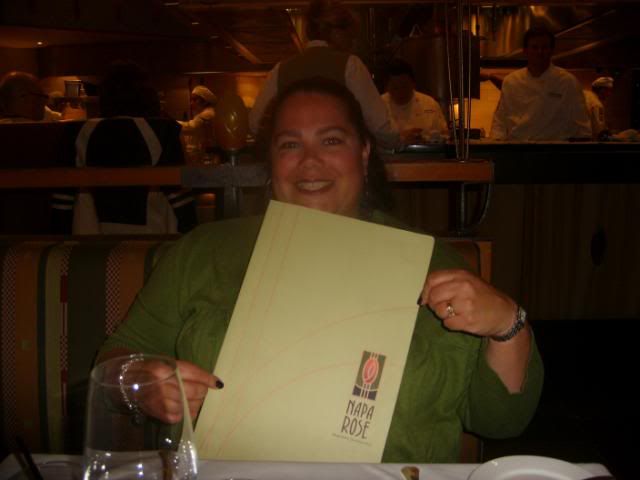 We weren't at the table for more than a minute when our water glasses were filled and an assortment of breads were offered. We're in California. So of course, we both went for a piece of sourdough bread. It was hard on the outside and soft and warm on the inside. However, we didn't want to fill up on the bread. We wanted "real" food. So, we only ate one piece.
Our bread assortment.
It was time to order ...
The Menu
Appetizer
Signature Pizzetta
- smoked American Prosciutto, red flame grapes, caramelized onions and cambozola cheese.
At first, I was going to ask them to hold the grapes. However, I didn't and am glad. The pizzetta was so good and the grapes added a little sweetness to it that complimented the onions. It was light and not too bready (I like thin crust pizza). The pizzetta was a great appetizer to start the meal. We had more food to come …
Entrée/Main Course
Jennifer ordered …
Zinfandel Braised Angus Beef Short Rib
-
risotto of wild rice, pine nut and dried cranberries with winter squash sauce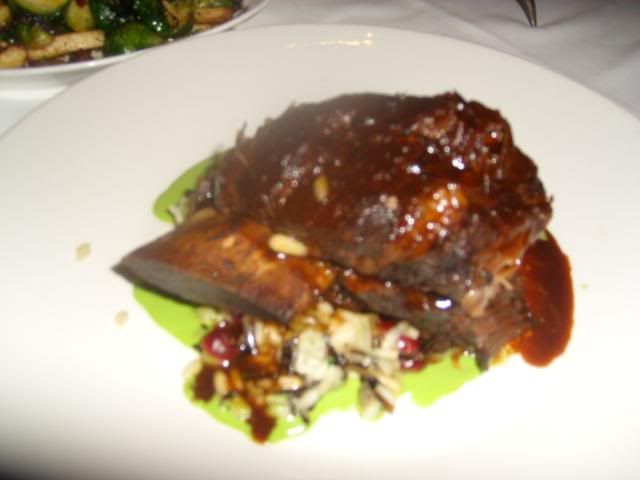 Bill ordered …
Grilled Petit Filet of Angus Beef
- Crispy Yukon Gold Potato Gnocchi, Grilled Onions, Green Beans and Merlot Jus.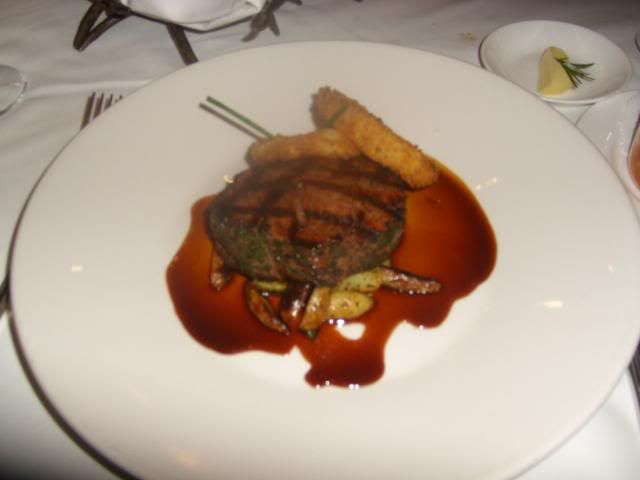 Instead of the potato, Bill asked for onion rings. He saw some on another dish and our server was happy to make the substitution.
The rib was so tender, the meat fell right off the bone. My mouth is watering right now remembering this meal. It was so good! Bill gave me a bite of his steak. It was perfectly cooked and had great flavor. If you have a high quality steak, you don't need to fuss with it too much. The meat will speak for itself. Now, this is what a steak is supposed to taste like! Yum! We also ordered some side dishes to accompany our entrees. We've been to enough upscale restaurants to know, the side dish for the entrée listed on the menu is just garnish. If you want a "real" side dish, you need to order one. We decided to order two side dishes.
Side Dishes
Roasted brussell sprouts
- with parsnips and hazelnut brown butter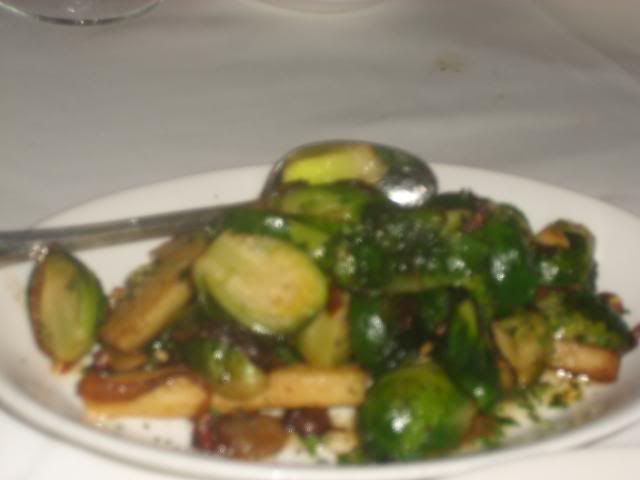 Truffled Mac and Cheese
- orecchiette pasta with parmigiano-reggiano and infused with truffle oil.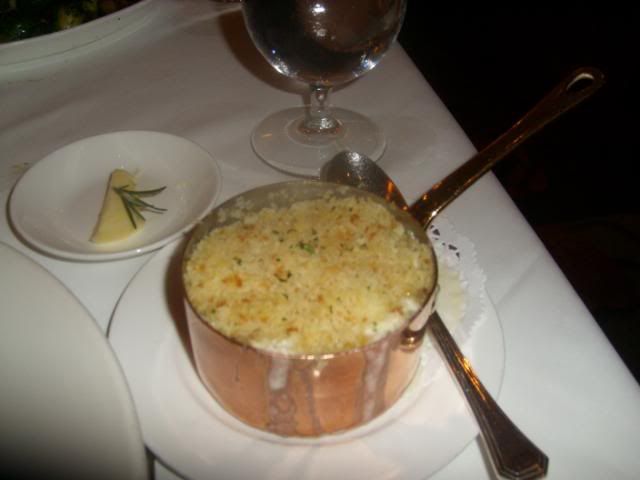 Growing up, my two favorite veggies were brussel sprouts and parsnip. Yes, I grew up a weird child. They are still my favs to this day. I was in heaven with this dish! The
brussel sprouts
were cooked perfectly and the parsnips still had a little snap to them.
The
mac and cheese
was served piping hot in a copper kettle with what looked like panko breadcrumbs on top to make a nice crisp layer. Bill took a couple heaps of the mac and cheese and then concentrated more on his steak. He didn't care for the "upscale" mac & cheese version too much. He said it tasted "fishy". So, of course I tried it. Why is that? Someone says something tastes bad and you have to try it too. To me, it was creamy and a spoonful of goodness. I think what he tasted and didn't like was the truffles. I give it a thumbs up on the decadence factor. It was very rich and filling to be a side dish! Sadly, we only ate about half the dish. Such a waste.
We cleaned our plates of our main entrée though. Both were delicious. Normally, we don't have dessert. But, we'd come this far on our Napa Rose food journey. So, we opted to look at a dessert menu.
Dessert
Flourless Scharffen Berger Chocolate Cake
- with double chocolate chunk ice cream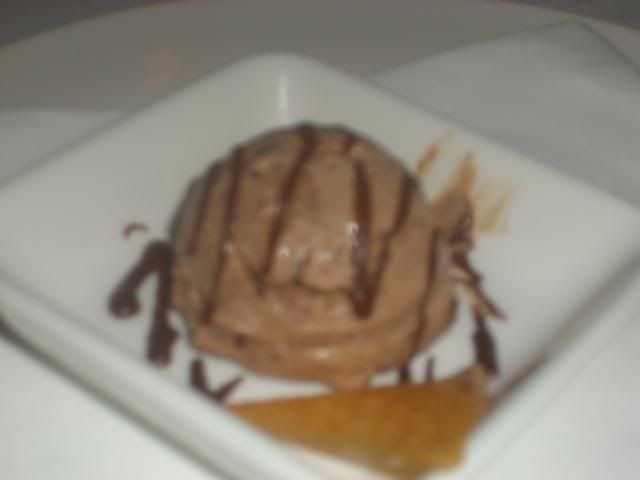 Freshly made mango sorbet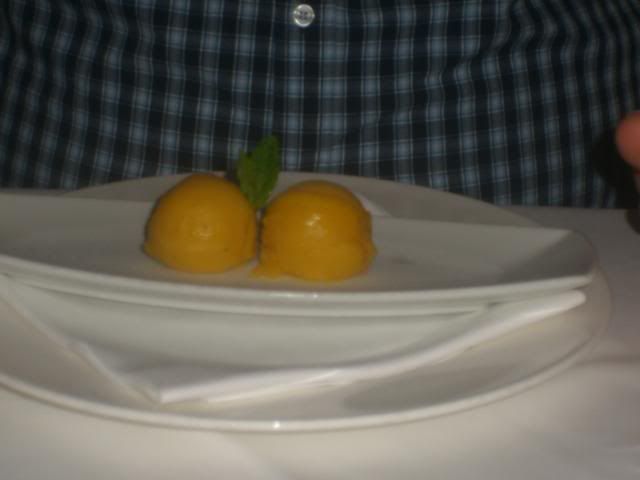 I like anything chocolate and recognized the name Scharffen Berger. They make the best baking chocolate. However, I was stuffed at this point. So, I asked if I could eat the ice cream now and take the cake to go. Our server was fine with that and had the cake put into a box for me. Bill's favorite fruit is mango. So, a mango sorbet was a perfect choice for him. Bill said it was very refreshing and the perfect way to end this excellent meal.
We were in the restaurant over two hours. However, the time went by quickly. With great company and fantastic food, this experience was well worth the sticker shock of our bill. You don't want to know how much this meal cost. But to me, it was well worth it. A great evening with my husband is priceless.
When exiting, I noticed some wine bottles on display with Pixar characters on them. I thought they were cute. So, I took a picture. Little did I know, I would learn more about these tomorrow.
The Pixar wine bottles.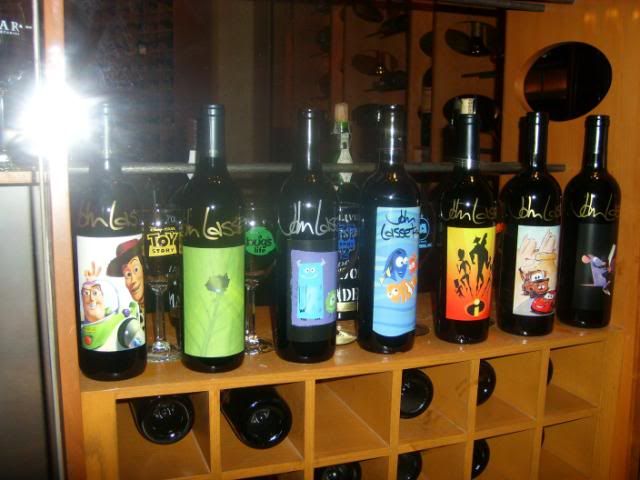 When outside the restaurant, I asked Bill to take a picture of me in front of the sign. Some passerbyers asked if we wanted one together. So, they took a picture of us ...
After a wonderful evening at Napa Rose.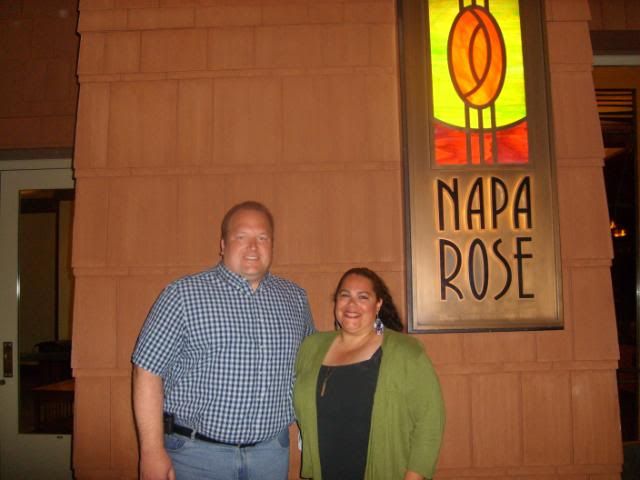 My Rating: