Welcome to the second of three TRs in the "Year of a Million Disney Trips". Here's the deal for those not hopping over here from my last TR.
The three characters:
Me, SkierPete, 40: I will say I am a planning nut. I have a 20 page spreadsheet with costs, park hours, ADRs, day plans, the whole shebang. I'm an engineer and do planning as part of my job, one of my favorite parts perhaps. I also love to ski (hence the name) and travel in general, as well as spend time with DW and DD whenever I can. Originally from Western Massachusetts, but have lived North of Buffalo, NY for 15+ years.
DW, age to remain secret, though she already celebrated her big 4-0. That's her on the right...I didn't really get any real good pictures of her this trip. Originally from Rochester, NY. We met through a mutual friend 14 years ago (damn!). She is a good match to me in most things, and a perfect match in Disney trips.
DD, almost 7. This trip is really about her, as you will see below. She is a good child, though she can be very stubborn and emotional. While she loves Disney in many ways, she is not much for trying new things while there. Most of the time, she is pretty easy to follow the schedule we set, but when in the right mood, she just wants to do what SHE wants to do. It doesn't matter if you CAN'T do it now to her A lot of going to Disney with her is about battling with her. In addition she is definitely NOT a princess, preferring animal characters to people, no BBB for her.
Our little family of three bought Annual Passes for a December 2009 and October 2010 trip. When the 2009-2010 school calendar came out, I noticed that DD school vacation in April (19-23) was much later than Easter (4th) and I said to DW…"Hey, what if we could get a really cheap airfare and fly out mid-week for just a little mini-vacation to Disney. The tickets would be free, we could stay at a Value resort and even skip the meal plan and just eat QS. What do you think?" Not one to turn down WDW, DW was OK with it…so when the fare dates opened up on SWA, and I was able to swing $145 round trip (!!!!) we were preparing for another trip! We also decided that instead of telling DD, we would keep it a surprise until the morning of…
I'll skip the boring planning part. While I typically plan out a lot of the day, I didn't really do that this trip. The intention was to (A) let DD lead the decisions, and (B) no TS meals, so we would not be tied to that either. The only thing I plotted out was which parks which days:
Thursday (Arrival day): DHS
Friday: AK
Saturday: Water Park
Sunday: Epcot
Monday: MK
Tuesday: Fly home
So, we were all packed and ready to go. She had been off school all week home with mom, but I had been working. She had asked every day if I could stay home. I said, "No, Daddy has to work." On Wednesday night she asked again as I was leaving to play tennis - I play every Wednesday night – and I said "Well, If you are really good for Mama tonight, tomorrow I will stay home and we'll do something fun."
So, Thursday dawns, and we get the car packed and ready to go. It's 6:30 AM and we go into DD room with the videocamera running, and here's what transpires:
Me: "So mama said you were a good girl, so I am staying home. So what should we do today."
DD: "I don't know"
Me: "How about the zoo?"
DD: "Umm"
DW: "How about the Aquarium?"
DD: "yeah"
Me: "Nah, we just went there. How about the Bird Kingdom?" (Open air bird sanctuary in Niagara Falls, CAN)
DD: "OH YEAH!"
Me:" Nah, something else…..how about if we go see the Indiana Jones Stunt Show?" (DD has been into Indiana Jones since December, and plays Lego Indiana Jones every chance she gets.)
DD: "But that's at Disney!"
Me: "Oh yeah, What do you think mama? Should we go to Disney World?"
DW: "Sure, let's go!"
Me: "All right, let's go to Disney!"
DD " You're kidding!"
DW: "Nope, the plane leaves in two hours!"
You might expect your kid to jump up and down like a maniac when told they are going to Disney World later today…but a big happy smile was all we got. She was definitely thrilled though – and for the next hour she frequently said "I can't believe we are going to Disney!"
I will skip all the boring airport/flight/ME stuff, as I severely doubt anyone cares about that…let's get to Disney. Let's just say, DD was awaken at 6:30 PM, and by 1 PM, less than 6 hours later, we were checking into our hotel room at Pop Century.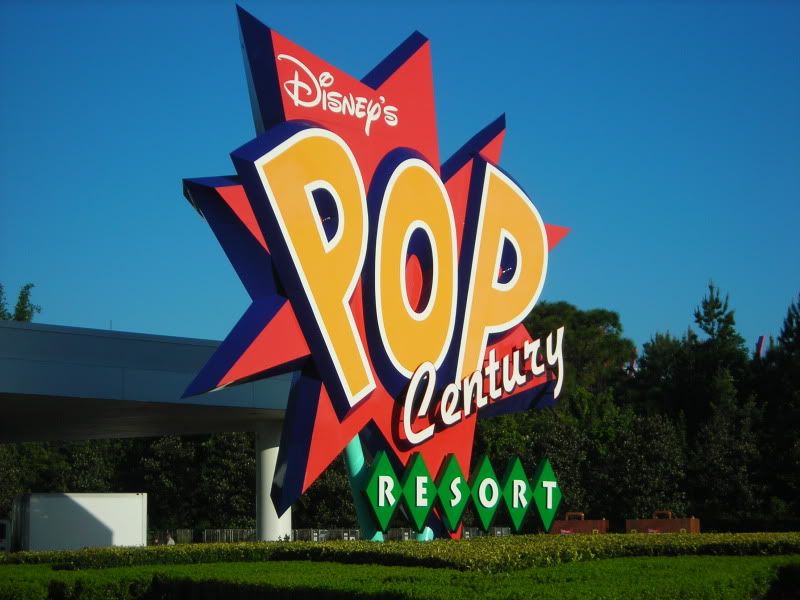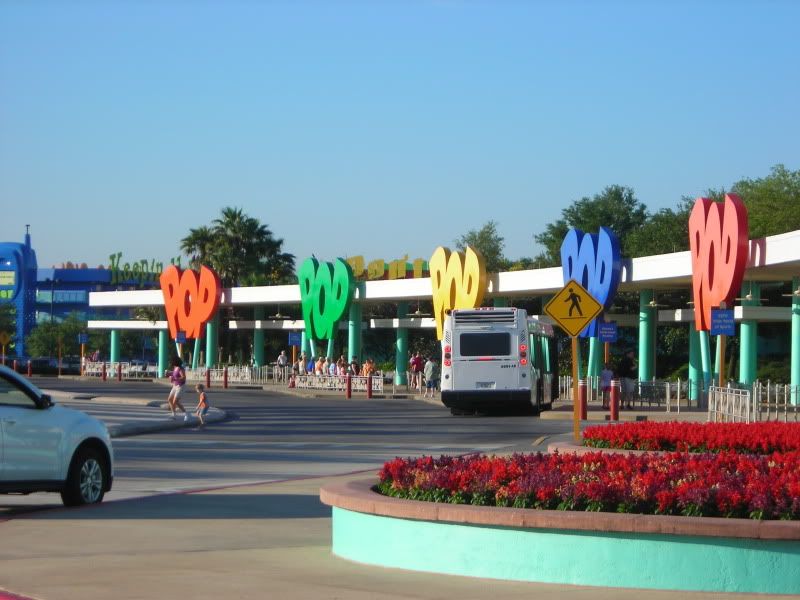 This was our second trip to Pop Century in just a few months. Before that, we had only stayed at POFQ, which we really liked a lot. We are by far not hotel snobs in any way. While we are in financially good shape, we also can't afford to regularly be spending $3000-$4000 for our Disney trips, so I always said to her that at some point, we might need to choose the Values over the Moderates to keep going. (Our POFQ trips were free dining.) Well, I have to stay after two stays there, we really, really like the Pop Century hotel. It might have a TON of rooms, but it doesn't feel that big when walking around. This time, we didn't even get a preferred room, and I didn't get my requested building (again). We were in Building 6 in the 70s and we were on the back-side, but were in the room right next to the ice machine and the elevator.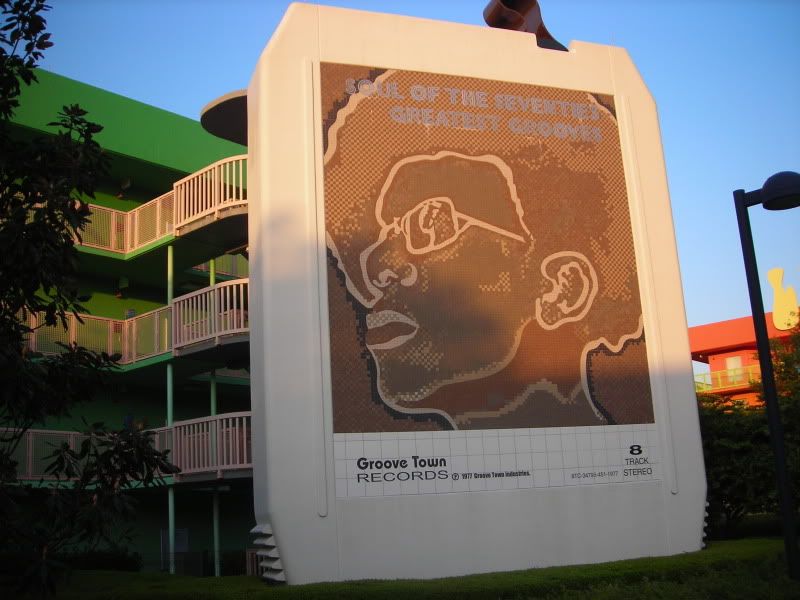 We were a little closer to the flower pool than the computer pool, but both were less than 3 minutes from our room. The bus stop was about 5 minutes, as was the lobby / food court. I think the only building that would really stink is if you were on the extreme end of Building 2 or 7. This was the the view from our elevator: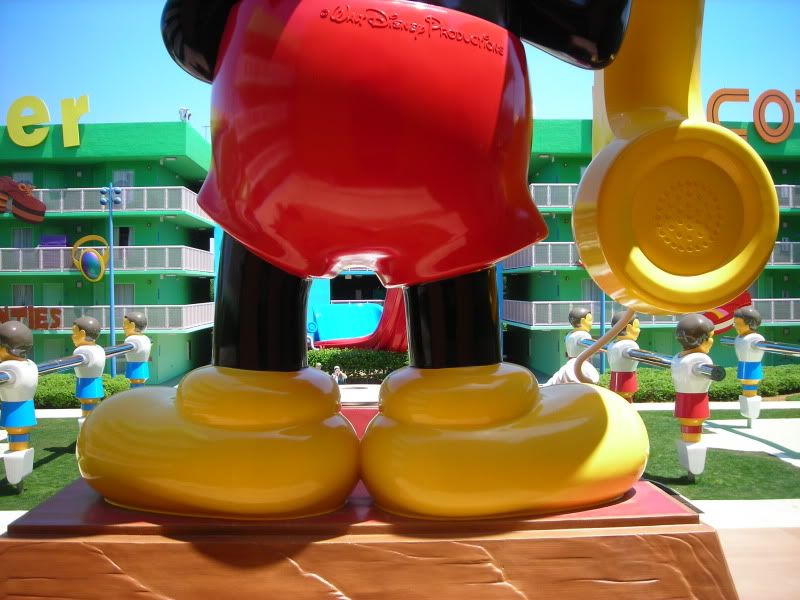 I don't think that qualifies as a "hidden Mickey". Our courtyard was made up of a giant Mickey phone, foosball table, and a really big "Big Wheel".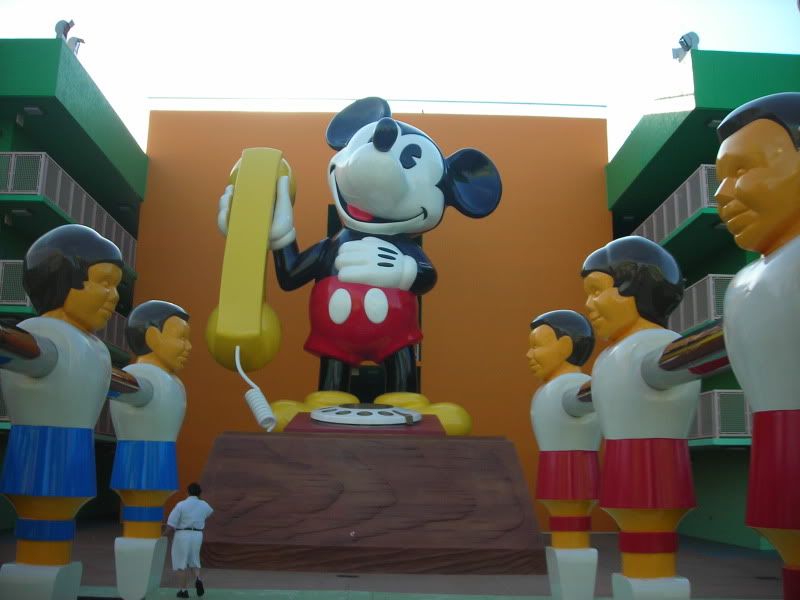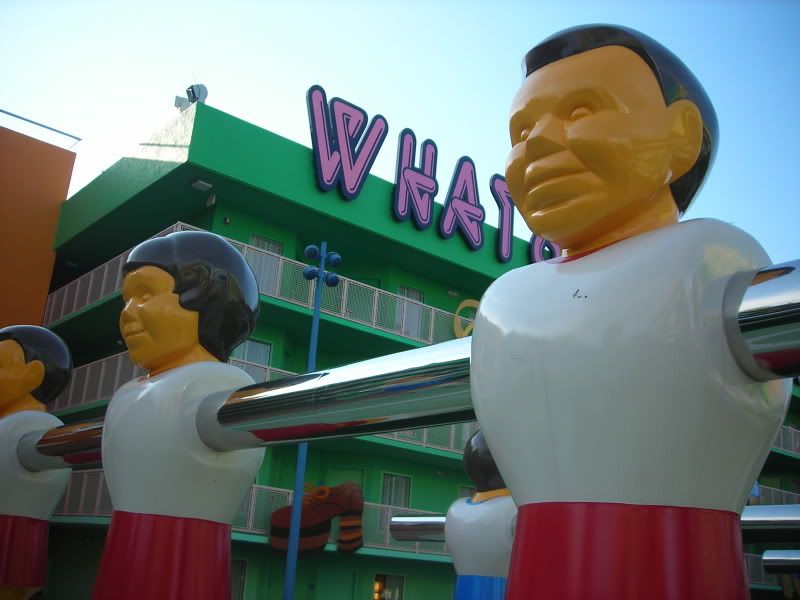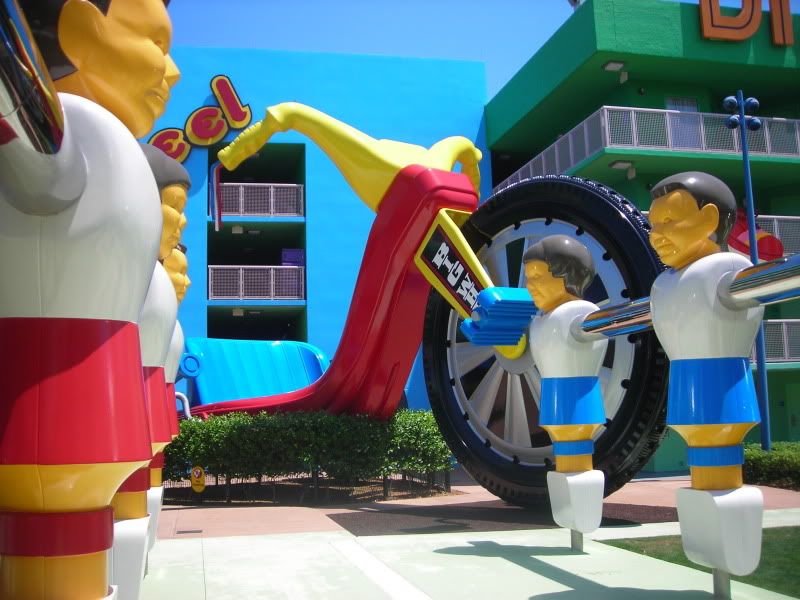 We spent a few minutes in the room to get our fanny packs / camel-bak loaded and to catch up on what Stacy was doing...(Still doing the "must-dos"!) And then we headed out to the bus stop for our destination for the day...Disney Hollywood Studios!