Hi. My name is Annette and I'm a Disney-vacation-a-holic. Yes, I've got issues. Don't we all. LOL
How this girls weekend came along is a bit of a story so stick with me:
I have a fabulous family of 5 who also LOVE all things Disney. Our last trip to Disneyworld was in December of 2009 and we had a fabulous time! (See the TR in my siggy if you're interested). Yet while at WDW we realized we all missed DL. DH and I both work wonderfully fulfilling but not wonderfully paying jobs (he's a police officer, I'm a preschool teacher) so we knew going to Disneyland was going to take us a few years to save up for.
I met my best friend Becky when she and I were pregnant with our youngest child. We each had 2 older boys of similar ages and were pregnant with our final child, which both were girls born less than a month apart. (Here's us back then. She's going to LOVE that I posted this fabulous pic. LOL Bek's on the left and I'm on the right.)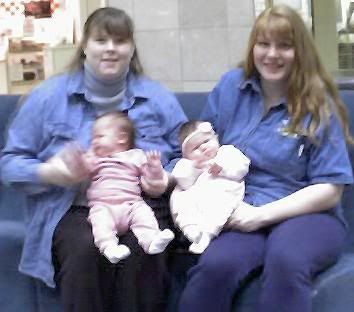 We love a lot of the same things, relate really well and have a great time together. People often mistake us for sisters because we look similar too. It's a bonus that our husbands and children like each other and we have had a great 10 year long friendship. Oh, and did I mention she loves Disney too?
2 years ago Bek's husband got a job in Arizona and they had to go. We've kept in touch through phone calls and have seen each other twice since then. It's been a tough time for her lately and she really felt the need to get away for some "me" time, so I came up with the idea of meeting in Disneyland. She was all for it and the scheming began.
The other part of this equation is the money aspect. As before mentioned, we're definitely not rolling in it and finding the finances was going to be an issue. But DH and I always take a little mad money from our tax returns to spend on something we want. He bought a gun, I bought a weekend in Disneyland!
Fair trade, right? Well, not entirely. He's actually rather sad not to be going and I'm rather sad he's not coming. But I also know I deserve a weekend away and Bek deserves one too.
So here's the plan:
I fly in on Wednesday, May 5 and we leave on the evening of Saturday, May 8.
The basic idea is to let it all go and just have fun. No schedule, which is soooo hard for an uber planner like me ... I want to plan but I also want to try relaxing it a bit so I'm letting it happen as it happens.
I'm flying JetBlue on Wednesday and Bek will pick me up at Long Beach Airport. We'll check into the Hojo, stash our stuff and then find a nice place for appetizers and drinks. This is our night to catch up and relax.
Thursday and Friday will be all Disney, all the time. We're going to catch Wishes Friday night and I hope the weather holds since it will be the only night we can catch it this trip and the last time I can catch it before it's replaced. Saturday will be our last few hours of Disney, as we leave for home Saturday evening.
What you can expect from us: who knows! Lots of pics (I LOVE photography!), lots of details and hopefully some fun to share with everyone. So stay tuned for the fun! 2 weeks and counting...
POSTS:
Travel Day