So I'm a little late.
For some reason - I just couldn't do it right after I returned. I just couldn't. Maybe it was because of Christmas, maybe because my luggage was delayed a week, maybe it was too much celebrating at New Years, maybe it was that work just sapped every ounce of energy and I would come home tired and depressed - maybe I have just been lazy.
Anyways -
I took a solo trip in December staying at the AKL. I had planned the trip for the 12th to the 18th. The announcement came about Disapolooza and the TSM Party so I signed up for the party on Saturday night.
I don't fly so I took the train. My Dad drove me from Toronto to Buffalo to get the train there (much easier, cheaper and faster).
Below are the pictures of my food from the train trip. I had a roomette from New York to Kissimmee so my meals were included.
Dinner on Friday night was crab cakes with rice and 2 kinds of veggies. Very good and a huge serving. I hadn't been feeling too well since I hadn't gotten any sleep at all the night before so I opted to eat in my roomette instead of the dining car.
The crab cakes were quite good - very little filler and lots of identifable pieces of crab. I don't tend to order crab too much when I take my parents on vacation because my mom is allergic so I avoid it to ensure no cross contamination. Since she wasn't with me - I could order anything.
For dessert it was oreo cheese cake. Sorry for the picture - I was still getting used to taking food pics again so I was half way through before I remembered. It was very good - rich and creamy.
Got up the next morning feeling a lot better (slept well) so I went to the dining room for breakfast. If you ever take a train with a dining car, I highly recommend breakfast. On the trip down I got the omelet but on the way home I got the french toast (no pic) which is the best I've ever eaten. The omelet was served with breakfast potatoes and sausage patties (I got turkey sausage patties instead of pork) and a croissant.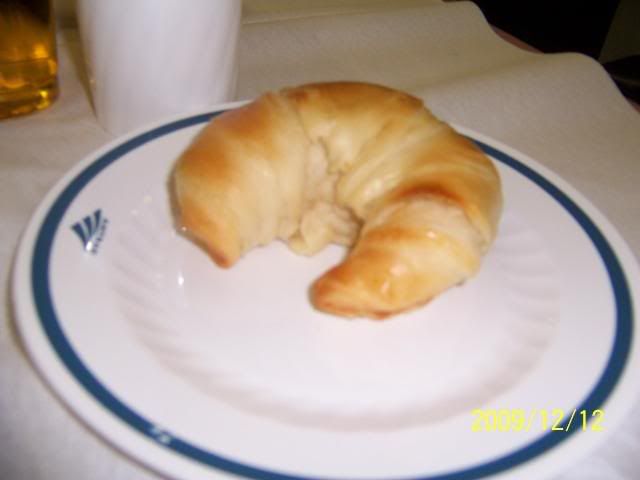 Breakfast is also served with juice and coffee - I had apple juice and you can kind of see a little of it in the pictures.
Before I got off the train, I had a quick lunch - a burger and skipped dessert.
Next post will include Disney food - I promise.