First Morning at the Magic Kingdom: Rides!
I have never been at the Magic Kingdom at park opening and it was incredible! All of the shop keepers and workers on Main Street (including the custodial staff!) were standing on the sides of the street with big hands attached to their hands, waving to us, welcoming us and saying "Good Morning". Sam and Madeleine were waving back and Madeleine was yelling, "There's Cinderella's Castle!" over and over again. Definitely a magical entrance to the MK! We were able to take it all in all the while walking as quickly as we could pushing two strollers toward our ultimate goal: Dumbo! As we walked up the ramp to go through Cinderella's Castle we noticed that there was no crane and that the construction mess seemed minimal. I was very happy about that. We walked through the castle (more cast members waving and greeting us), and right to the line for Dumbo. We were on in the second group and our morning ride fest was off!
The line for Dumbo was already out the end of the covering, so we passed up a second ride and walked to Peter Pan, leaving our strollers parked at Dumbo. Peter Pan is my husband's favorite Fantasyland ride and I waited in line with him for many hours for several rides on our Honeymoon before I knew anything about trip planning, the DIS and RideMax! We walked right on this morning and when we got off saw that there was no line so rode it again.
We then walked over to The Many Adventures of Winnie-the-Pooh, which is my favorite Fantasyland ride. I would ride it even if I didn't have kids! Seriously, who wouldn't be happy seeing this: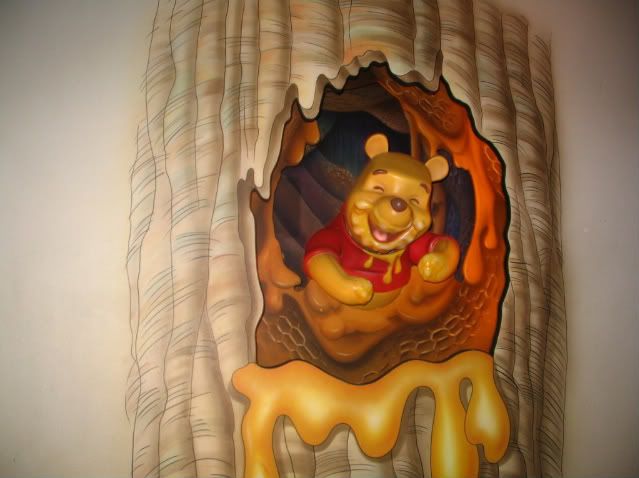 We walked right on to this ride as well. When we were coming to the unloading area Sam said, "I want to ride this again!". There was a bit of a line at this point and the CM, upon hearing him, said, "You want to ride this again? Well just go right here" and she let us through the FastPass gate. A little Disney magic for our first day at the Magic Kingdom!
After we finished with Winnie-the-Pooh it was time to head over to Toontown to ride Goofy's Barnstormer. For those of you who don't know, it actually opens 15 minutes before the posted 10am opening time and we were hoping to ride the Barnstormer before the line got real long. We loaded the kids back in the stroller and arrived there just before opening. We waited a few minutes and then the cast members did the countdown and threw out more confetti and streamers. Again, major excitement for my kids!
Sam and Madeleine have ridden kiddie coasters at a couple of amusement parks and, having never ridden the Barnstormer myself, I thought they would be fine. We walked right onto the ride (after walking through the very long line area!) and found out that I could only ride with one kid. Sam has always ridden anything he is tall enough for as long as he has a parent riding with him, with an arm around him. I knew that Madeleine couldn't ride this by herself, so told Sam he would have to ride alone since Madeleine was smaller. He started freaking out before the ride even started due to this. I was really surprised at the intensity of the ride and both kids were screaming and crying through the entire thing. When it was over Madeleine said, "I never want to ride that again, EVER!" The CM announced that anyone who wanted to stay on and ride again could, since there was no one waiting, but I knew we needed to get off. After meeting up with Rick and Matthew and calming the kids down, I asked Sam if he'd like to try the ride again with Daddy sitting next to him with his arm around him. He did and they did. Sam loved it (just needed that reassurance) and they rode 2x without getting off. They're in the middle car in this picture: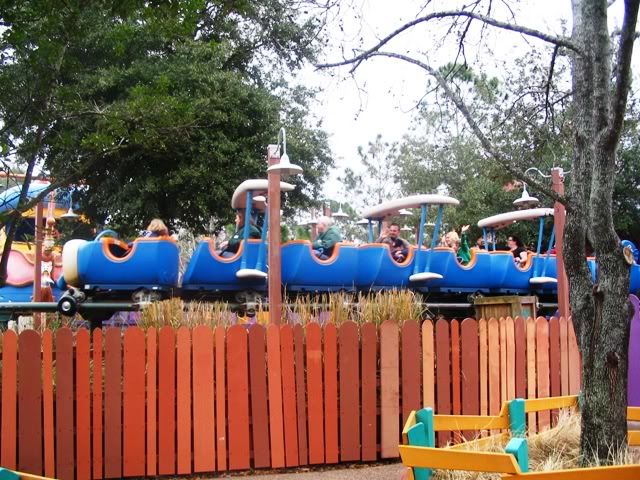 By the end of the trip Sam was riding on his own no problem: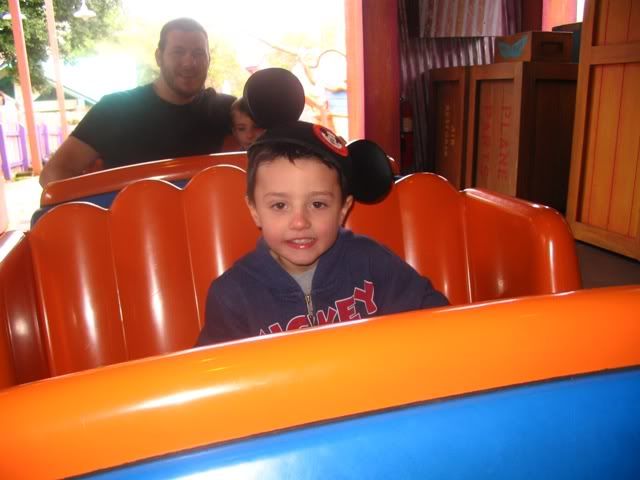 When they came back to where the rest of us were waiting (Madeleine was having the time of her life chasing birds and Matthew was snacking), Sam asked if I would ride it with him. There was still no line and we rode twice without getting off. What started as a major fear factor had now become Sam's favorite ride.
It was only 10am at this point and we had already ridden way more than we thought we'd be able to in this amount of time. Lines were short and crowds were light, which is just what we'd hoped January would be. The Unoffical Guide had rated this day a 7 in crowds, but we never saw it. We did feel we'd had enough of the Barnstormer for one morning though, so moved on to the Mad Tea Party. Sam and Madeleine love spinning rides, so they rode together and I took Matthew on a separate tea cup so he could experience the ride but not spin. Rick can't spin at all, so he took pictures from the sidelines. We had a minor disaster when Sam ended up not being strong enough to spin his tea cup as fast as he would have liked and started crying on the ride, but there was no line when we got off so I handed Matthew off to Rick and took Sam and Madeleine on again, spinning the cup as fast as I could. Bleh! The kids were happy though.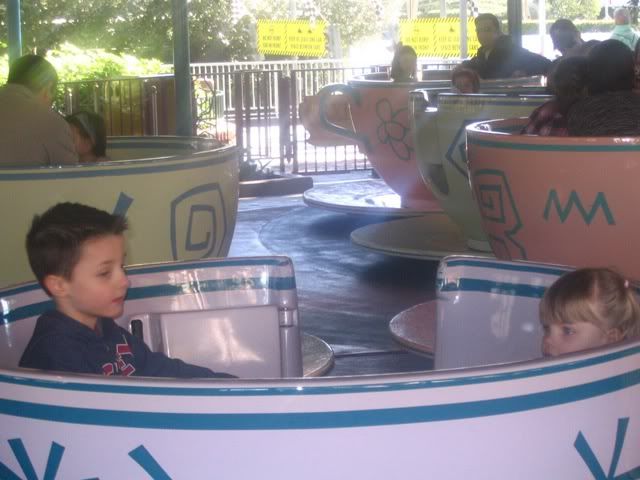 We headed over to It's A Small World, which Matthew loved. He clapped his hands and rocked back and forth for the entire ride. It was so cute! After that it was on to Snow White's Scary Adventure. I was a little concerned with the kids being scared on this after reading that other kids had been, but they all loved it and we did it twice (again, no line!).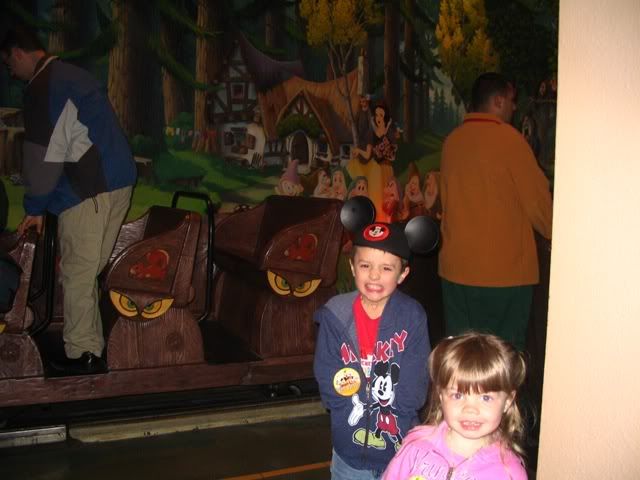 After that it was on to Cinderella's Carrousel. There were hardly any people in line when our ride was over so we stayed on and went around again.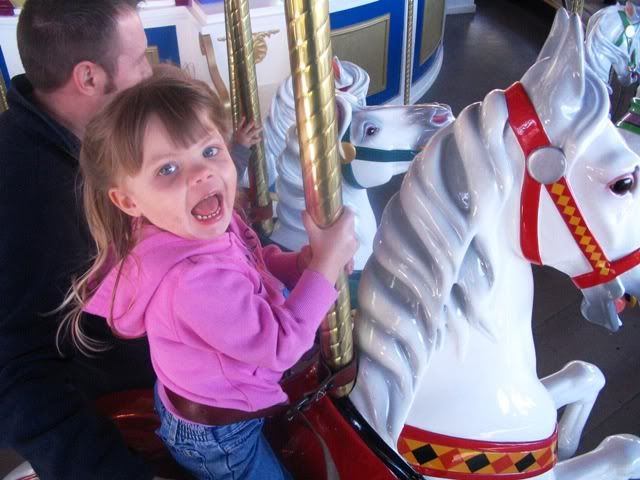 Next up was the kid's very first 3-D movie, PhilharMagic. We all loved it and the kids were laughing and reaching for the characters as they appeared to come off the screen.
After that we headed over to Liberty Square to ride the Haunted Mansion. This was the first thing we had to wait for all morning, but it was only for about 10 minutes. I was a little nervous about the kids being scared on this one as well, but they loved it. We walked over to Frontierland and ate our packed lunch while Rick got FP's for Thunder Mtn and then, while heading back to Main Street, saw there was no line for the Jungle Cruise so rode that too. I remember loving that ride as a kid, and the kids did seem to enjoy it, but Rick and I thought it was really lame! I think now that they have the Safari and the River Rapids at the AK this just isn't as exciting.
It was around 12:30 at this point and having ridden way more than we thought we would've done by this time we decided to check on the line at the Barber Shop for Matthew's 1st haircut and head "home" for naps. While we were walking down Main Street the "Street Party" parade was coming down so we stopped and enjoyed that. So cute! I loved the music and the stilt walkers were a big hit with Sam. I wish I had taken a picture. Even though this was a minor parade it was my favorite of all the parades we saw on our trip. Once it had passed us by we walked over to the Barber Shop and decided to get Matthew's haircut since there was only one other person in line.
Coming up next: Matthew's 1st Haircut!