The cast:
Me – Disney obsessed, Shopaholic & extremely clumsy!
Lee (DH) – aka the Mad Hatter….
19th September 2009 = Day 12
I had a rough nights sleep, was up for a few hours during the night but managed to get back to sleep for a few hours & got up at 9am.
We spent a few hours sorting out what clothes & all the toiletries we were taking on the cruise & packed them in the smallest case, then almost everything else got packed into the luggage we would be transferring in the morning. We went up to the lobby & paid off our room bill, although we still had one night at OKW I wanted to charge the bill to my Fairfx card and not the credit card that was on file. With that all sorted we got the bus to Hollywood Studios arriving just after midday.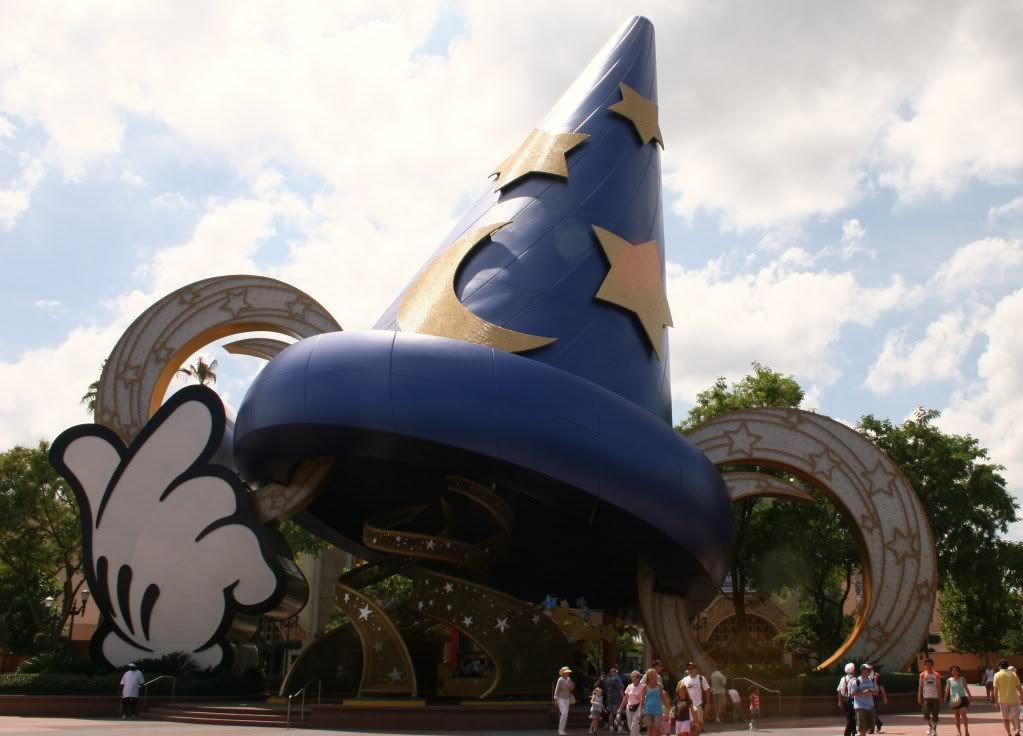 As expected no Toy Story Mania fast passes left for the rest of the day but TSM was the main reason we wanted to go back to DHS this afternoon so as the queue was showing 50 minutes we decided to wait. Mr Potato Head kept us entertained and I think we waited about 40 minutes in the end.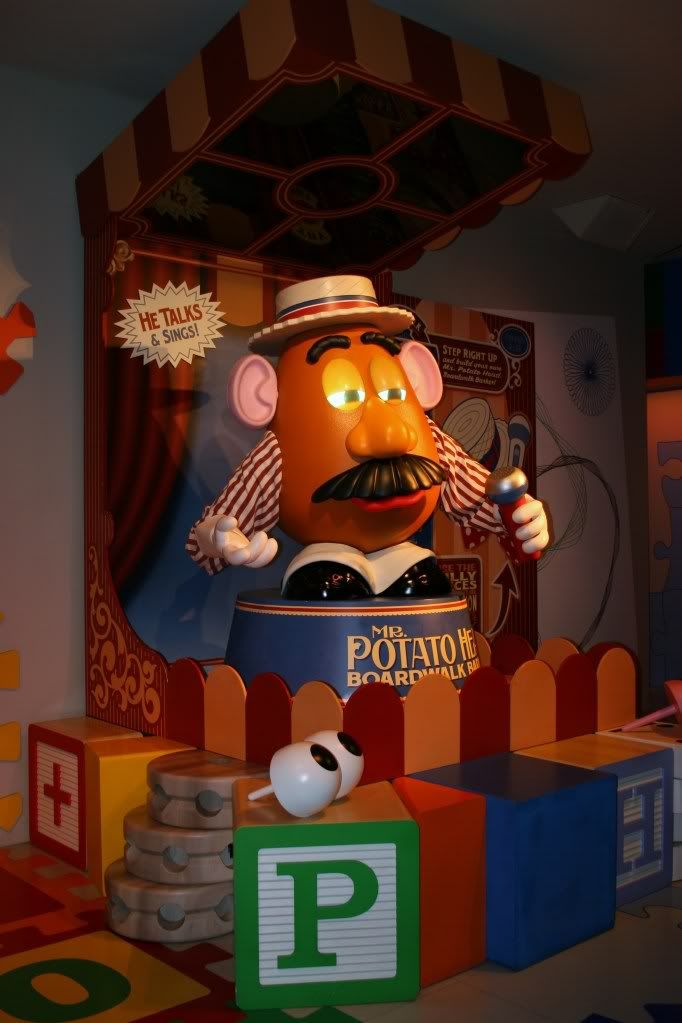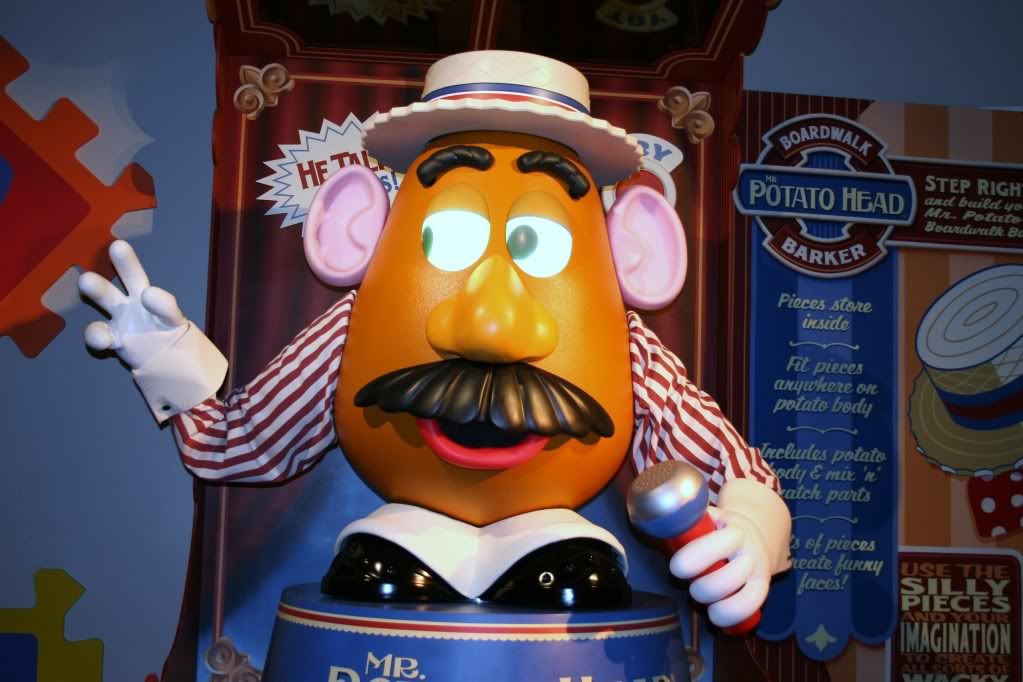 Lee won again, his score was 151,700 & mine was 112,500. Pretty bad scores this time for both of us but still one of my favourites, I love it.
Afterwards we walked over to Animation Courtyard as I wanted to look in the Art shop, then we heard the start of Block Party Bash in the distance so walked over to watch that. I love this parade, the green army men are hilarious to watch.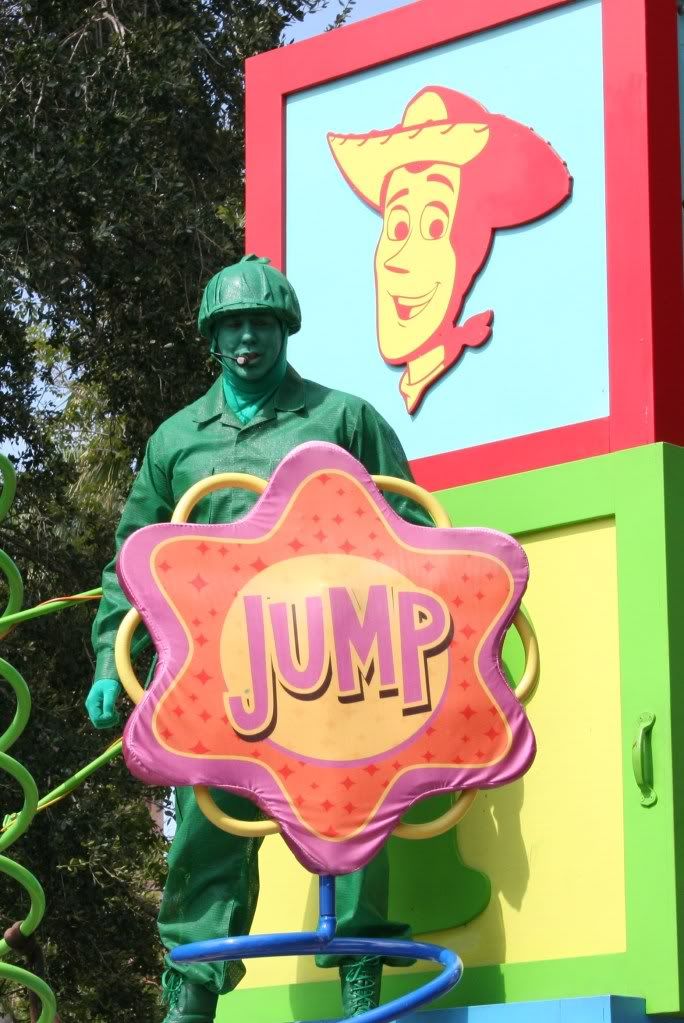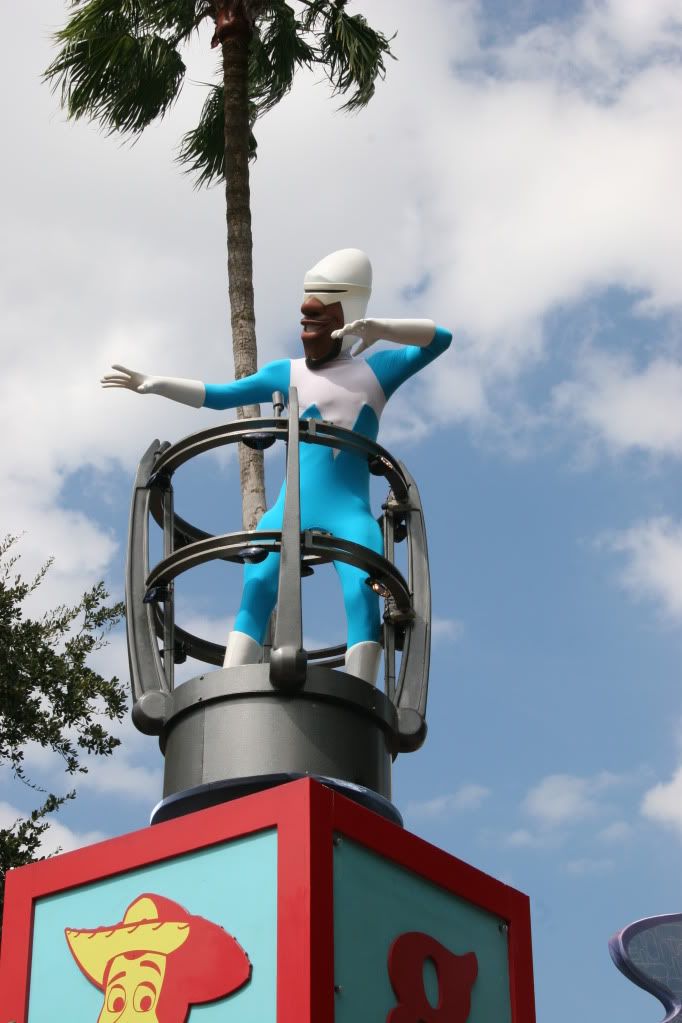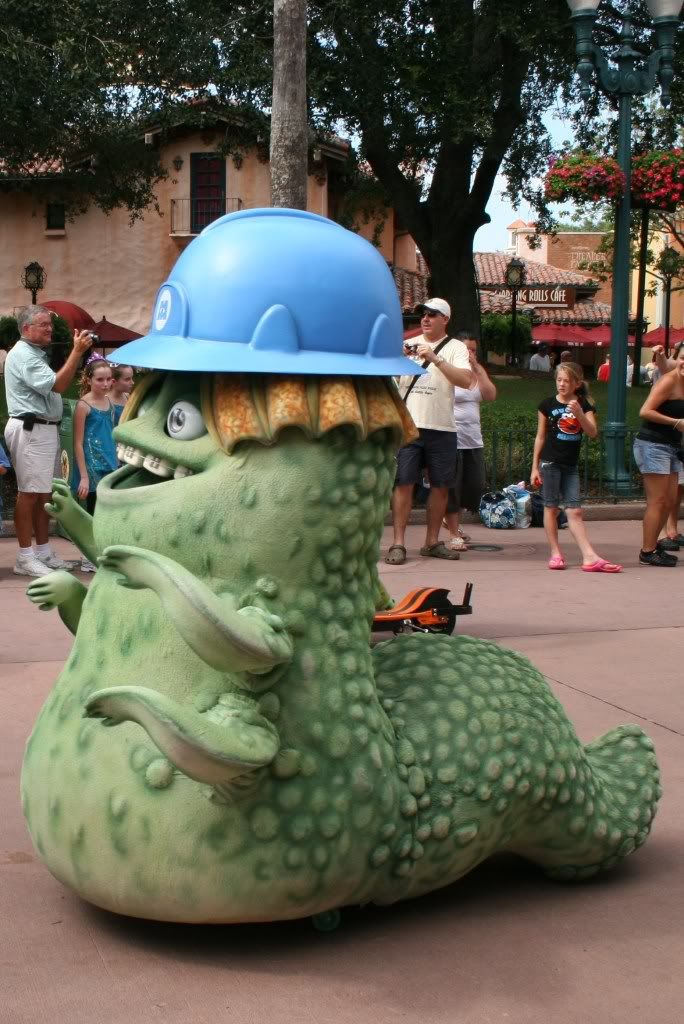 We were feeling hungry and still had four table service credits to use up today so we thought we would give the Brown Derby another chance, we went there several years ago and wasn't overly impressed. We were seated after about 10 minutes in an almost empty restaurant…I think there were two other tables so why they kept us waiting is beyond me.
Anyway I didn't want a starter but Lee ordered the Seared Day Boat Sea Scallop which came with black bean corn pudding and a mango papaya salsa.
He said it was ok but nothing special, definitely not worth $10 for one tiny Scallop.
For Main course Lee had Char-grilled 12 oz Rib-Eye Steak, served with herb roasted fingerling potatoes, Cremini mushrooms, Cippolini onions and Cabernet syrup.
I also had the Rib-Eye but with fries instead of the fingerling potatoes. Again it was ok not great, very fatty more so than you normally get with Rib-Eye. For dessert we both opted for the Double Vanilla Bean Crème Brulee (sorry no photo
) both of us agreed they didn't actually taste of anything, let alone double vanilla. Our server was more interested in chatting to the other staff who were all just standing around with nothing to do. I had an empty glass from when he bought over my main course until we left. Needless to say we didn't enjoy this meal & we will never eat there again, it was a waste of two table credits each.
We walked back over to see what the queue time was on Toy Story Mania, the board said 40 minutes but the queue was out the door so we knew it would be a lot longer as it was much shorter than that earlier.
We had a walk around and then decided to head back to OKW. We chilled out in the room watching tv with every intention of going to Magic Kingdom to watch Wishes but I fell asleep and Lee didn't want to wake me.
Coming up – Day 13 = The day I have been waiting for!!!!! All aboard!