Hello, and welcome to my very first trip report! Not only is this my first TR, but this post is one of my very first posts here on the DIS! I've been lurking here for quite some time while planning my recent trip but never actually posted…until now.
I have so enjoyed reading about other people's trips that all throughout our vacation I kept thinking I needed to finally bite the bullet and join the DIS so I could write one of my own! Might at well jump right on in, right?
So here I am and I hope you will read along!
My FI and I just returned from a magical, memory-filled 7 nights at WDW celebrating our recent engagement.
Disney is definitely the place to celebrate!
I guess you probably need a little background info on the cast of characters:
I'm Courtney, a long time Disney lover. I've been going since I was 2 and was fortunate enough to go to the world pretty much every year (sometimes twice) as a child. This was my 3rd "adult" trip to the world!
Here's a picture of me from our recent trip - waiting in line for Soarin'!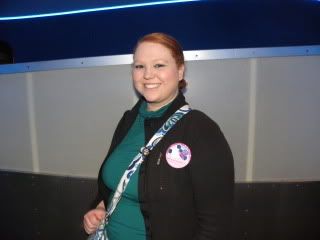 My FI, Miguel, is a newly converted Disney lover. Before we met he had never attended Disney World, but I changed that pretty quickly! This marked the third trip for him in three years – it's become our annual tradition!
Here's Miguel lounging at the BC after our CMC breakfast!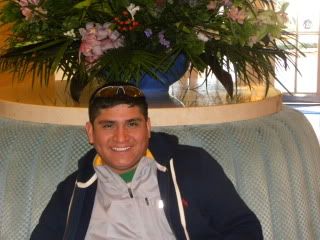 And the two of us...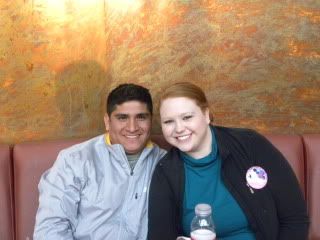 We took tons of pictures while on this trip - Hopefully this TR will reflect just how much fun we had! We definitely made memories to last a lifetime!
LINKS TO UPDATES:
DAY 1 - Pt 1 - PIXIE DUST RIGHT OFF THE BAT!
Since this is an Engagement TR - THE STORY OF OUR ENGAGEMENT!
DAY 1 - Pt 2
DAY 1 - Pt 3
DAY 2 - Pt 1 - BACK OFF SLEEPING BEAUTY!
DAY 2 - Pt 2
DAY 2 - Pt 3
DAY 2 - Pt 4
DAY 2 - Pt 5
DAY 3 - Pt 1 - FINALLY, GOOFY PROPOSES!
DAY 3 - Pt 2
DAY 3 - Pt 3
DAY 4 - Pt 1 - OUR (not so) FREE DAY
DAY 4 - Pt 2
DAY 4 - Pt 3
DAY 5 - Pt 1 - THE ADR I NEVER SHOULD HAVE MADE
DAY 5 - Pt 2
DAY 5 - Pt 3
DAY 5 - Pt 4
DAY 6 - Pt 1 - IS THAT SLEET?! IN ORLANDO?!
DAY 6 - Pt 2
DAY 6 - Pt 3
DAY 6 - Pt 4
DAY 7 - Pt 1 - DOES THIS RIDE COME WITH A WARNING?!
DAY 7 - Pt 2
DAY 7 - Pt 3
DAY 7 - Pt 4
DAY 7 - Pt 5
DAY 8 - DEPARTURE DAY & SOUVENIR REVEAL
FINAL THOUGHTS