to my latest trip report. For those of you unfamiliar with any of my previous adventures you can check out my last trip report here
The Darling Family June Beach Club Trip: Hugging Ewoks and Finding Peter Pan
This trip report has a much shorter cast of characters and a much shorter duration, but it was definitely an adventure. So without further delay I'll introduce our limited cast:
Mrs Darling (that's me and you can call me Jenny). I'm now a 38 year old mostly SAHM that loves all things Disney (except maybe Hannah Montana). I also dabble in running and one of my favorite things is combining the two. I "ran" the Disneyland Half Marathon in 2007 and this trip was planned so I could "run" the Disney World Half Marathon.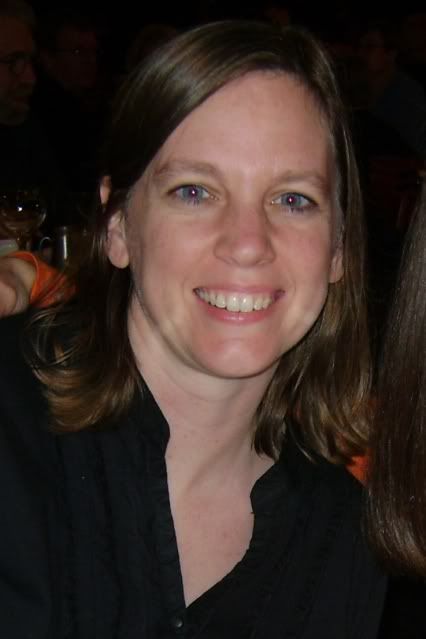 Mrs. Disney (but we can call her Liz). My great friend that used to be my great neighbor. She left me a few years back, but I've long since forgiven her for that oversight. She is a huge Disney lover too and we've been lucky enough to meet up in Disney World three times since she moved far, far away. I planted the seed in her head of running in Disney way back in 2007 when I did the Disneyland Half. She started running herself a little less than a year ago. She then took me up on my promise that if she ever ran the Disney World half I'd come run it with her. (Of course that was a promise I was thrilled to keep.) She took to running right away and as you will see as the report progresses the student has overtaken the instructor. (Not that I was ever a great instructor.) Hopefully she will pop in regularly and tell ya'll the real story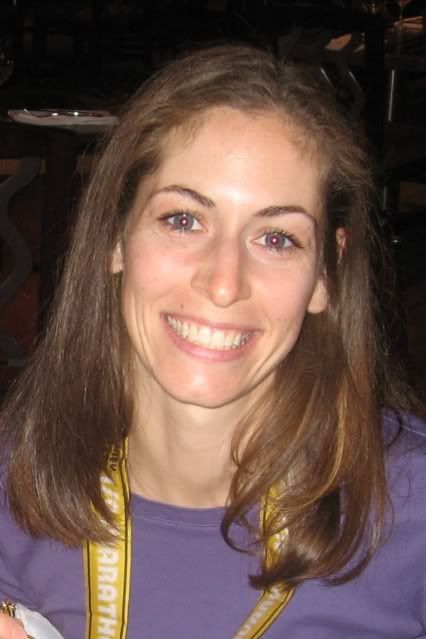 The final cast members play very minor rolls that involve voices only (sometimes they come from the cell phone and sometimes they are just in my head.) If you read my summer trip report you're familiar with the ones I left behind. DH (he's not Peter this trip because he is nowhere near Disney World), Wendy, John, and Michael. This is the whole family last summer.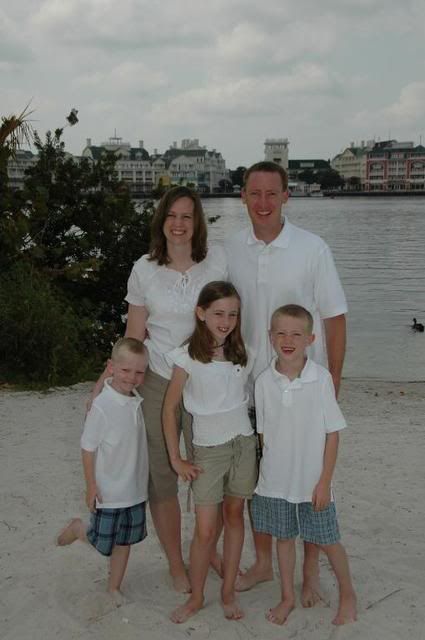 The Plan:
This was a quick weekend trip with the sole purpose of getting our Donald Duck medals though we did fit some other fun in. I'd rented some DVC points for the weekend at a Bay Lake Towers studio and we'd decided on the Deluxe Dining Plan. We figured it would be OK to splurge on a weekend that we ran 13.1 miles. Our reservations were made and we were ready to go.
So let the good times roll!!!
Day 1: The Journey
Bay Lake Tower Arrival
The Expo and the Tyvek Man
A California Grill Birthday Dinner
Night Night
Day 2: The Marshmallow Gang
Will we ever get to the Magic Kingdom?
A Sad Parting
Racing Up Main Street
Blazing our way through the Magic Kingdom
Heroes
This Race is On (for one of us anyway)
Epcot Here I Come
The Big Finish
It's Freezing Out Here!
Liberty Tree Character Lunch
A Magic Kingdom Afternoon
Our Celebration Dinner at the Castle
The Day Finally Ends
Day 3: Goodbye Bay Lake Tower
The End
Final Thoughts