Here's the index of posts I've made on the trip report, so you can easily find the newest ones.
The best laid plans...
The best laid plans ... part 2
Day 1 (Magic Kingdom)
Day 1 ... part 2
Dat 1 ... part 3
Day 2 (Animal Kingdom in the pouring rain)
Day 2 ... part 2
Day 3 (Hollywood Studios & Osborne Lights)
Day 3 ... part 2
Day 3 ... part 3
Day 4 (Epcot & Illuminations)
Day 4 ... part 2
Day 4 ... part 3
Day 5 (Hollywood Studios #2 & Downtown Disney)
Day 5 ... part 2
Day 6 (Epcot #2 & Chef Mickey's)
Day 6 ... part 2
Day 7 (Magic Kingdom #2 & Castle Lighting, Spectro and Wishes)
Day 7 ... part 2
Day 7 ... part 3
Day 7 ... a story missed
Day 7 ... part 4
Day 8 & returning home.
Our Favorites Lists
Final Thoughts
Welcome all to our trip report. I'm going to copy and paste some information below from my PTR to help introduce you to our cast of characters. As you'll see, things didn't go entirely as planned. Travel was a bust, the resort didn't pan out and the weather didn't cooperate. But it was still more wonderful, more magical and more festive than we could have ever dreamed of.
I have TONS of pictures to share. Between us all we had 4 digital cameras, 1 video camera and one photopass card. We ended up with 1298 photos in total. Hope you don't get tired of seeing them! LOL
Now, on with the show...
Me
- Annette, 35 and lover of all things Disney. I get in full Disney-planning-mode before vacation and it drives DH crazy! By day I teach preschool, by afternoon I am a professional scrapbooker and by evening I am a volunteer and chauffer. It's a busy life.
DH
- Brian, 35, ready to take multiple runs on RnR and ToT! He's a big bad policeman with a teddy bear living inside. He also loves riding his motorcycle.
DS
- Chase, 13, my fellow Disney freak. Knows as much as I do, if not more. Has already asked to plan the schedule for our next trip and will be doing that with a little guideance from me. He loves drama and is super smart. He plans to produce movies someday, much in Walt's footsteps, by opening a movie studio with his brother.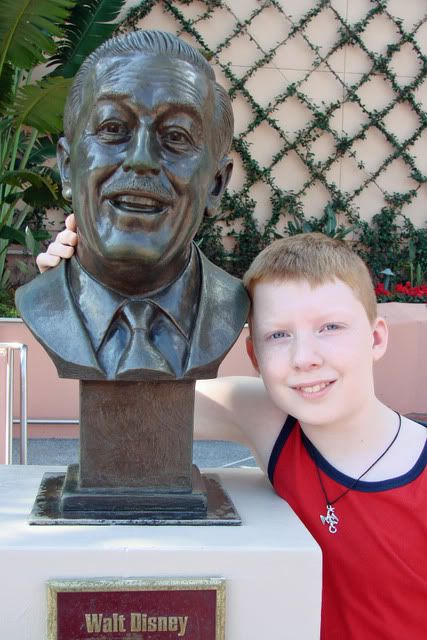 DS
- Tristan, 11, loves to laugh and laugh during fun rides. I love hearing that! (He'll be leaving the horns and braids home this trip. LOL) He's a Taekwondo freak and loves to play basketball too. His lifes ambitions are to be a Dad and make movies with his brother.
DD
- Carissa, 8, our total princess. Loves all things girly and pink. She's her own little strong-willed person but is still sweet and loveable. She loves dance, cheerleading and is excited for her first year of basketball.
And now to the part about the finale. We're quickly realizing how fast our kids are growing. This will be our 3rd WDW trip and we've done DL with them once too. But we all really love Disney and just have never wanted to go anywhere else. Until now. We really want to take the kids to Washington DC, to see all the historical artificats, the monuments, the museums. So we've decided that has to be our next trip. And seeing how we're not made of money and live modestly on a police officer and part-time preschool teacher salary, it will take us a few years to save up the money for another trip. Our oldest is 13 now so we'll probably be able to do DC when he's about 16. I just don't know if we'll have time to sneak in another Disney trip after that and before he moves on to college. So this could very well be the grand finale of Disney for our whole family. Oh, Brian and I will still go together once the kids are gone. And if we win the lottery that will surely change (as if!). So we're treating this trip like it's the last one and planning and splurging like there's no tomorrow. Because for our family, there might not be a tomorrow in WDW.
Anyhow, here's a few pic of us from our WDW trip in January 2008.
Here's a link to that trip report, in case you're interested in reading up a little on who we are and what we like.
Jan/Feb 08 WDW Trip Report: Curiouser and Curiouser