Trip Report Navigation:
Day 1 - Travel
Day 2 -
Animal Kingdom (W/Tusker House Breakfast)
/
City Walk(Latin Quarter)
Day 3 -
Universal Studios / IOA
Day 4 -
Hollywood Studios (Sci Fi Dine In)
Day 5 -
Typhoon Lagoon
/
MK and Wishes Party
Day 6 -
Nasa
/
City Walk
Day 7 -
Sea World / Cheesecake Factory
Day 8 -
Magic Kingdom / DTD
Day 9 - Universal Studios / IOA / HNN
Day 10 -
Epcot / DTD
Day 11 -
Busch Gardens
Day 12 -
Wet and Wild / MNSSHP
Day 13 - Sea World / AK
Day 14 - Hollywood Studios / Epcot
Day 15 - Universal / Home Time
Hello and Welcome(!) to my first trip report from my first WDW trip.
Im hoping to share a lot of pictures in this - We took at least 1500 pictures over the trip and though i wont bore you with them all i hope you like them!
The 2 week trip was this October but until now, i have been too snowed under with essays and presentations and work to write this! But trust me - i have been so excited to write this - to relive the magical memories from the trip with everyone on here!
So to start - the vital details
After an amazing trip to Disneyland Paris when we were first together me and my boyfriend scott fell in love with Disney parks and he later said that he'd take me to Florida for my 21st
how amazing !
Here's a picture of me and Scott in Paris with Sulley - this was in 2007 which seems so long ago now!
His sister and brother in law had been thinking about visiting Florida too so we decided that all 4 of us would go in 2009. We decided October would be perfect because i would be turning 21 so would be old enough to enjoy a cocktail or ten and make use of the year of celebration gift, and that we'd be visiting in a relatively quiet crowd period.
Trip Date - 20th October 2009 for two weeks

We booked everything in January and since about March I'd been counting down each and every day and turning into a crazy WDW trip planner - and can i add I LOVED EVERY MINUTE OF IT! Heres a picture of the countdown calendar me and Scott made for our living room wall.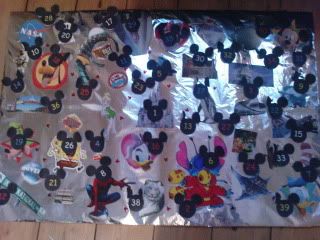 Trip Details
- Flying Aberdeen - Sciphol, Sciphol - Detroit, Detroit - Orlando Florida! with KLM - this would be a long flight but we saved a lot of money doing it this way.
Staying
- at Ramada International Drive, as we'd be driving and visiting many of orlando's attractions this would be an affordable hotel in a great location - basic but this would be fine as we'd spend most of our time having fun!
So now thats the basics out of the way I can start writing my trip report
__________________



Walt Disney World - September 2011 (Engagement Trip). October 2009 (21st Birthday Trip).
Disneyland Report Paris - 1995, Santa Fe / 2007, Explorers Hotel / 2010, Cheyenne / 2012, Newport Bay Hotel
Disneyland Resort California - April 2013