Let's see ...
• Snow White is awakened by a kiss.
• Sleeping Beauty is awakened by a kiss.
• Ariel the Mermaid needs a kiss to make her dream come true.
*Giselle waiting for true love's kiss.
... Is it any wonder Walt Disney World is located so close to Kissimmee, FL?
hahahaha...Welcome back!
So, I arrived in the last update and this day would be our Magic Kingdom day with everyone (1 of 2 actually). I woke up at 5 am. I was pretty excited to finally be in Disney so rather than trying to sleep another half hour, I just got up and took a shower! After dressing, I went downstairs and organized my park bag and eat breakfast. Soon enough the whole house was awake! I think Devon was the last person up…which is pretty typical! After breakfast…I think the girls had cereal and toast…they got washed up and ready. Today we were wearing our white Minnie Mouse tees and Brooklyn wore her patchwork skirt. I made one for Devon too but she opted for just plain shorts.
Weather wise…it was cloudy and looked like rain but it never did rain and it was in the 70's. A perfect day to tour! According to Tour Guide Mike, it was to be a green morning….that means not too many people were supposed to pick Magic Kingdom this day. And besides, we had a plan!!!! It was NJ week and the crowds could get pretty bad. I was quite worried that we wouldn't get to all the attractions I wanted.
Trivia:What is the name of the ride reservation system at WDW???
Answer: Fastpass
So my plan included fast passes and strategy! By 8 am, everyone was ready. That's what I like about Edmund and his family…they are NEVER late. So we loaded up into our cars and headed to MK.
Windsor Hills is only about 1 ½ miles to World Drive. Once on World Drive it is a few miles to the MK parking lot. I think it took us about 15 minutes…maybe 20??? We weren't rushing and there weren't too many people at that hour. We got to park in the AAA Diamond Parking and the excitement began in earnest. It was so much fun being there with so many people.
Here we are walking in from the parking lot!



We stopped at ticket and transportation to get tickets for the ticketless.
Trivia: What is an E Ticket?
Answer: Coupons first offered in 1956 for teh most exciting Disneyland attractions, they were replaced in June 1982 with passports.
Around 8:30 am, my friend Leanne called from the turnstiles. They were already there. She had a dream that she arrived and we couldn't find each other and we were looking and looking for each other. We headed to the monorail since the boat wouldn't be running until 8:45 am….way too late for any good TGM! We had a rope drop to see!!! The girls loved the monorail and it was fun being whisked away to a magical place!!!
Trivia: How many miles is the monorail system at Disney World?
Answer: 14.7 miles
We disembarked and headed down the ramp…through bag check and then I had to assist the girls through the turnstiles. Sarah was old enough to do the thumbprint and my ticket was a non-expiring 7-day from my Feb trip. What if it didn't work??? I was actually nervous. But, the green light flashed and I was through the turnstiles!!! Yaaa!
Leanne and her girls were there and we swung around to join the crowd. We were so excited and took lots of pics!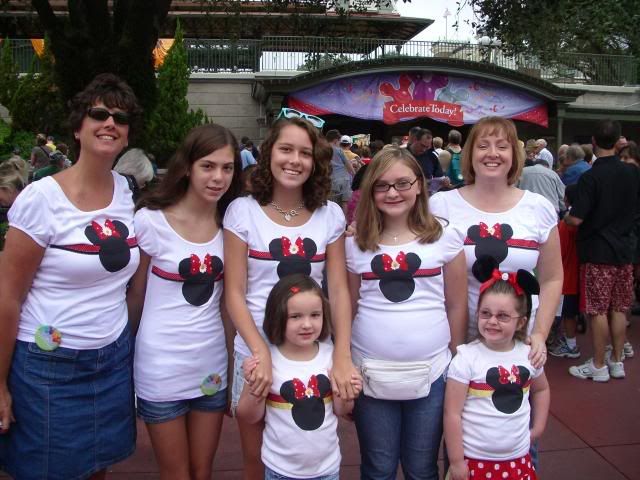 The girls were just a little excited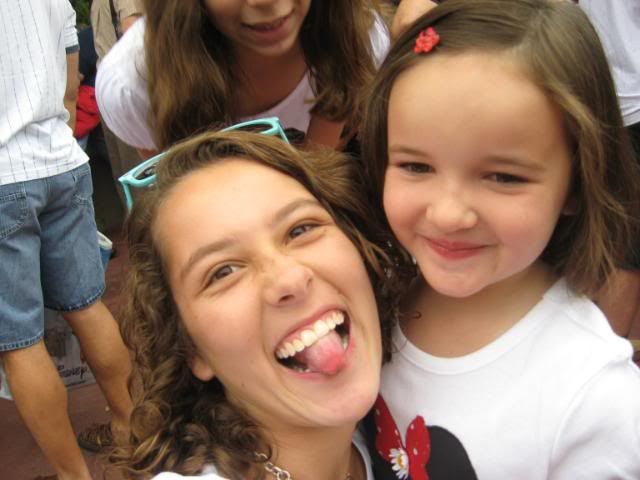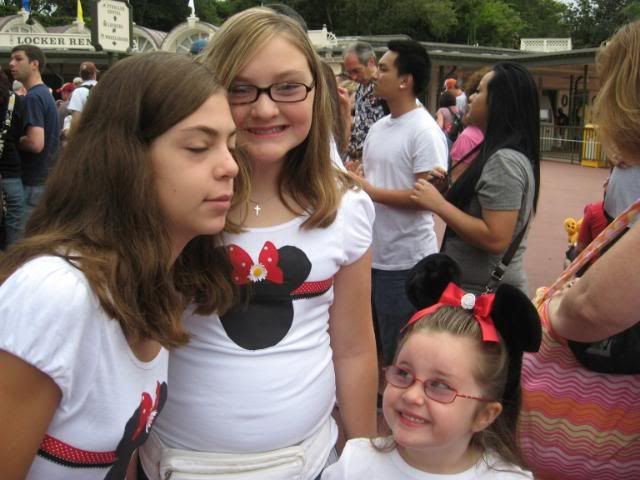 After about 10 minutes, the opening show started. We made it!!! We were all here!!!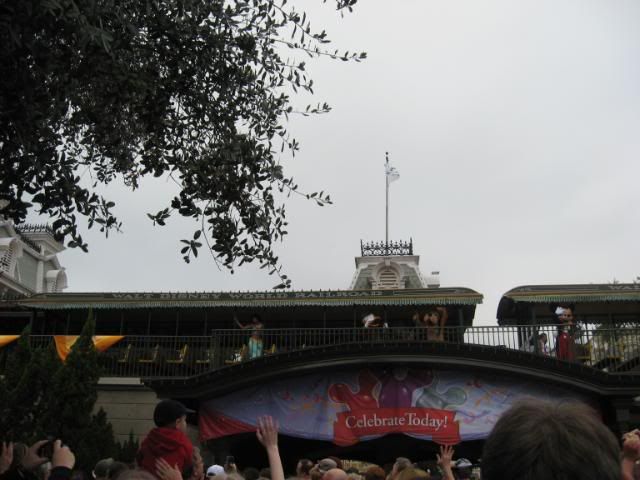 Continued in Next Post!!!