Hello Everyone!!!
I am just going to jump right in and start this trip report…cause otherwise I will be staring at a blank page forever wondering what to write about. Before I introduce myself I want to let you know that I am not all that funny. Sorry. I just didn't inherit the gene…but…I can find corny Disney jokes and fun trivia on the internet so I will intersperse both throughout the trip report and hopefully stay on track enough to keep you all reading along. Oh and I have lots of pictures to share too…I took some, my friends and family took some….Disney took some! Oh goody. I loves me some pictures!
So time for the first joke already:

THE TOP TEN SIGNS YOU HAVE AN UNHEALTHY DISNEY OBSESSION

10. You know how many hairs are on the leg of the drunken pirate sitting on the bridge.

9. You have more Disney movies than Blockbuster.

8. Your favorite song is "Zippity-Doo-Dah".

7. When you hear people talking about "the underprivileged", you assume they are referring to those who have to stay off-site.

6. You refer to Wal-Mart and McDonald's employees as "cast members".

5. You've added spires and turrets to the roof of your house.

4. You tried to pay your electric bill with Disney Dollars.

3. Your children's names are Ariel and Alladin.

2. You pray that nobody will ever discover your dirty little secret: That you sneak out of bed in the middle of the night, logon to the internet, and drool over online pictures of WDW.

1. You're reading this.

And I have one to add…When you go out to dinner with your kids, they ask if this is a character dinner! ( I do truly get this one!)
Introductions:
Well, there's me…I am Cathy…I found the Disboards about a year before our June 2007 trip while doing research. Then two weeks before that trip I found the Disboutiquers ( a sewing thread on the disboards) and I was hooked. They are a fabulous group of ladies and gentleman who sew Disney things and lots of other things too. I call them my sewing thread buddies. I have met many of them and they are just as fabulous in real life too! I am also a Tour Guide Miker…I follow his advice cause it makes sense and for me…it worked! Oh and in real life I am a teacher! A science teacher to be exact…high school. It's challenging and exhausting but I do love it. Ok well that's enough about me….
I am married to my hubby…Edmund…who hates all things Disney. I know, I know, I know…..how did that happen??? I have been trying to convert him but so far no go. Fortunately he does enjoy FL so when we go to Disney, I go to the parks and he does other stuff! So that works out fine with me! He is a great dad and hubby and we live a quiet life in southern NJ.
My oldest daughter is 11 yrs. Her name is Sarah…which appropriately means princess. She is a fabulous sweet kind girl…kinda quiet…and she loves Disney. She is a wonderful role model and big sister, loves school and likes to hang with friends, dance, (used to ride horses but hasn't been doing that lately) and participate in all kinds of activities. And believe it or not…does NOT have a cell phone or email account.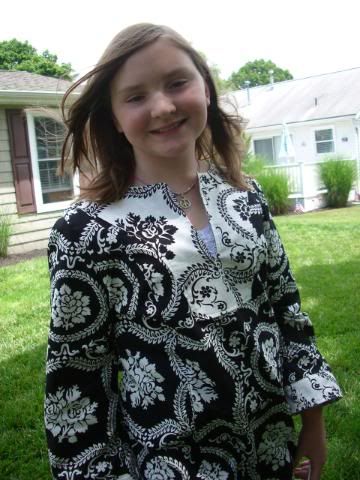 Next up is Devon (like the horseshow) who just turned 6 yrs. She is fun and bossy and loves to direct things…loves kindergarten too…well behaved unless she is tired and then watch out!! LOL. She loves to play and is very creative. She is a very good sister and seems much older than her age. She is very afraid of character meetings but loves everything else about Disney. She also dances and loves to play dress-up and is my girly-girl. She is an excellent snuggler too!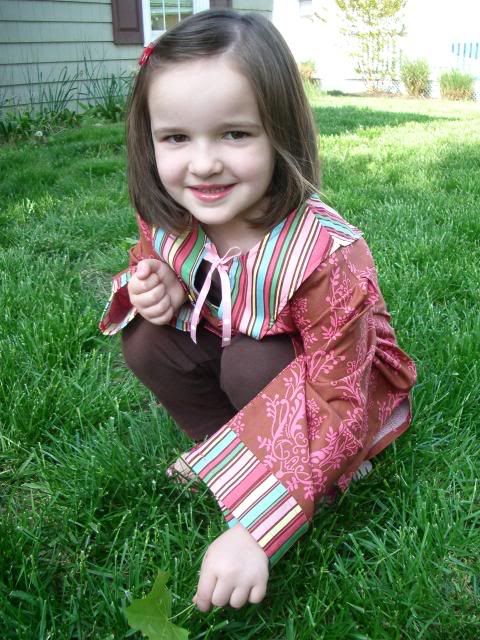 Finally, my youngest is 4 (almost 5). Her name is Brooklyn (like the bridge)! She is an interesting person to describe. She is attuned to everything, sharp as a tack…and loves to be the baby of the family. She is a worry wart…which is funny cause I am not at all. She loves to play with her sisters and loves pre-school …though it took her awhile to adjust to it. She too loves to dance and was very excited to go to Disney. She was only 2 ˝ when we went last. She loves characters and hugging them so she couldn't wait to see them again. Plus she was finally tall enough for the rides.
So that's our little family!
Now onto the plans for the trip!!.
But first, this would be a good place for our first trivia question…(I'll answer after I share our plans)
1. What was Walt Disney World originally called?
2. Who made the name change and why?
Planning our trip: (since I didn't do a pre-trip report…lol)
Last Thanksgiving while family was visiting, we asked if everyone wanted to meet in 2009 in Disney. We were thinking of renting a house in Windsor Hills. Everyone agreed so our family reunion was on!
My friend and her girls planned their trip to coincide with ours and my disboutique friend,
Minnie Too (Marlo), had a trip the same week as us. Plus my hubby's friends planned a trip that overlapped ours and then there are lots of friends in FL we linked up with as well. So all in all…it was an Extravaganza in Disney! Lots of meetings and fun I tell ya!!
So the planning began in earnest. My friend,
Leanne, suggested Nov as being a great time to visit since the weather was a bit cooler and we would have less crowds. Since we teach our only choices are Thanksgiving, Christmas, Easter or to bake in the summer heat. So we picked Teacher Convention week. Lol!
Then we had to plan out our days and schedules and all the usual mayhem and foolishness. I was obsessed…ok…I admit it. But one of the best sites I found (besides the disboards) was Tour Guide Mike. No, I am not employed by him to say this. I also liked The Mouse for Less and various other books and sites. So with the planning complete…. I awaited the 90 day window to make a few dining reservations and the eagerly awaited call to
Bibbidi Bobbidi Boutique. Last visit, Brook was too young so the girls had to wait till this trip to go. They were dying to go. Long story short, I got my dining reservations no problemo but the Disney computers were down
for a few days when I needed them to be working so I could make the BBB appointment. After an email to Disney execs though, they graciously called me back with an appointment time for all three girls for the day and time I needed. Yaaaa Disney for fulfilling that dream!!!
So the 465 days till our Disney vacation finally wound down to
a week before
. My hubby and youngest got sick
with ear infections and my middle had a terrible cough. I turned up with bronchitis and a touch of the flu. But, Praise the Lord, we were all well by go-time!!!! Yeesh…that was stressful.
Oh ya… I forgot to tell you one thing…I started sewing outfits in Feb 2009 for our Nov 2009 trip. I finished the last one about a week before we left! I started packing everything two weeks before…here are some pics of that. I put everything in labeled zip-lock bags with the child's name and date of wear. Very handy and it all fit in a carry-on! I overpacked on other stuff though. But live and learn.
Organizing
Ironing
Labeling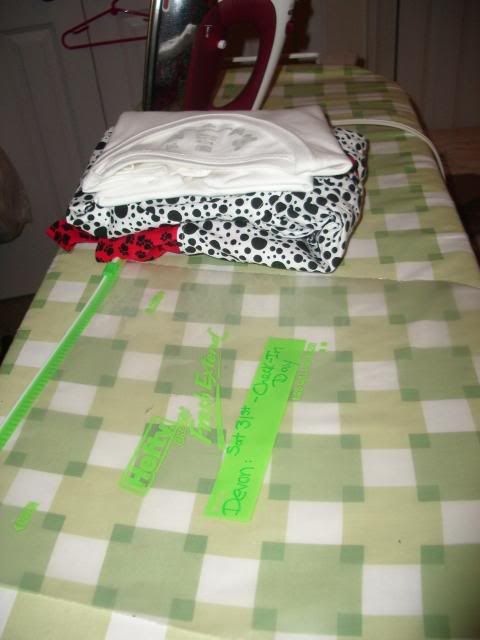 Zip-locking...get out all the air!
And toss in suitcase!!!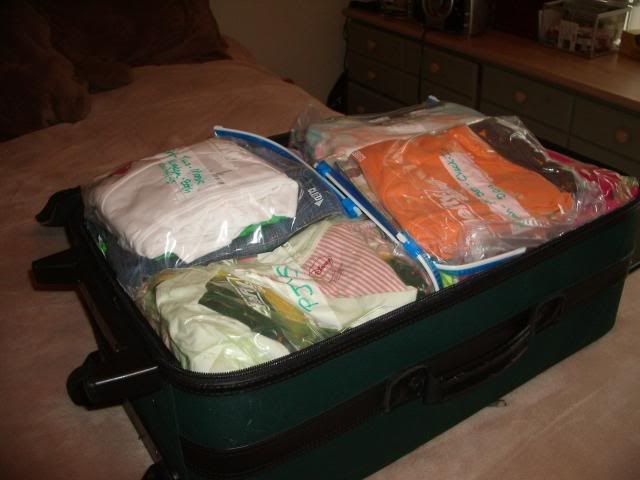 All packed and ready to go!!!

OK answer to the trivia question coming up….
1. Disney World
2. Roy Disney changed it to honor his brother Walt.
(I bet you already knew that huh?)

So there you go…our introductions and the plan! Up next…Getting to Disney!
Click on these links below to go directly to updates:

The weekend - Part 1

The weekend - Part 2
Mommy's Arrival
Magic Kingdom Day Part 1
Magic Kingdom Day 1 Continued....scroll down page 5...there are lots of posts!
Magic Kingdom Part 2: The Background
Magic Kingdom Day Two Morning...scroll down to post #96

Magic Kingdom Day Two - The Rest of the Day - Scroll down to Post #117 thru 119
Epcot - Early morning - Scroll down to post #130
http://www.disboards.com/showthread....n to Post #134
The Rest of Our Epcot Day - scroll down the page to post #146
Hollywood Studios Morning - Scroll down to post #158
Hollywood Studios....the rest of the day!
Final park day and heading home!