cont'd We are taken in and seated just under an air-conditioner vent. At first I think this feels great but by the end of dinner I am shivering
The food here at 1900 Park Fare is by far the best. But I seem to be struggling with my breathing and don't feel really hungry. I have some mashed potatoes and green beans plus a roll and get a small piece of the prime rib. I pick at it a bit while the Characters came around.
First comes Anastasia :
She poses for some pictures and tells the kids to behave so her mother doesn't get mad. Then she walks over to this other table where for some reason this boy of about 9 years old screams at the top of his lungs. She then screams a nails on chalkboard scream back at him. This continues through out the dinner to the point that I am ready to lose my mind.
Next Drisella comes by: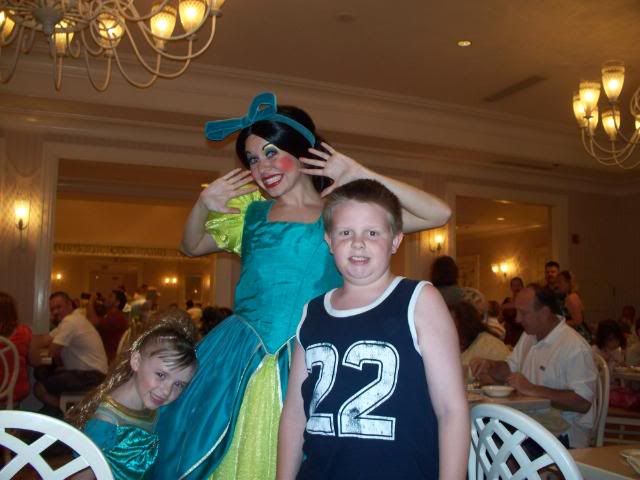 She is a hoot. She asked my son what the heck is in his hair. My DD quickly replies that it is pixie dust. She tells my DS that there is no way it is pixie dust because if it was he would be flying and he is NOT flying. So she tells him that he must have Tinker Snot in his hair instead. That was hysterical.
Next the Wicked Step Mother came by: She gave a couple stearn looks but didn't say much.
Then the music is raised up and The Royal Prince and Princess are announced. Cinderella and the Prince dance the Waltz and then begin making their way around the room.
Just as dinner is about to end they do a dance for all the people celebrating. And this masterpiece is brought to me at our table.
Chocolate Heaven ! My DH scored huge points for this -- I was so HAPPY !
Coming Up Next we Head back to Magic Kingdom for Magic Hours !