Welcome!! I am excited to be calling myself a Disney bride
The twist, hardly anyone knows I am!!!!
So a little information to get you started!!!!
About us :
Josh and I met our first year in college. I was introduced to him during the second semester of school. He was new, having just gotten out of basic training he didn't know many people at the school. I was dating someone else at the time, so we were simply acquaintances for about a year, when things in my life started to change. I became single, and one of my friends told me to pick any of her boyfriend's friends, and she would make a date happen. We went to dinner that night......and it is all history from there!!!!!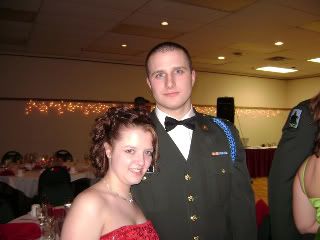 Josh and I at military ball a few weeks after we started dating

The proposal :
Josh and I had been talking about marriage for a while when he suddenly stopped! I was a little worried, and a little suspicious with he insisted we talk about it after dinner Sunday! I had a family readiness group meeting (kinda like a support/information group for family of soldiers) on Sunday, and when I got home he was waiting to talk to me. He got down on one knee, and gave me this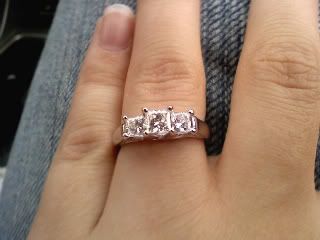 The Twist :
Well we are "considering" a 2011 wedding, at least that is what we are telling people! We are going to be eloping in Disney in January; but we plan to renew our vows with our friends and family, when he returns from his deployment sometime in 2011. We are young (will be 21 and 22 when we say I do) but know we have found our happily ever after...........
If you made it through all that and are still with me PLEASE SAY HELLO!!!! Nothing is worse than thinking you are writing something no one is reading!