Welcome to everyone that came over from the Wish Trip boards!
For those of you just joining, I will give you a brief background of who went on our trip. It was me, my husband, my DD9, DS4 and DD1. We left our house at 4:15 am on 9/12. The airport is about 20 minutes from our home. Our flight was at 5:40 am. The flight was on time, but we encountered a problem getting on to the plane. The two little ones were in their double stroller and the plane was outside at the bottom of a flight of stairs. There was no elevator. We had to somehow get two little ones, a double stroller and all of our carry-on bags down this flight of stairs. It was not an easy challenge, but we managed. Both flights were relatively smooth. On the second flight I met a young couple that was going for Free Dining and they were both military. They had not booked any dining reservations and they thought that the concierge could do that when they arrived. I pulled out my Passporter book and helped them compile a list of possible places to eat. Hopefully, they were able to get some reservations!
We made it to the Magic Express line at the airport and it was much shorter than it was 2 years ago. We waited about 30 minutes for a bus. Our flight arrived in Orlando at 11:30 am and we were in our room in Pop Century at 1:30 pm. I did the advanced online check-in. I did not send a room request. We stayed in the seventies section facing the lake and it was about a 2-3 minute walk to the dining hall and the busses. We were at Pop Century from Sept. 12-20, 2009 on the free dining plan.
Once we were settled in our room we decided to head to the Magic Kingdom for a few hours prior to dinner at the Whispering Café. We arrived right as the afternoon parade was travelling past Main Street. DH and the kids decided to watch the parade while I went to Guest Services to ask about a Guest Assistance Card (GAC). I had a letter from my geneticists with the most recent diagnosis of my son's condition. They handed me a red tag for the stroller so he could use it as a wheelchair and a GAC card. They did not explain what to do with it. I went back and met my family. We chose to ride Buzz Lightyear Spin first. DS decided to have his first of many melt downs when he saw the ride. He was scared. They let us in the handicapped line and then had us go to the exit of the ride and we waited a few minutes until we were ready to board. We carried the two little ones from the stroller to the ride. DS screamed the entire ride!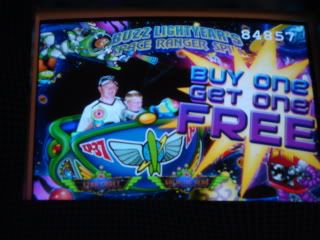 Next we saw that Stitch was out. We waited in line to visit with Stitch as there were only a few people in line. When we got up to Stitch DS would not get out of his stroller. His whole Wish in November revolves around Stitch so this was a problem. He did give him a high five.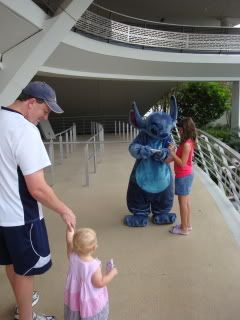 Then it was time for dinner so we took the boat from the Magic Kingdom to Wilderness Lodge. DS seemed to do ok on the boat. We arrived 15 minutes early for dinner and the restaurant was not open yet. The host and hostesses played games with the kids. One little girl was chosen to ring the dinner bell to let everyone in the hotel know that it was time for dinner.
We had a lot of fun here. The kids enjoyed the antics of the servers and the food was delicious. We ordered the skillet and I was leery of doing this since I assumed that all of the food was piled all together, but it was all in the skillet, but each item had its own little space. The food was amazing. Then there was dessert at the end of the meal! There was no room for dessert. They brought my daughter a little cake and sang to her for her birthday. Then since we were also celebrating our anniversary this week, they brought DH and me glasses of champagne. They announced our anniversary to the restaurant and then told my husband to recreate our wedding kiss. I was so embarrassed, but my husband hammed it up and dipped me.
Then we explored Wilderness Lodge for a little bit and there were tons of rabbits hopping around in the grass. Next, we took the boat back to the Magic Kingdom. This time DS was ok with the boat. As we discovered as the week went on, we had to scream through each ride once and then the second time it was fun to ride.
We walked over to Toon Town since the two girls wanted to meet the fairies. Tinkerbell, Silvermist and Fawn were present. They had fun interacting with the fairies and the fairies loved their homemade autograph books. The fairies could not believe that we had a picture of each of them in our books. I had many pages for each child's book and then depending on the park we were going to each day, I added new pages and removed the already signed pages so that once we arrived home I would put them completely back together. The creative designers here make some amazing autograph pages to share. Thank you!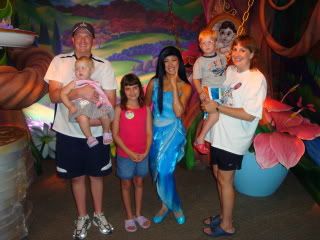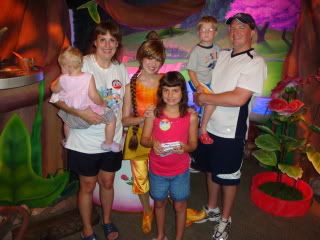 Next we toured Mickey's house and met Mickey and Minnie in the Judges tent.
Then it was time to call it an evening. I had been up the entire night before making autograph books and Epcot passports. I normally plan ahead, but we had just moved and I had painted all 3 kids' rooms and my office. I have 6 more rooms to paint now that we are back home. To say the least, I was tired and needed sleep! It was a fun start for our first partial day!