Do you remember your imagination?
Where Neverland was a destination?
Your magical adventure isn't over yet
Just hold on tight and don't forget

Every wish, every dream you ever had
Close your eyes
And it will all come rushing back
Fly away
All you need is to believe and remember when

You never know where your dreams might take you
So keep them safe and sound don't let reality break you
Feel your sweetest memories come and carry you away
Just get lost in yesterday

Surrender to the innocence
You thought you left behind
And reach the child that lives inside

Fly away
All you need is to believe and remember when

Remember when

--Richard Marx (Written for Disneyland's 50th Anniversary)
to my family's August trip report! If you'd like to read the planning that went into this trip, check out my PTR
here
. It has handy dandy chapter links if you'd rather not read the chatter and extra stuff.
In a nutshell:
We stayed at the Pop Century Resort (Remember When….
!) from August 15th to August 25th. Ten wonderful sleeps in Walt Disney World!
This was our fourth trip in four years and our second time staying at the Pop. Our objective this time around was to stop and smell the roses if you will. Experience all the little things you tend to miss when you try to do everything and above all…. relax! I love love love to take pictures of everything and I fancy myself a decent photographer so strap yourselves in for a report chock full of pictures!
My Cast of Characters:
Me, Tracy
As much as I know I'll regret using this picture as my introduction
, it sums me up fairly well. Always looking for the fun and positive in things, and slightly goofy. I'm a football and hockey nut and I love to sing. I'm also fiercely protective of my children, especially my daughter (more on that in a moment) and I tend to over-react to what I perceive as intolerance.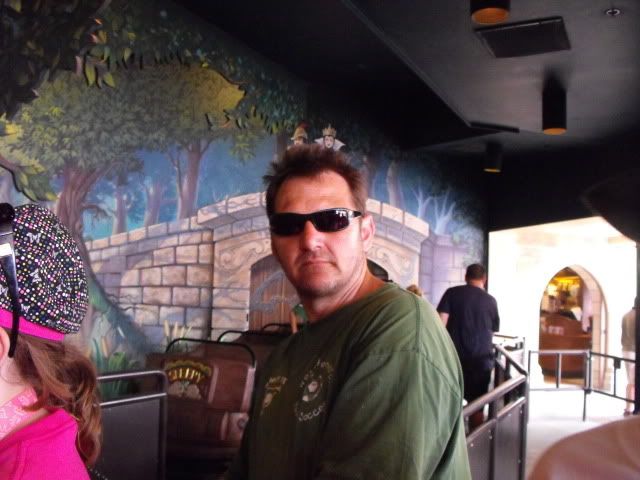 My hubby, George
We've been thru thick and thin him and I the last twenty years, married for fifteen of them this October, and I love him to death
. He is an impatient creature, (except when it comes to our daughter, oddly enough since she can usually stretch that patience to its outer limits! ...more on that in a moment), and he's very generous. He's incredibly sarcastic and is not afraid in the slightest to say it like it is.
Ariana
Oh, how to sum up our daughter in a few sentences? She is a very happy almost thirteen year old (
) who has been Disney obsessed since birth. She loves to watch movies, dance, spend time on the computer, princesses and the colour pink. She also was diagnosed with autism at the age of three and struggles with communication, attentiveness and sitting still. She is incredibly smart and stubborn and has little sense of danger. When she sees something she wants, she goes to get it. She is the inspiration for our trips and I love to experience everything thru her eyes. Pure innocence!
Alex and Demetri
These two are frick and frack so its only sensible to pair them up in their introductions.
Alex is freshly fourteen and a very mature, responsible young man. He's popular, kind and the kid his friends' parents choose to take with their child to the cottage for a week. He's had to grow up fast and deal with the sacrifices that can come with having a sibling with special needs, so I try to balance out things for him with little privileges here and there. He loves and is protective of his sister but his best friend is his little brother. Demetri is four and a half and worships his big brother to the ends of the earth.
He is our little late gift after trying to have a third child for over six years. He is a very fast learner, will talk your ear off and is so darn cute and vivacious you can't help but smile when he's around.
You know the sayings 'God doesn't give you anything you can't handle' and 'all things happen for a reason' and 'what goes around, comes around'? Well, I'm a big believer in those sayings and despite the ups and downs we've faced, I can't imagine our lives any other way!
Welcome aboard for our magical adventure!
Next up: We're off to Buffalo!
Handy Dandy Chapter Links:
August 15th - TRAVEL DAY
We're off to Buffalo!
A Magical Surprise!
Boys vs Girls Scavenger Hunt
Favorite and Not-So-Favorite Things for Day 1
August 16th - MAGIC KINGDOM
A Royal Invitation
An MK Aggravation and Quick Recovery!
A Jungle Cruise Surprise and a Failed Plan
August 17th - ANIMAL KINGDOM
Where's Demetri?! Where's Ariana?!
Favorite and Not-So-Favorite Things for AK Day
August 18th - EPCOT
Epcot and Teppan Edo
Rain, Rain, Go Away
Favorite and Not-So-Favorite Things for Epcot Day
August 19th - TYPHOON LAGOON
Havoc on a Seaside Village
Storms, Sun and Sundaes
August 20th - DISNEY QUEST and DOWNTOWN DISNEY
Ohana Means Family and Alia Means WAIT!
Disney Quest!
Planet Hollywood and DTD Part 1
DTD Part 2 - Shopping and Favorites for the Day
August 21st - BLIZZARD BEACH
Blizzard Beach Shut Down!
MK and Changed Plans
August 22nd - BLIZZARD BEACH and EPCOT
BB Do-Over and Epcot Fun
August 23rd - RESORT DAY and FANTASMIC
Splashing & Fantasmic!
August 24th - DISNEY'S HOLLYWOOD STUDIOS
Shows, Shows and More Shows!
DHS Wrapped Up
March 17th - DISNEY ON ICE - PRINCESS CLASSIC
Review with Lots of Pictures!
August 25th - DEPARTURE DAY & FINAL THOUGHTS
Departure Day and Final Thoughts