I actually started writing this a couple of months ago, right before DMIL got sick. I'll still give you all the details leading up to now, but I needed to add a couple of serious things in first. Going forward, they'll be the usual miscommunications, arguments, and scary flights
This trip could be the trip of new phases in life. The one we knew was happening was my 40th birthday this year. This trip came to be even before we went on our last trip….it was decided that even though my 40th birthday is in December, DH thought December was too cold. He wants to go swimming and thinks it could be too cold. So we decide to move it to September, so we could use our passes twice. Since DH gets almost no vacation time two trips was what we would have to settle for.
The other new phase was much more unexpected. This will this will be our first Disney trip without my DIL's. They are partially responsible for my love of Disney, and I think this trip will definitely be hard without them. Many of you know that DMIL was diagnosed with a rare form of cancer a couple of months ago. Unfortunately, she recently lost her battle and passed away just over a week ago. It is way too soon for DFIL to travel back with us. Hopefully, maybe in a year we'll be able to drag him back and it'll put a smile on his face.
So the highlights of how this trip came to be:
Invited my parents and a whole bunch of friends. My parents are very excited as they will stay with us this year. They have only been once before and I tell them they don't even have to go to parks – AKL is relaxing enough.
Called at exactly my 11-month date and had zero problems getting a two-bedroom standard view at Jambo house.
In November, I got the "official" word out to friends. Starts out with a bunch thinking about it, but ends up only two will be able to make it, but yay, one will be with her family which includes my princess loving goddaughter.
All is well and then January rolls around. My little sister announces that she and fiancée of the last 5 years have decided to set a date….less than a month after I get back! We think about it for a couple of weeks and then let my parents know they can back out since they are giving her $$$ for the wedding and probably can't do both this year. They will think about it.
I also start thinking that a week just isn't long enough, so maybe we need an extra couple of days at the end of the trip. Hello Member Services, and now we have a one bedroom reserved.
My parents come back in February and decide it's a good idea if they do not go this time. Of course, I'm bummed, but not going to let the two bedroom go to waste. I phone my evil twin and let her know that she can cancel her room and stay with us. We figured she's coming alone and all the way from California, we'd like to at least take care of her lodging.
It's now almost the end of February and I'm just about done moping and I get a call from one of my BFF's - we'll call her Red and she tells me that my goddaughters school is starting earlier than thought and so the whole family will be going in two weeks for DGD birthday since they were able to take advantage of the Buy 4 get 3 deal.
BUT – the good news is she will still be coming for a long weekend.
April rolls around and the company DH works for has union contracts that expire. He's not part of the union, but now no one is allowed to go on vacation until it gets settled…anyone else seeing this trip fall apart a bit? But DH is also on a new schedule where he works 4 days and then has 3 off. Hmmmm, since he has Thursday and Friday off, perhaps we should leave earlier. And since he's always wanted to stay at the CR, and maybe we should book two nights there. Yep, and that's added to the trip now too.
Our dining window rolls around and I wasn't sure since we have a split stay if the CM would let us book ten days or not. I must have gotten one of the good ones as I can book ten of the twelve days –
! I had no problem getting anything I wanted, so even at 90 days during free dining it was possible. I even called back a few days later (as online could not find my reservation!) and got a Chef Mickey's dinner for our first night.
Then just a few weeks ago, I received a pin code…worked well and saved of $$$ off the Contemporary. We then decided since the rate was so good for AKL as well, we would save some points for our next trip with my parents next year and drop the DVC 1 bedroom. So we now have a Savannah view room booked…we've never stayed Savannah, so it will be something new. Oh – and the pin code I had received, had my information from over ten years ago when I lived in a different state. Thankfully, DH remembered the address and I was able to use it.
That just about brings you up to date…here's who will be travelling with us:
Me and DH
I'm the Disney fanatic and DH will say I love planning the trips as much as I do going on them...which is probably true! We became DVC members a couple of years ago and I still can't believe DH gave in on that. DH likes Disney, and I think has resigned himself that we will always be travelling to WDW because of my love for it. This will be the first year (if we both get to go) that we will have actually gone in back to back years. Next step is to try and get there more than once a year!
And for the rest of the party - apologies in advance…all I have with me are wedding photos!
Evil Twin and boyfriend (but I don't have a picture of him yet!) I met Evil Twin in college and even though she lives clear across the country we are still BFF's. Her boyfriend loves WDW and has been before…this will be her first trip.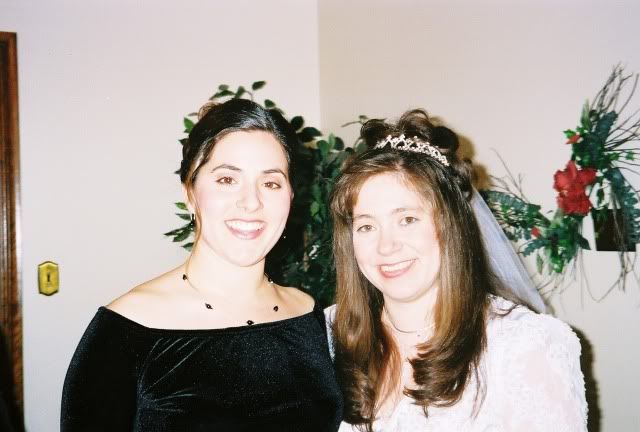 Red – mother of my goddaughter and the matron of honor in my wedding. I've known Red since we were little, but didn't actually like her or become friends with her until my first year in college…just goes to show, some things will work themselves out. And I'm sure at some point, she'll give herself a new name for this, but that's all I could come up with.
Next up we will have the never ending debate of flying vs driving!