A little backstory - DS had been on an allowance system since January. The goal was to teach him responsibility. He had to learn to clean his room, do his homework, read a book above grade level (he's trying to get an Accelerated Reading certificate) and take a quick shower. We told him to save some of his allowance for SWW, because he would inevitably want some of the toys they had there.
I totally applaud your attempt at teaching responsibility and money management-but having done almost exactly the same thing-I have a feeling I know where this is heading...
Of course, being a 7 year old boy, he didn't save any, and when we got to WDW, all he had left was his $25 gift card he got for Christmas from some friends of ours. So as DW and I are deciding how to manage the parade, TSM and lunch, he's doing this: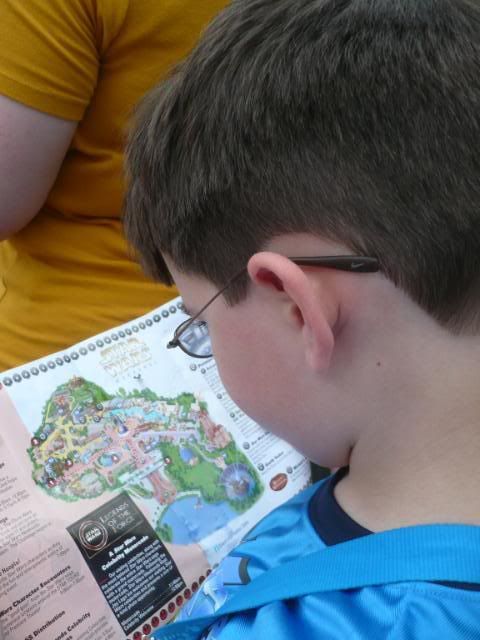 Mine DS is 6 and 5/6-do not forget the 5/6...-I saw the dearth of funds on his part coming-my guy also has it bad for Legos-and trust me those sets add up...
And suddenly exclaims, "I want to go to Wicket's Warehouse."
OOPs this sounds dangerous...
To explain for those of you who haven't been to SWW, Wicket's Warehouse is the big open space right next to TSM, where they stock all the SWW merchandise. It usually has horrendous lines, and it was not in our plans. But, we had told him we would let him have this day to do mostly what he wanted. What to do?
OOPS-DANGER...DANGER...DANGER...-I want to see if you stick to your guns or supplements his $$$
DW and I insisted that he see the parade, because he's a Star Wars fanatic, and especially loves clone/stormtroopers. So, we told him we would watch the parade, ride TSM, eat lunch, ride Star Tours, then do Wicket's Warehouse. He consented, but not happily.
Absolutely support your decision-your in DW-you're there for all that special stuff-like rides and parades...
you shop at home-ok maybe not at Wicket's Warehouse but still...
We figured he was hungry, but also grumpy about not getting his way to go to Wicket's Warehouse. The parade finished, and we headed through to the backlot to get something to eat. We ate at Studio Catering Co., which refreshed everyone. Very good grilled chicken and black beans and a salad that DW and I shared.
Good to know-have read some bad Studio Catering reports-aren't little boys always happier after eating? Mine is a little eating machine (like pacman-but he's really slim.... DH tells me I will be in shock by the grocery bills we'll have when he is a teenager...
After lunch, DS and I rode Star Tours, which, combined with lunch perked him up, as we waited for our TSM FPs to come due. So, we toured the backlot area. I managed to find the Singin' in the Rain umbrella for the first time.
great picture...I think most Disneyophiles who visit the parks have a version of this....
DS posed as a Stormtrooper, which made him happy.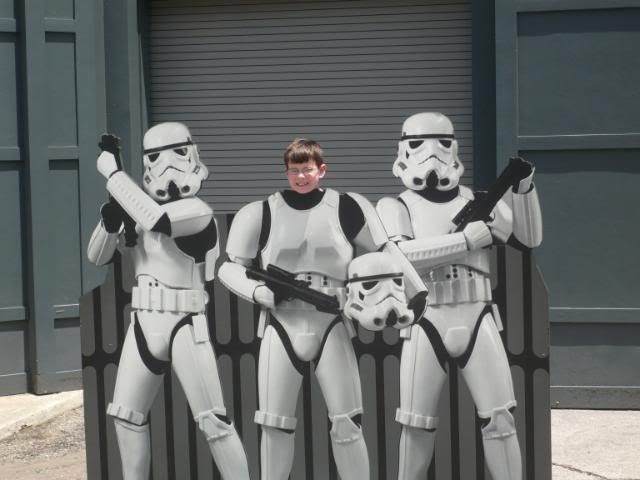 Awesome smile!
Soon, it was finally time for TSM! While there, the ride broke down while we were in line, so they called in a supervisor. So we waited, and waited. We passed the time taking silly pictures of the kids.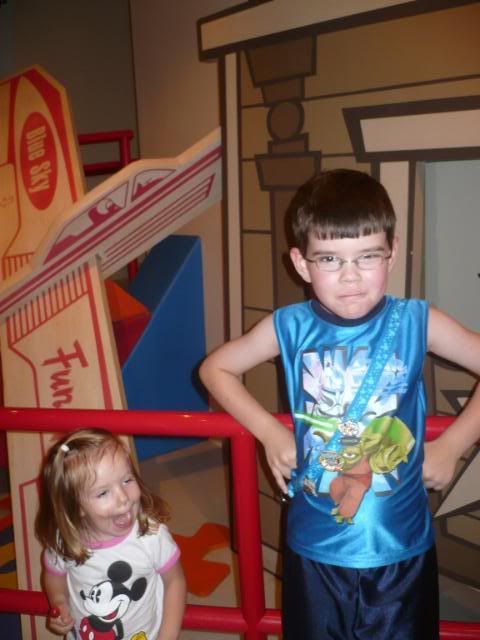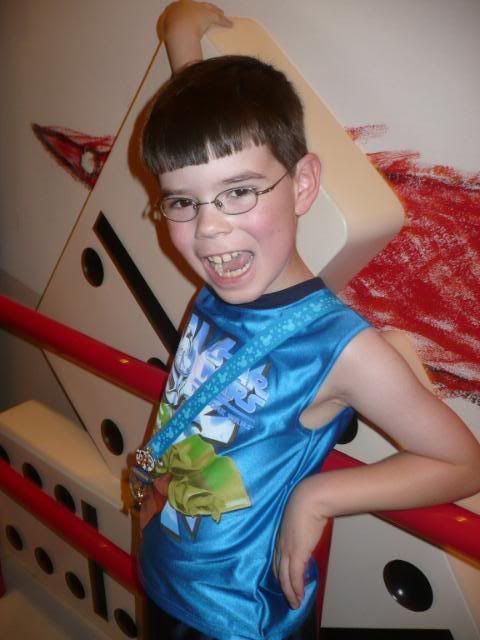 Nice Photos!!!
The ride got fixed after about 10 minutes, and I look over as I'm getting ready to get on the ride, and there's one of my former co-workers!
He's the back end operations supervisor at the Studios now, so we chatted briefly then it was time to rock TSM!
I hope the ride was good!!!
We finished that, and DS finally got to go to Wicket's Warehouse.
So, after all that commotion, what did he get? Two action figures he could have bought for about 2/3 the price at Target.
Is this Wicket's there year round or just during the Star Wars Weekends-It is good to be forewarned-knowledge is power...
It was his money, though, so we got them and left, and headed to our last Studios attraction of the day, the Indiana Jones Epic Stunt Spectacular.
This was another one DS had been clamoring to do. He's a big Indy fan as well, so we kept meaning to do this, but the times would always not work out. You can tell he was happy.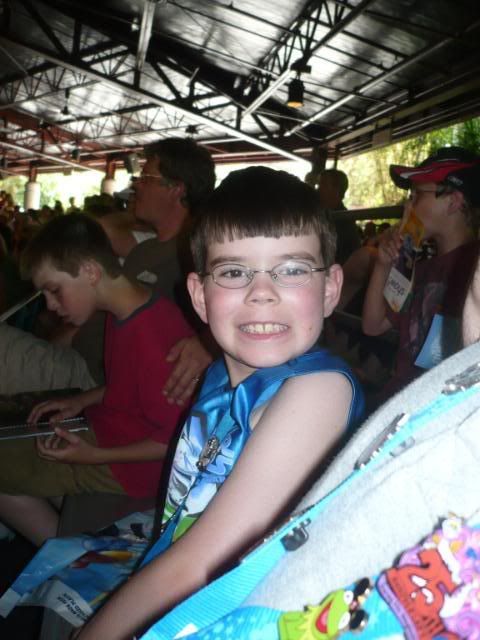 Unfortunately, the other member of our traveling party was not feeling so great.
As far as we could tell, she wasn't sick, but tired. We had monitored her carefully today, to make sure there were no problems after the previous evening's rain and her freezing experience in Crystal Palace.
Poor little girl...she seems like a trooper-I hope she feels perkier tomorrow....
We watched the show (loved it!) and decided to call it a day at the Studios. I still wanted to see Block Party Bash, and thought DS would enjoy it, but we figured discretion was the better part of valor, considering we had several more days to go. But there was a stop to make on the way back to the hotel...