Hello everyone! Welcome to my very first trip report. I can't wait to share all of the details of our amazing June Disney adventure with you all. The title will be explained shortly, so be patient.
If you're interested in checking out any of the planning that went into this trip, click here:
The Earls Meet the Princesses: A June PTR
It includes handy dandy chapter links if you don't want to read the chitter chatter.
On to the details:
When:
June 15-22
Where:
The Beach Club!!
Cast of Characters:
Me, Christine,39, Disney World devotee and general travel addict. I love most everything about the World; the planning and the rides and the resorts and the food and the characters and, and, and! I visited WDW 3 times as a child, once as a crazy college student and this was my second trip with a family of my own. This year I was the Keeper of the Itinerary and Main Family Herder.
DH, George,38(he likes to rub that younger man thing in) Wonderful husband and father. He shakes his head tolerantly when I obsess over planning minutae but loves our trips. His addictions are World of Warcraft, an online computer game, and tennis.
DD #1, Madeline, 11, thrill ride junkie and jokester. She loves music, including Broadway musicals. Her IPod is part of her regular attire and I find myself telling her to "unplug" frequently. She and George are roller coaster buddies.
DD#2, Amelia, 9 to turn 10 in August, a planner like her mom. My girly girl. She's introspective and uncomfortable with new things, but she really pushed her envelope this trip!
DS, Ian, 4, all boy, loves swords, spy stuff, superheros and oh, dancing to Hannah Montana music. He can seriously do the entire Hodown Throwdown. This was Ian's first memorable trip to Disney since the last trip when he was 7weeks old. He had some extra special experiences this trip that I hope he remembers for a long time.
Here's a picture of our whole gang on our first night.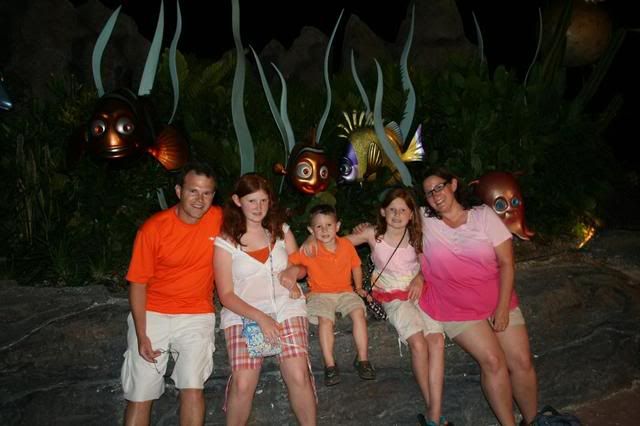 Thanks for boarding. Please remember to keep hands and feet inside the vehicle at all times. And away we go!!!
Chapter Index:
It's Really Dark at o Dark 30
What a Long, Strange Trip its Been
And the winner is...
Swimming with the fishes and Surprises in the Room

Animal Kingdom Part 1
Animal Kingdom Part 2
Title Explanation
AK Shopping results and Sanaa review
Watch out Zurg! Here Comes Ian!
TSI and a Missing Child!
A Magical MK Evening and Kona Cafe
Resort Day and Cape May Cafe
Downtown Disney
Follow the Green Line to Echpot
Photopass CD Arrived!
A Night of Planning Failures
Toy Story MADNESS, a magical mouse and a Jedi in training part 1
Part 2
Part 3
DHS afternoon and DTD evening
A Happy Epcot HDDR Father's Day
Part 2
An Illuminating Evening
We're late, we're late..
Part 2
Final Thoughts
Next post: It's really dark at 0 Dark 30.