Hello DISers! Glad to be back from the World and able to get off the work travel train so I can start back on the DIS. We finished off a trip to WDW for a week 5/23-5/30, staying at the Polynesian for the first time, and I have tons of pics to share!
To recap for those who didn't read my PTR (and that would be most of you
), here's the roundup on who attended:
Me - 32 year old Disney nut and devoted husband/father
DW - 35 year old nut for marrying me and world's most wonderful woman
DS - 7 year old Star Wars nut and multiple Disney trip veteran
DD - 2 year old just plain nuts but loves her princesses
So, without further ado, on to our first day, leaving from work!
Fortunately for me, I work at a great company in Atlanta, and they have a "Summer Friday" policy, meaning that from Memorial Day to Labor Day, we get off at 3:00 p.m. on Fridays!
On Friday, May 22, it was DS's last day of school for the year, so DW packed the car and DD and picked him up at 2:20, then headed downtown to get me. She pulled through McD's and grabbed snacks, but unfortunately, the kids were so hyped they spilled all over the floor.
Not that I knew this at the time, because at 3 p.m. sharp I packed up and practically ran down the stairs to the carpool lane, expecting my beautiful wife to be waiting with my adoring children, and instead running into....nothing.
I called DW and found out about the spill, that she was still cleaning up, and sat there waiting patiently until she arrived.
Okay, so I was freaking out. I'd been looking forward to this trip for months, and could hardly wait to hit the road. I called her every 10 minutes until she got there. I think she was ready to kill me, but instead she handed me a lei she had picked up at Party City, and she, the kids and I were decked out in our Hawaiian gear. We were off!
Cut to 6 hours later, and just before 10 p.m. we pulled into the Holiday Inn at Lake City, FL. It was a long drive, but well worth it. We ran inside, bathed the children and were all in bed by 11 p.m.
The next morning we got up and headed over to the Cracker Barrel for breakfast. Here's the hotel, which I highly recommend.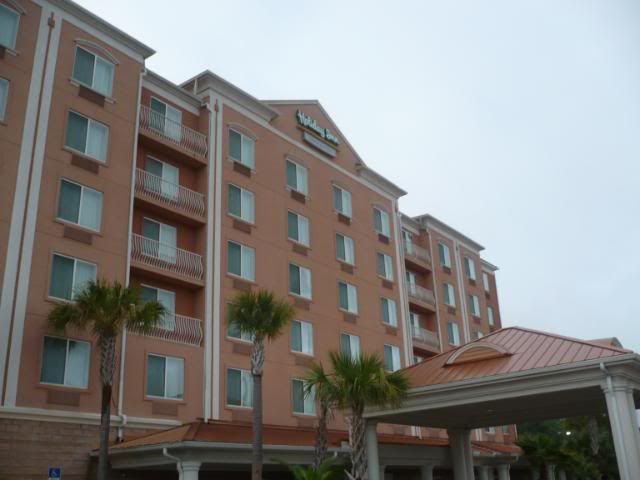 Now, at this point, I had been dieting since January 5, and had lost 30 pounds. So this was my vacation to celebrate, and I planned to eat! So, here's breakfast for me: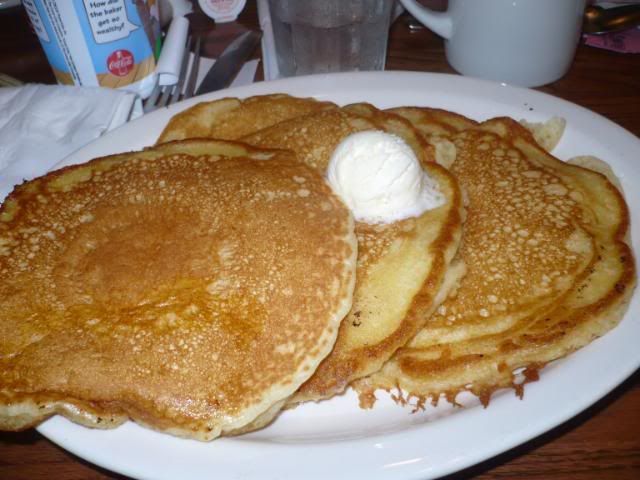 And then, I picked off some stuff from DW's plate as well:
So, breakfast down, we left Lake City around 9 a.m., and made it all the way to Ocala before stopping. We always stop at exit 350, because it is where the Official Disney Info station used to be. We have great pictures and memories of that place, so we stop there at the exit and take a break each time. After gassing up at the Sam's Club, we were back on the road. Here's DS in the backseat reading.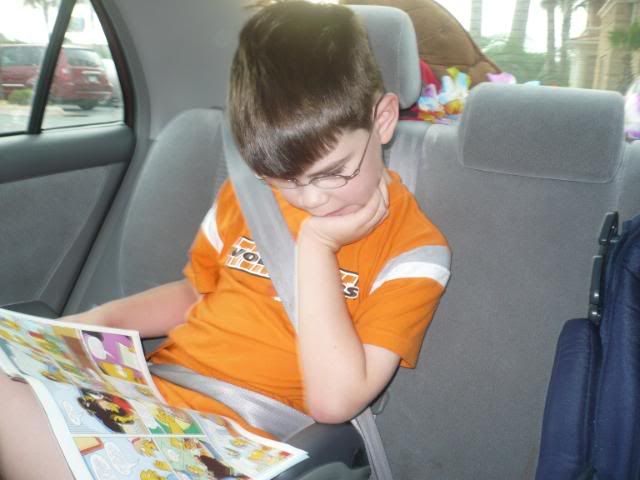 And then there's DD, who refuses to entertain herself, merely asking us when we'll get to Mickey.
So, when would we get there, and what would we encounter when we did? Coming up: checking in at the Poly, lunch food porn, and an afternoon at the MK.