So, I figured I could start this seeing that I have already bought a dress, shoes, and booked Randy.
So let's meet the players...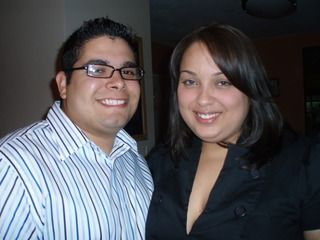 My name is Jennifer and I am marrying Daniel.
We are Disney enthusiasts, and try to go to Disney at least once a season. Being from Miami really helps us in that endeavor, lol. We usually go in February, sometime in the summer, October (for my b-day) and always in December.
Danny and I met in high school... heck we dated our senior year but I was flighty and he was crude so we didn't work out. Then we bumped into each other at our local Target when I was a Junior in college. He was working there and I was shopping, my favorite past time
. I was iffy about dating him, especially because he just broke up with someone but we gave it a shot and look at us now... getting married.
He proposed on a cruise we took
we had friends with us and got a great video of it, even if it is blurry.
My ring is a 1.5 carat totalweight with a 1.36 carat center square brilliant cut stone.
he did a very good job