Which makes me wonder.
Do Floridians come to New England, take a deep breath and say, "Ahh...New England air."
My guess is no, but you never know.
That would be however, exactly what I said to Tink as we stepped off the plane.
"Florida air." Cue deep inhalation of breath. Cue big ole sigh.
I was there, people. But not quite there. We still had to make it to our luggage and to Mr. Transportation. Never fear, all went completely smooth on that front. I will say, during the trip, I would definitely think of my husband and son, but not in a way that made me sad. This whole trip was so new to me, and being in Florida with anyone other than immediate family (although Tink is pretty much family, only lacking in the blood relation), was also new. So walking through the airport and getting on the first "monorail" to head over to baggage claim felt familiar, and yet completely different.
And I when I say completely different, I mean...
IT WAS TOTALLY AWESOME!!!!!!!!!!!
Now, I think we all know how much I love my family. And part of me feels this little snag of guilt when I'm writing about this trip, because you know what? I had a good time, and I had a good time without them. With my girl Tink. And that's not to say I don't love them, and that I didn't think of them fondly during the trip, but I hope you won't call me a bad mother if I say, I didn't wish they were there. Granted, it was only four days, and really, we're all going together in September as a big family, so it didn't leave me with that kind of guilt. It only left me with the...should I be feeling worse about liking this independence?
I think all you moms will know what I mean. This was my first trip without my husband in many moons, and my first trip without my son, ever. And while I enjoyed it...oh, heck, I loved it, I did feel a little guilt every know and then.
Most of the time, however, I was having too much fun to notice.
And now, as we return from that sidebar, we're meeting up with Mr. Transportation, and we're off. Off to our hotel.
Which I haven't revealed yet, huh?
And I won't. You can wait and eensy, teensy bit longer. Mwa-ha-ha.
Okay, I'm not that mean.
Eventually, we arrived. Pulled in to check with security, and we were checking in. Three guesses as to the CM's name.
Go ahead.
You don't even need three, do you?
It was JACK!!!! Unfortunately, not this one...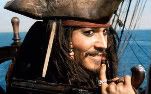 Perhaps, however, that is fortunate, because who knows what kind of pirates could be lurking about if he were the security guard. How easily he could be persuaded with a bit of rum.
I digress. It was a sign, people.
A sign that we were destined to stay at this resort together. Tink's second time, my first.
Does this picture ring any bells?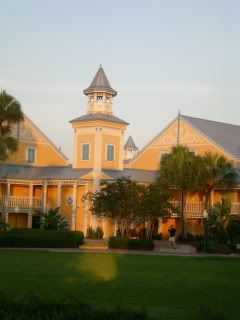 That's right, friends! Caribbean Beach Resort all the way!!!!!!!!
I was excited. Mega, mega, mega excited. I'd never stayed there before, and I immediately fell in love. It's so pretty, and I'm so glad to be here, with Tink, in this moment.
This moment of pure happiness, this moment of anticipation, this moment when your whole trip lays before you like a story waiting to be written.
This moment.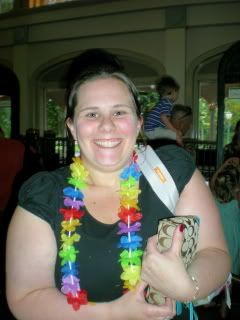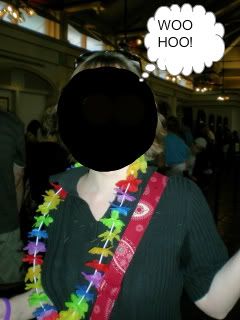 It's truly unfortunate that you can't see how big my smile is here.
I really think the thought bubble does it justice, though.
The check in line was pretty long, but CMs were managing it efficiently and it moved quite quickly. While we were standing in line, we heard so many "Welcome to the islands," and when a CM saw our leis, she said, "Aloha." To which we both replied with a big, hearty ALOHA!!!
We were just a wee bit excited.
Jennifer from Korea was our check-in CM. She was very, very nice. We explained that Tink had been there before, and I hadn't, so she gave me the low down on the resort. We were so excited to be placed in Jamaica! Tink and I had debated requesting that village, so we were really excited to receive it anyway. Between the security guard named Jack and getting the village we wanted without asking, surely this trip was already blessed with some pixie dust.
Now Jennifer asked if we were celebrating our birthdays this trip and we said yes. Actually, before we left, Tink called to update her address with Disney Reservations, and the CM said, what are you celebrating? Tink said, oh, we're celebrating our birthdays, but they don't fall during the trip. He said, can you come to Disney during your birthdays? She said, well no. And he said, well then, you're celebrating them.
Thus we were aptly dubbed by that CM, "The Thirty and Flirty Celebration."
Jennifer gave us both birthday buttons
and we were off. Our room wasn't ready yet, but we were given a number to call. We checked our luggage with bell services, said our goodbyes to Mr. Transportation, and headed off to Old Port Royale.
Up next...what wonderful libations await us?