So I thought I'd try my hand at putting a pre-trip report together for our family vacation in WDW this August.
I'd been thinking about it and just decided today to go for it.
Welcome along any followers and please post any ideas or suggestions as they are most appreciated! I've gotten tons of ideas from fellow DISers and there's always room for more.
My cast of characters: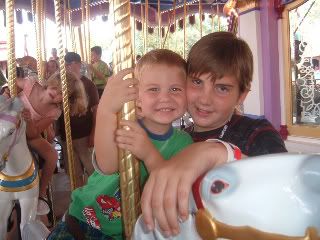 My boys, Alex who will have just turned 14 when we arrive, and Demetri who is four and a half and the inspiration for the name of my report. He asks me every day, how many more sleeps until Disney World? We have a calendar on the fridge that he crosses off every night and I have a countdown on my internet home page that he follows too.
My daughter, Ariana (the one in the crown on the right
) who is twelve and the inspiration for our trips. She has autism and loves, loves, loves anything to do with Disney. She is a princess at heart and I love seeing everything thru her eyes.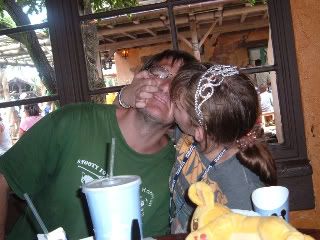 My ever-so-patient husband George
, who in this picture is getting a fairly exuberant kiss on the cheek from Ariana. He really is much more handsome than this pic would lead you to believe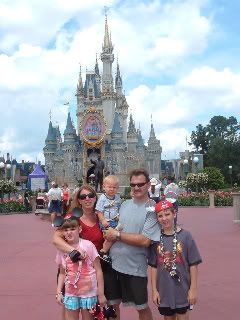 Here's the family together and there's me, Tracy, rocking the cool shades.
Our travel dates are August 15th to August 25th. This is our fourth trip in four years but it's the first year we are including the water parks and more option on our tickets so we extended it a few days. Bathing suit…ack!
We're staying at the POP Century resort this time – our favorite! We stayed there the first year we went and loved it. Our mousekeeper was awesome and made fantastic towel displays that the kids loved coming back to every day.
On our next two trips we wanted to try different resorts and stayed at the All Stars Movies and then the Port Orleans Riverside. While they were great, we loved the POP the most and are happy to be going back.
I mentioned this is our fourth trip in four years. Disney was always something we'd wanted to do, but felt it was way too expensive to fit into our budget. Our daughter has been getting expensive therapy sessions since she was three and we'd always had this figure in our heads a trip would cost six thousand dollars or so. No telling where that number came from, but early 2006 we were lucky enough to be introduced thru a friend of a friend, to a travel agent who herself is a Disney freak
. With the free dining promo, she put together an eight day trip for our family of five, flight included (!) that was just over $2K Canadian. The impossible became possible!
Our family was taking its first ever vacation and my husband and I were going on our first trip since our honeymoon in 1994. We had the time of our lives and when we came home, I immediately started looking into booking our next one.
This would be a good time to mention that I am a control freak and a planning freak. I knew nothing for our first trip and that has its advantages for sure, but we left that trip knowing we'd missed a lot of things and I couldn't wait to get back.
But be careful and don't fall into my trap where I overplanned our next trip and tried to cram too many things into one trip. We ended up spending most of our time running from one event to the next and couldn't appreciate the smaller things and the little details that go into making a Disney vacation special. And while our third trip was scaled back in scheduling and even had a day devoted strictly to spending it at the resort enjoying the pool, we still didn't feel like we'd relaxed enough
. You know when you come back from a vacation and feel like you need a vacation? Yeah, that was us.
So I re-introduced myself to my family: "Hi, my name is Tracy, and I am a schedule-a-holic." Is that a word? The first step is admitting it right
? Don't get me wrong, we still completely enjoyed our trips, but I hadn't yet found that balance. This year I'm determined to find it.
Still to come: hits and misses from previous trips, ADRs from previous trips, ADRs for the upcoming trip.
Chapters Links (if you'd rather not read all the extra stuff)
67 Sleeps - The Trip That Almost Wasn't
66 Sleeps - Previous Trips Hits & Misses
ADRs Past Trips
65 Sleeps - Random Fun Stuff
Finally! August ADRs!
Oh and a Bonus Pic!
Random Past Trip Pics
64 Sleeps - The Lost Photos - Part I
64 Sleeps - The Lost Photos - Part II
62 Sleeps - Snow White and the Faulty Camera
59 Sleeps - Day 1 Plans
58 Sleeps - Day 2 Plans
56 Sleeps - Day 3 Plans
55 Sleeps - Father's Day Surprise!
53 Sleeps - Paid Off Trip with Two Bonuses!
Favorite Organizing Tip
49 Sleeps - To-Do List as of June 27th
49 Sleeps - Day 4 Plans
47 Sleeps - Day 5 Plans
45 Sleeps - Day 6 Plans
41 Sleeps - Day 7 Plans
41 Sleeps - Day 7 Plans cont.
36 Sleeps - Part I - Mickey Mail!
36 Sleeps - Part II - Day 8 Plans
36 Sleeps - Part III - Parade Mania at MK
36 Sleeps - Part III - Parade Mania at AK
36 Sleeps - Part III - Parade Mania at DHS
36 Sleeps - Part III - Wrapping up Parade Mania with Spectro Magic
34 Sleeps - Day 9 Plans and a Few Minor Changes
11 Sleeps - Oh Yeah... an Update!
1 Sleep!! - Thank you and Goodbye Everyone!!