Ok,i think it's about time i cracked on with my trippie-don't you?.Please bear with me,this is my first ever trip report.I honestly don't know what people like to read,how much they like to read,how many photo's they like to see(1,800 taken,with 484 photopass pics
)-but i will try my best to please you all
.Please don't expect a huge amount of talent,i am no authoress
.I hope i don't bore you all+i really hope you enjoy it
.
If you need a little reminder you can find my pre-trippie here
Some Day Our Trip Will Come-A Pre Trippie
Right a little reminder of who we all are...
Cast
Me-Michelle 34yrs.Planner,Loves Disney,Tink,Seuss Landing+kid's rides.Hates Height's,Backwards Stuff,Spinning+Getting Wet,
Dh-Tony 30yrs.Likes Disney,Loves IOA,All rides-the faster the better.
Dd7-Chloe 7yrs(will be 8 over there).Loves Tink,HSM,Cinderella.Hates Spinning rides.
Dd4-Emily 4yrs.Loves Tink,HSM,Stitch,Cinderenda+Shamoose.Hates Loud noises,fireworks.
......................................xxxxxxxxxxxx xxxxxxxxxxx..................................
DAY 1-APRIL 1st.
.~.~.~.~.~.~.~.
Me+Tony woke at 4-30am,got up,washed,dressed+fed the cat's whilst the girls slept soundly.How they slept thru the night i will never know,i barely managed 3.5hrs-as i was sooooo excited
.I checked+re checked+to be on the safe side checked my hand luggage again to make sure all documents etc..were in there
.We got the girls up at 5-30am and they were so excited
.Once the girls were washed+dressed+packed their little bags,we just had time to say goodbye to our cats,this is where the first lot of tears started-from me.My Mum arrived at 6am,car was already packed as she picked up our cases the night before.The journey to Gatwick was filled with huge amounts of excitement,we arrived aprox 7.30am.Once inside i went straight to the help desk to try+sort out our seats-as when i done OLCI the day before our seats had been moved to 4 across the middle
.I spoke to a lovely lady from Virgin who helped me,i ended up with an extra legroom Aisle Seat 22c @ £30,and Tony+the girls sat behind me in 23 ABC(with a window seat).Reason was they had changed the aircraft+everyone's seats had been allocated for them.We then checked in,said bye to my Mum+yes i cried again
+made our way towards the Fast Track Security(which we were entitled to use as we had booked the VRoom).It started off great,no queues+straight to the front
.Tony went one way+me+the girls the other.I explained that Emily had a metal clasp on her belt,when asked+was told 'no problem'.Chloe went thu
,Emily went thru
,the buzzers went off.I explained again to another guy it must be her buckle,he would'nt just let me take it off of her+let her try again
.He called over a female guard who told me Emily(who is only 4)will need to be searched
.Now this was Emily's first exciting experience of ALL there is to this holiday,yet it was now Emily's turn to cry+she looked scared as she was being 'frisked' with arms out+legs spread.Also i had to be present but was'nt allowed to touch her to comfort her
.She went thru again
,then me
.
We made our way straight to the VRoom.I had-bacon bap+a sausage bap,orange juice,a muffin+danish pastry.Tony-bacon+tomato bap+a sausage+mushroom bap,coffee,muffin+cookie.Chloe-sausage bap,orange juice,muffin,cookie+banana.Emily-bacon bap,orange juice,muffin,cookie+banana.Emily went off in the soft play area,Chloe on the internet,Tony on the fuseball,whilst i watched the planes take off+filled in the green waiver forms.Pics from the VRoom....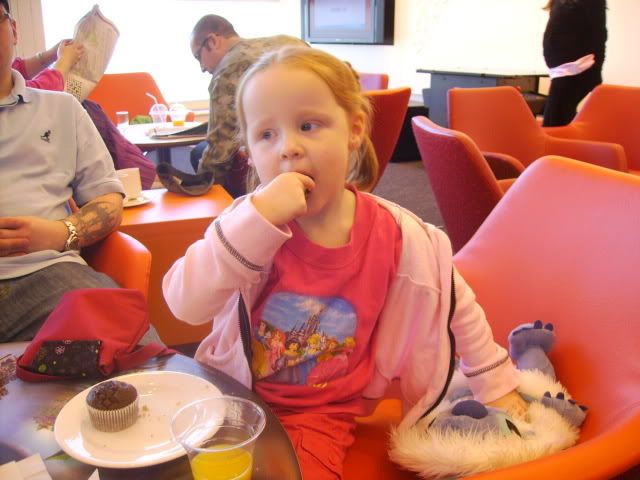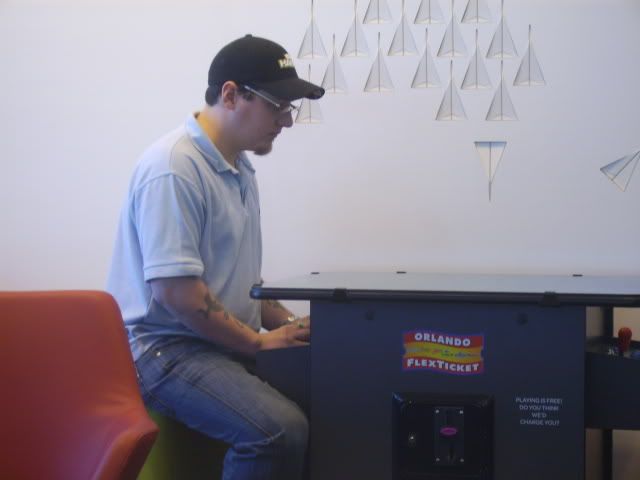 We left at 10-30am+made our way to departures,we waited till the last minute to board+was finally on our way at 11-30am,only 15mins late.Now this unfortunatley was the worst flight for turbulance i have been on
,we hardly was allowed to take our belts off.I ended up with a headache+felt sick for most of the way.Chloe was sick as we started to land.
Food was luke warm+ok.Tony-BBQ chicken,roll,salad,gu pot,cheese+biscuits,bottle of water.Me-Beef stroganoff.Girls had chicken fingers,wedges,beans,dairylea dunkers,haribo bag,yoghurt,fruit shoot.I watched Slumdog Millionaire+Simpsons+done some crosswords,Tony-flicking channels+Ds,Chloe-Bedtime Stories,Simpsons+Wallace+Gromit+played the Ds,Emily-Bolt,Yo Gabba Gabba,Wallace+Gromit+played the Ds.No sleep for me or Tony,but the girls got about an hour each.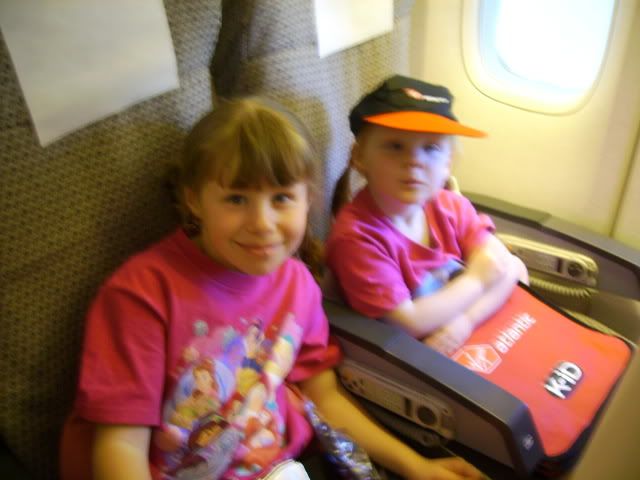 We landed(thank goodness-it felt like we were up there forever)at 3-15pm,10mins early+to i believe a lovely+hot 77 deg.Chloe apart from being sick,loved the flight+so did Emily-she was so well behaved being as though this was her first time on a plane+was'nt able to walk around much.Everything went smoothly,and a Mears shuttle took us to our hotel The Hilton Embassy Suites I Drive South+we arrived at 5-10pm.
This hotel was gorgeous
,the suite was lovely+spacious
.