Quote:
Originally Posted by
QueenDoOver
OH, and I forgot to say, you made me look at the AP Calendar, and dang if they don't have a fabulous Concierge rate on my bday! $179 for Paradise Pier Concierge which I understand has better stuff than DLH, and actually is usually priced higher than DLH Concierge. ???

Man, this is killing me!
179 for concierge????? That's only like 30 bucks more than the usual (relatively) great AP rates at PPH. Do it. (enabler)
OH, and I've decided that for a future trip, I *will* have glow sticks, and I will bring a ton and try to get them to any kid around us. Kinda make up for the negativity I had.
Robert is still defending how touchy he was about the other boy glaring at E. It was a funny conversation, but I don't think we're going to see eye to eye on it at all. We even tried to explain our thoughts by pretending that the boys were dogs...didn't end well for E, he ended up being the clueless but cute golden retriever trying to make friends with a grouchy malamute who was telling him to get away...
I continued to be on the side of "OK, if the malamute growls or bites, it's still the golden's fault for not backing off", and Robert thinks that the malamute's owners should have noticed. We went pretty far in the analogy.
************
I'm still up so what the heck. I'll continue.
Our last morning dawned. After swimming the day before, my guys kinda felt icky. Strange, and they are still feeling icky. Robert and I were wondering why I wasn't feeling icky (knock wood), and I think I just discovered the difference...swimming on the 28th vs sitting around having a drinkie. Interesting....
Anyway, so Robert was tough to wake up, but I was strangely bright and shiny. Therefore, that morning
I
ran up to the lounge to snag coffee and cream cheese. Then we realized that it just wouldn't do, we should have a proper breakfast. We also decided that it was our last day and we needed more time, so we would just go to DCA that day and not worry about being very very early. Yay!
Besides gumbo, the thing we were still missing from the trip was WhiteWater Snacks. That needed to be remedied, and since I was up, I was the chica to do it! So I left the boys alone in the room while I wandered.
Hmm. When did I/we pack? Must have been the night before...I had vast amounts of time alone, oh, while E slept and Robert was...somewhere...I hate packing nowadays. Too many wildcards! We discovered that housekeeping on Thursday had thrown away a big huge disneyland bag (that I would have LOVED to keep) that was housing the empty stormtrooper blaster box. Over time I realized how she must have thought it was OK, but it's still not OK, ya know? We needed it, and the other housekeepers had been ignoring it, but I think it got moved to just the wrong spot. Anyway, I'd wanted it for the plane, so I could check the blaster, and now the box was gone.
Well anyway, all that was taken care of by then. We had somehow fit the big plastic sword in the big tote we had, and Robert, it turns out, fit the blaster in there too.
So we were all packed. I could wander at will, without any guilt.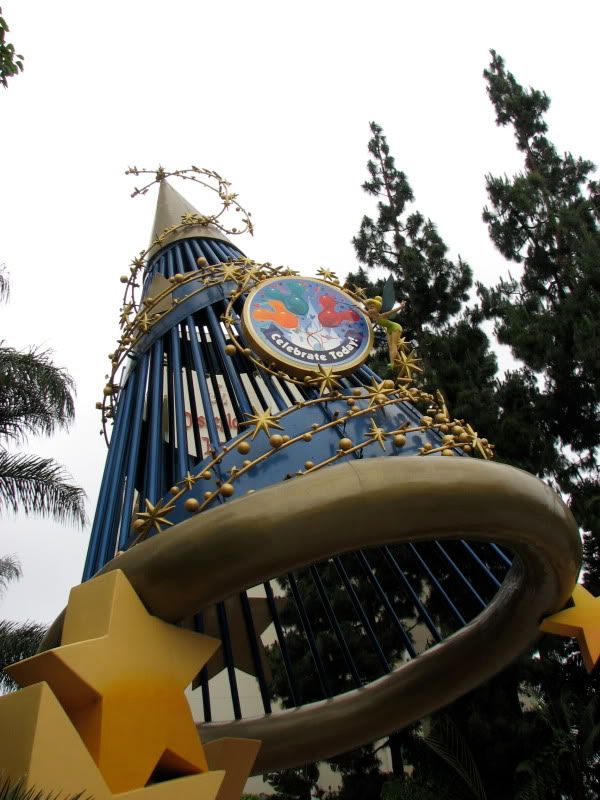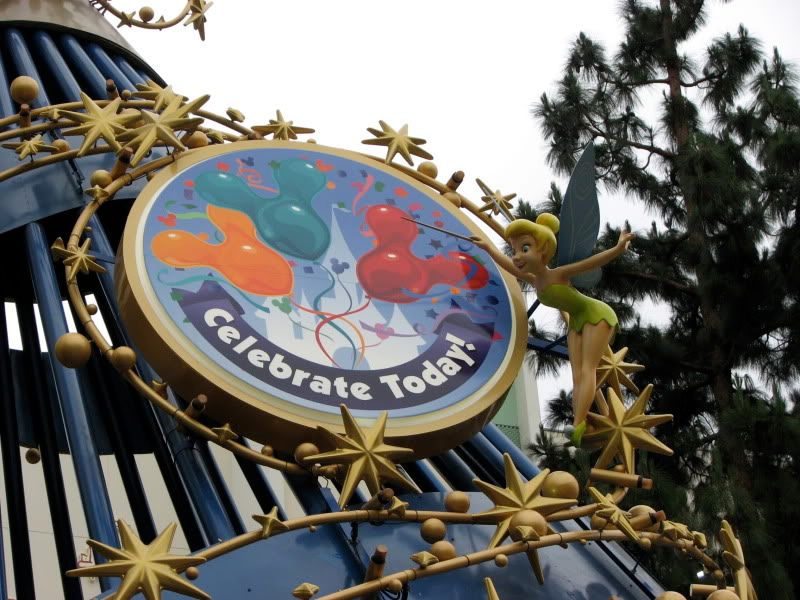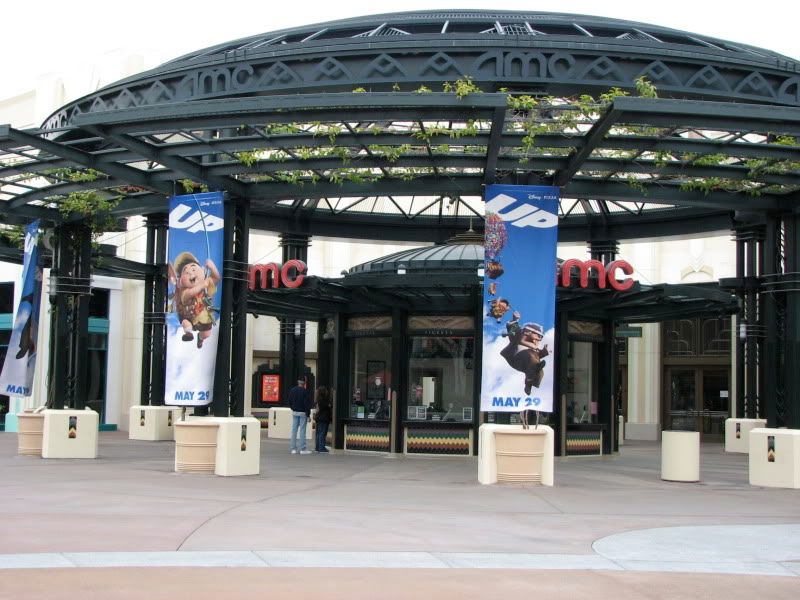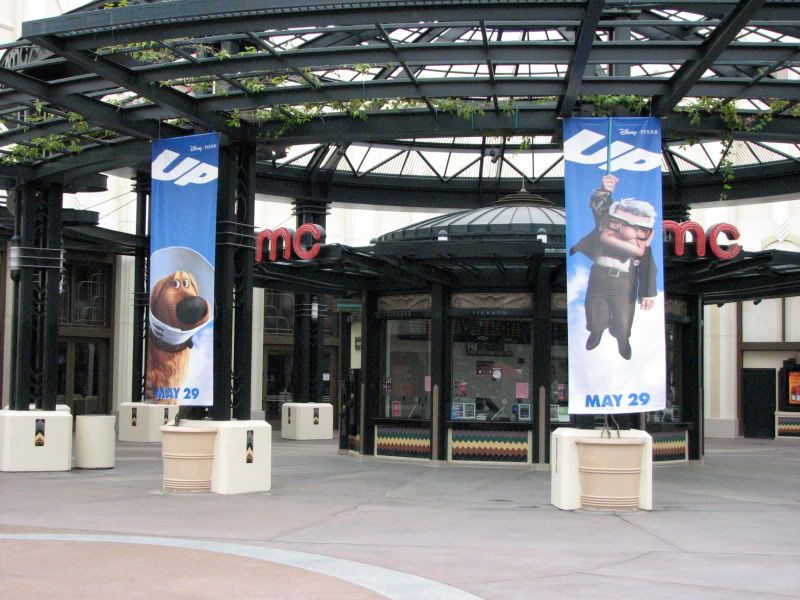 I could not believe the NOISE coming out from behind this lovely plastic sheeting to the left (as you approached it from the seating of the lobby) of the front desk of the GCH.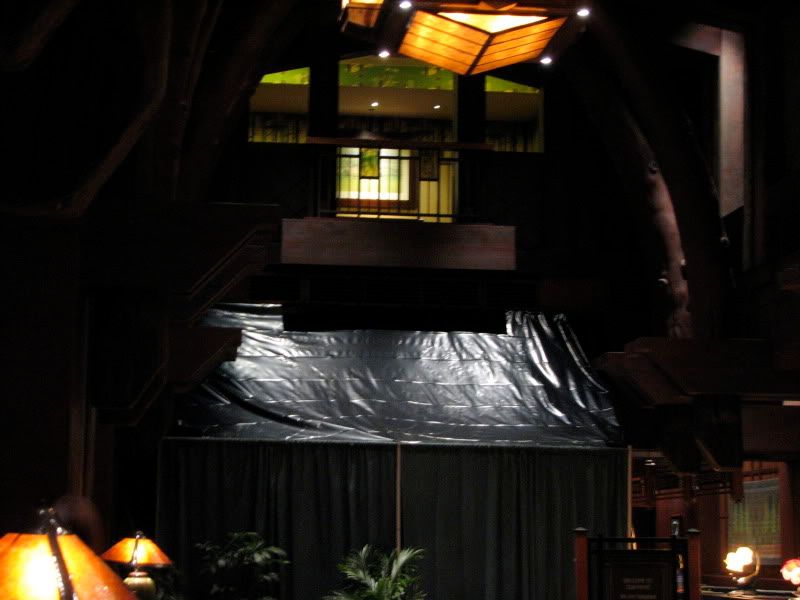 A lamp.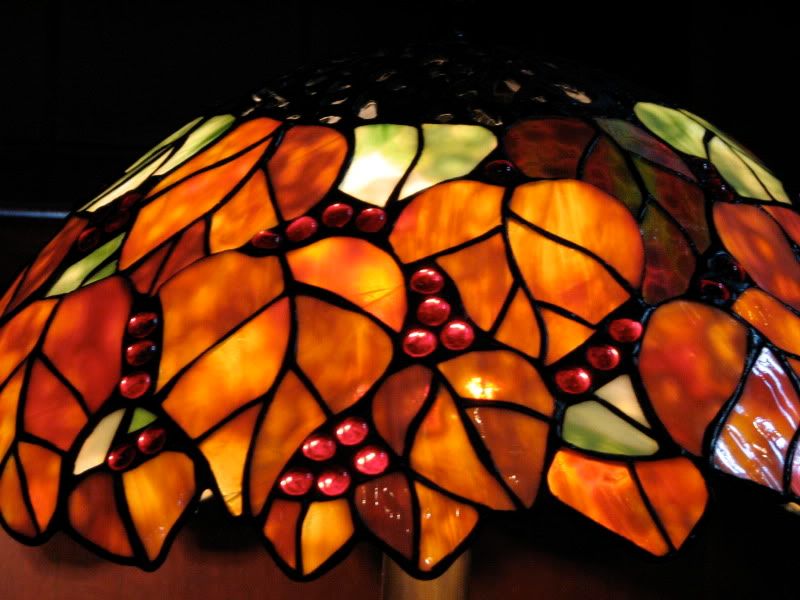 At long (not really) last I reached WWS, where I ordered french toast sticks and a no-meat breakfast burrito to go. I settled in to wait for it.
On the wall.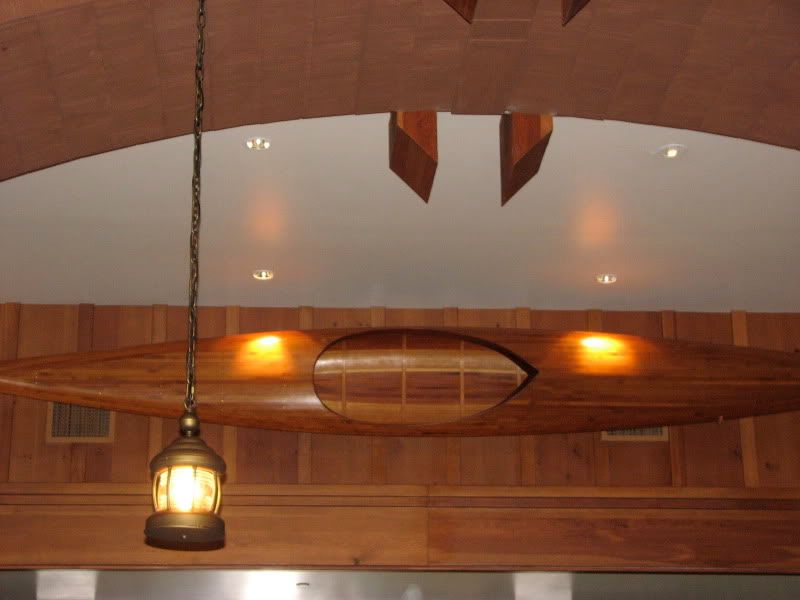 I didn't know there's a microwave in there....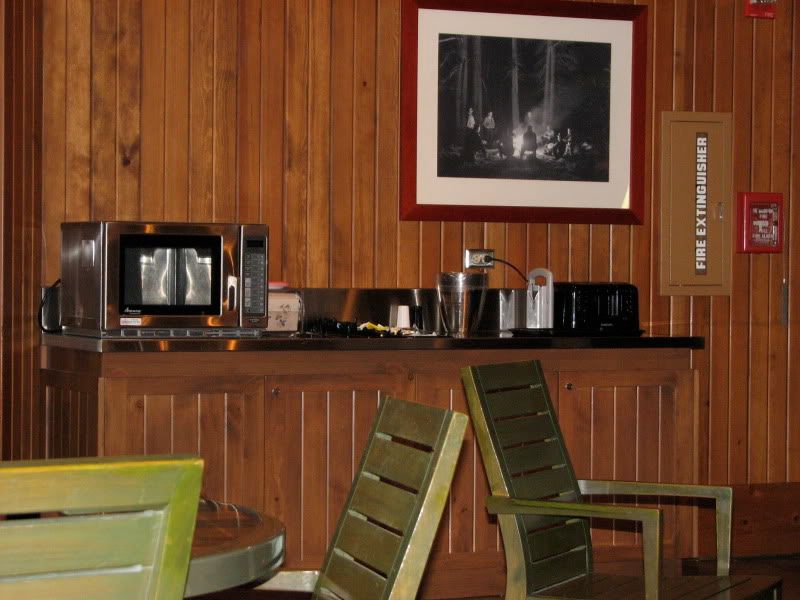 I saw a CM wander with a bag of food. I figured it was mine. But she was calling out a number that was NOT mine. She wandered, went back...came back out, talked to the cashier...the cashier went rooting for her receipts, and it turned out the order was mine. HOW the wandering CM got such wrong number (I was something like #6, and she was calling out something like #228) I don't know. She handed it over, I was happy. But I decided to check the burrito. I usually have more trust, but something told me to look. And lookie there...not a vegetarian burrito. Sigh.
They had a new one for me made quickly, and apologized. I was just glad I'd checked.
Since it had all taken what felt like a year, I was trying to scoot back fast.
But pictures called to me anyway, LOL.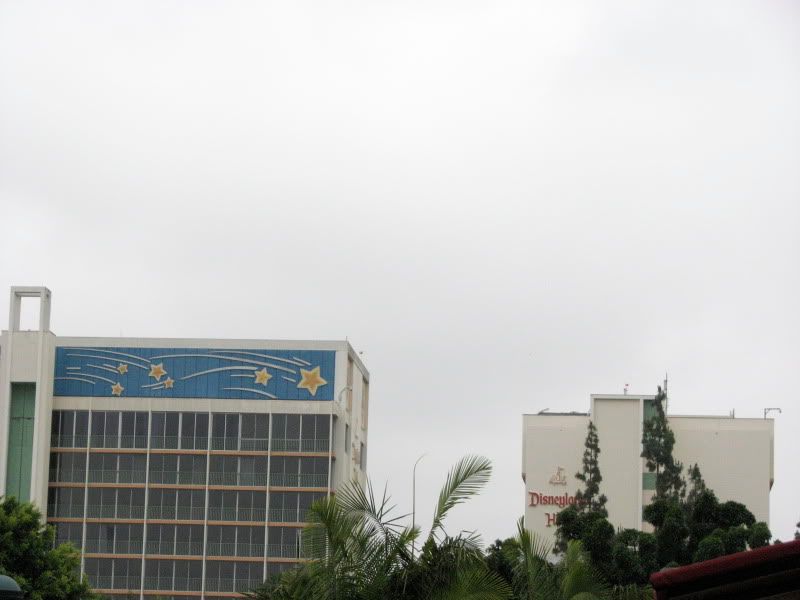 So, the funny handle looking thing at the top of the hotel facing the camera is some sort of strange extension of the e-ticket elevator. It's an express, going only from the Ground to the Lounge. You use your keycard, and there's a phone, I imagine to use if you've forgotten your keycard. I decided to take it.
I'm pretty sure there are some mickey heads in here...this is the wall paneling in the elevator on the side.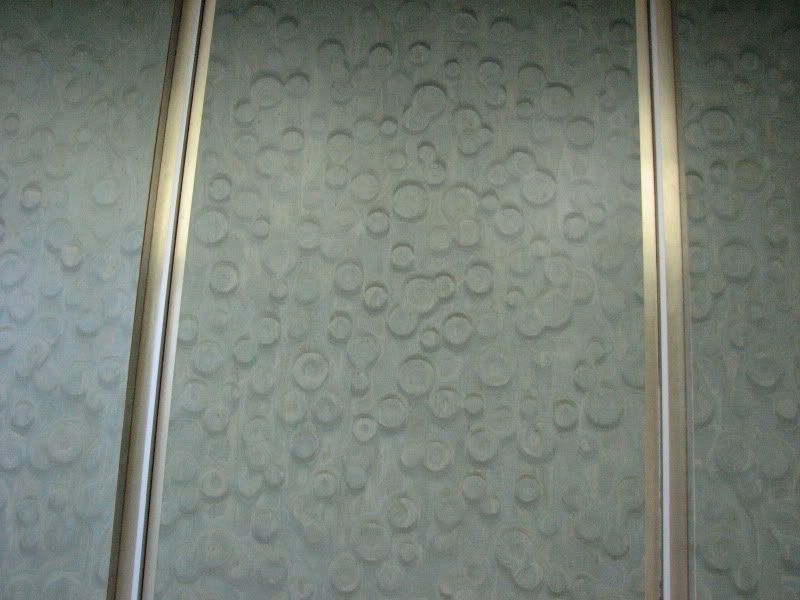 Going up....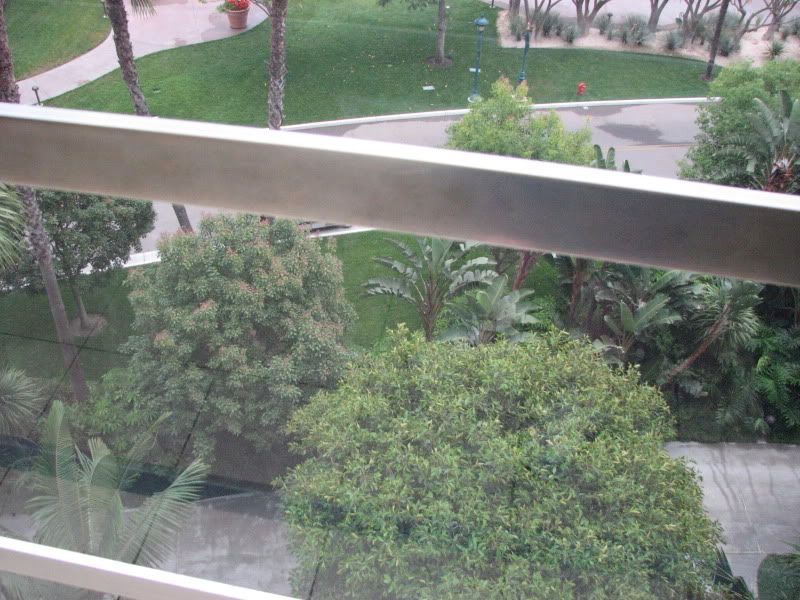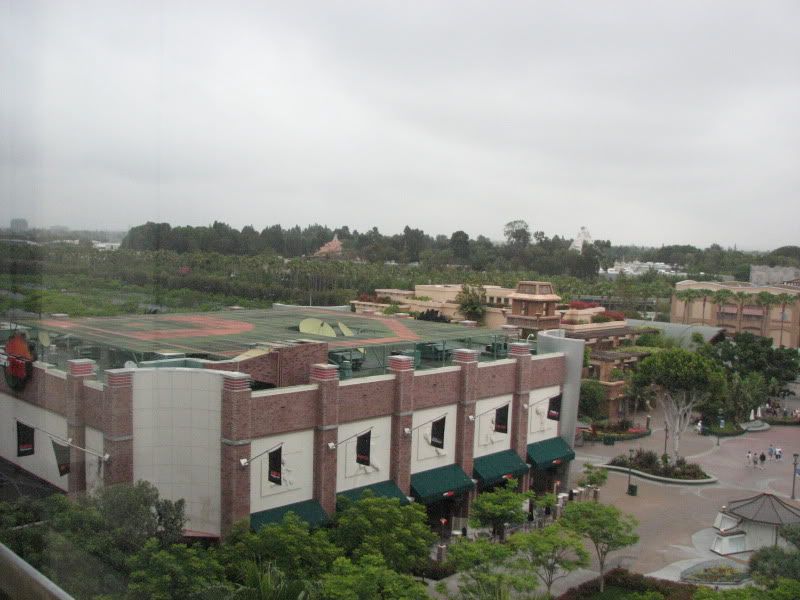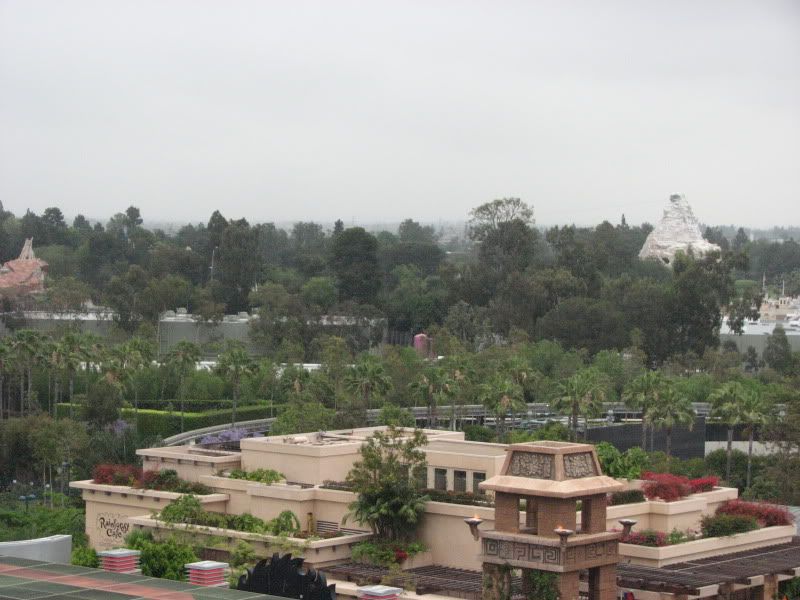 Finally I got back to the room with the ready guys and we shared our food.
I finished getting ready, we called the Bell guy to get our bags, and we said goodbye to the room! It was much much sadder than I thought it would be at the start of the week. Go figure!