Well, we'd had that meal at RFC and we were pretty tired. E was too but he was refusing to admit it. We had called the hotel from RFC and got our room number, so that made us happy. We walked to the hotel, and went through the pool-facing doors of the Dreams tower (the one facing DTD, also the one with the concierge lounge). Didn't realize the trick of the concierge glass elevator yet, and we didn't figure that out until AFTER we realized there were doors on the DTD side of the building! AND we didn't realize there was a ramp until maybe Wednesday, and just clunked the stroller up the 3 steps. We're slow on the uptake!
Caught E in motion, doing what he would do almost exclusively while in the room. Going back and forth from bed to bed. He also liked to stand with one leg on one bedframe, other leg on the other bed's frame. Repeatedly. I couldn't get on his case too much...I remember all too well doing the same exact thing as a kid at home! It did get exhausting though, to watch at least.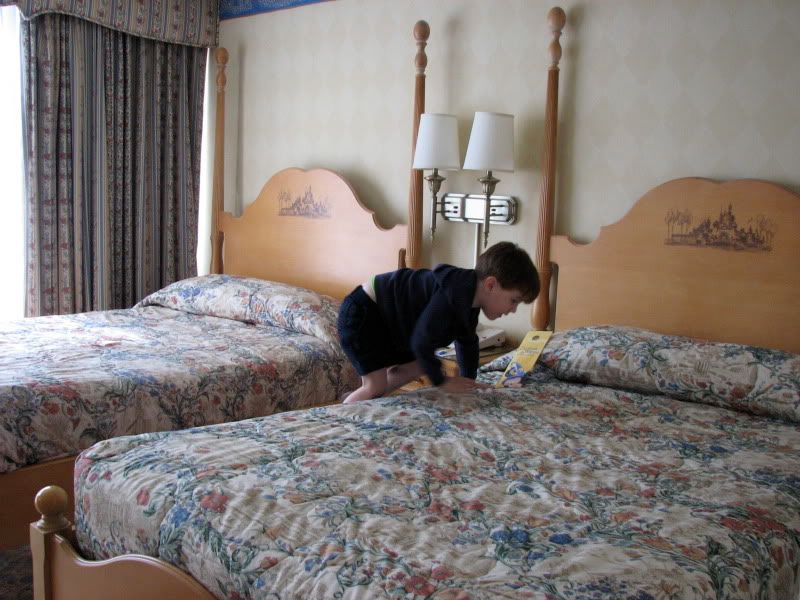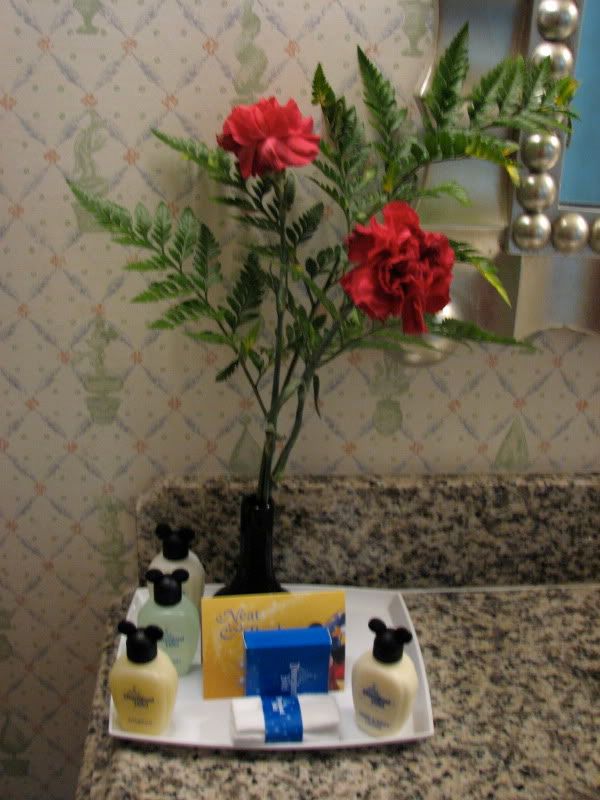 Carnation...it was a bit droopy, and it disappeared the next day. Then it reappeared (well, a new one appeared) on Thursday, so I guess it's an every 3 nights thing? Glad that we now have matching/coordinating shampoo etc containers to the PPH ones. Though I still can't tell if it's the products or the Anaheim water that I think stinks so so much. I try not to use the products, but the bottles are cute.
At last, we all slept. I, of course, woke first, since I am not a natural born napper. I was getting all twitchy about "missing everything, sleeping all week, being left out" and all the rest of the stuff that has caused me to be a nightowl since I was brand new... E absolutely refused to wake up, but I dragged Robert out of bed and we went up to check out the e-ticket lounge.
Oh it was lovely! We had the nicest concierge lady named Natalie, we could write sonnets about her. She was just wonderful. She has a nervous smile, but she is pretty much the most genuinely nice person on the planet. I made an official thanks about her at the end of our stay, and also thanked the other staff who let her be herself and talk to guests that want to talk with her.
So we were talking just about everything under the sun, including how she grew up with missionary parents, and how strange it is to come back to the States when you aren't aware of current US stuff...hubby went to a missionary boarding school in Taiwan for 2 years and had the same experience...she wrote some wonderful quote on a napkin for us... She urged us to try a cheese we'd avoided (they have cheese and bread, fruit, salsa and tortilla chips...they generally, around that 5pm hour, had some hot appetizer out but it was always meat-based so we obviously avoided it) and it was just delicious. We talked about health, and Robert brought up how cinnamon has helped his blood sugar problems, and she excused herself, then came back with a coffee cup full of cinnamon sticks for us to have! Then showed us a wake-up, clear-your-sinuses, trick with a peppermint tea bag...we just loved her.
I also had a glass of some sort of yummy wine...ahhhh.....
E slept in his stroller (how that was comfy we'll never know, as it's just a Volo and his head hangs back) the whole time.
Finally we left the lounge, and walked around the grounds. The koi were relatively elusive at that hour, but the waterfall noise woke up Boy-o just in time to see the RC boats!
RC boats were awesome! I didn't even "play" with them, but just the concept was wonderful, and E loved them.
They have a machine right there to get the tokens.
If you buy one "round" it's $2. If you want 4 rounds, put in a $5 (so it's 4 for $5 instead of $8). If you know you'll love it and have a $10 on you, you get 10 rounds for $10! I went for the $5, but we realized quickly we should have done the $10, it was that much fun. We did ultimately stick to the 4 times, though...2 that evening and 2 on our very last hour at the hotel.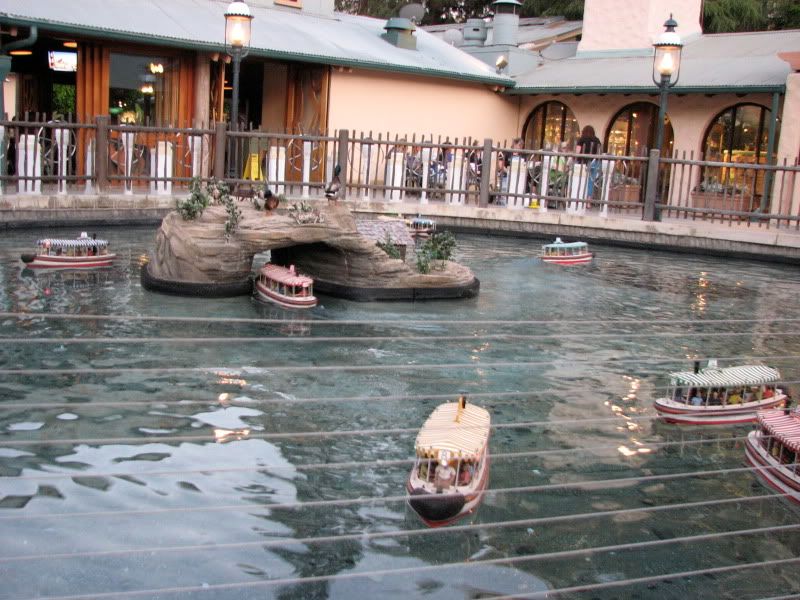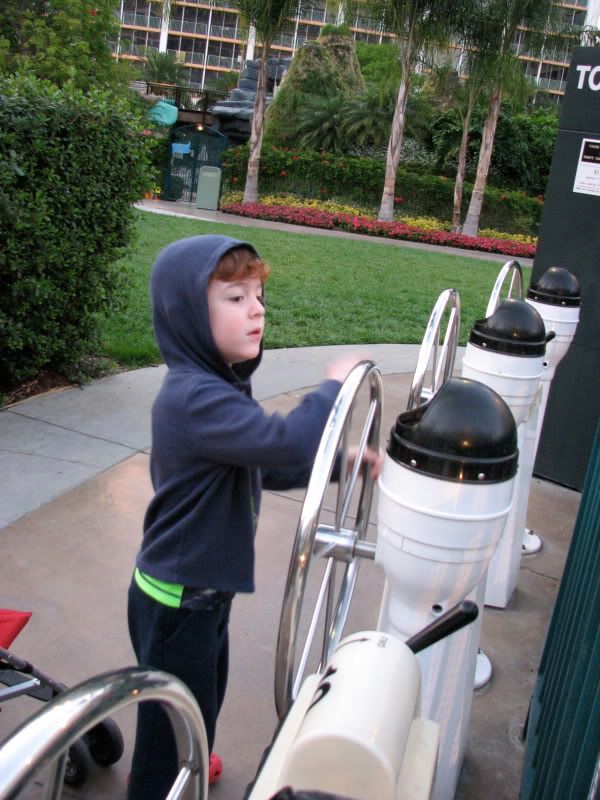 If someone has no idea what I'm talking about, there's the above-pictured small body of water, with small remote controlled boats. The wheel E is turning controls a certain boat, and you steer it around. If you go under one thing, it makes a thunderstorm effect. Another thing causes a rope bridge to tremble as though there's an earthquake. And by doing something else, you cause a fire on a fixed boat, that is put out by a water hose from another structure. Wild!
The boats and the wheels have numbers, so you just choose a wheel then find your boat, or choose a boat then find the matching wheel. E liked this one.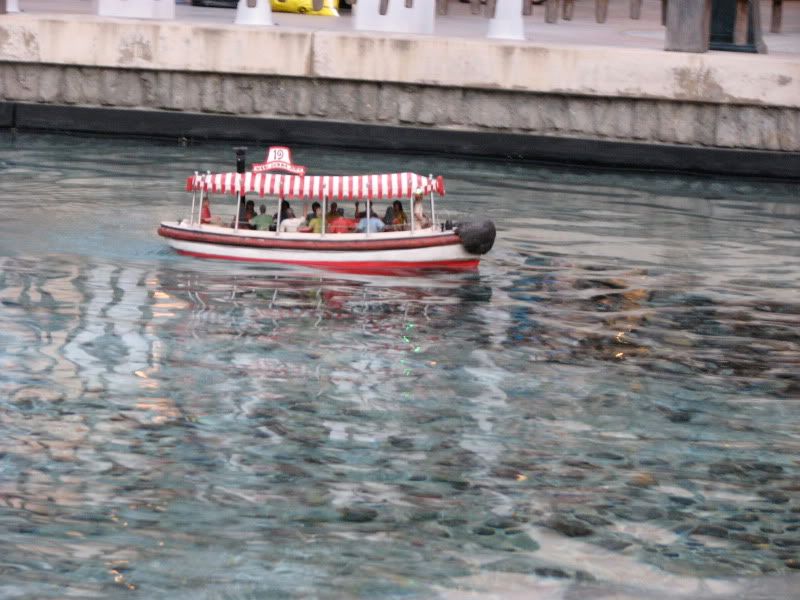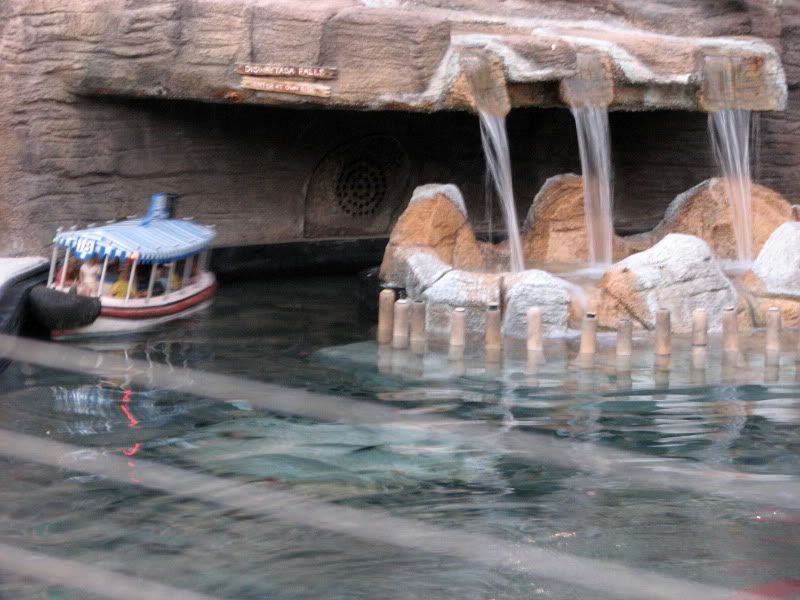 Rope bridge with dude and gorilla.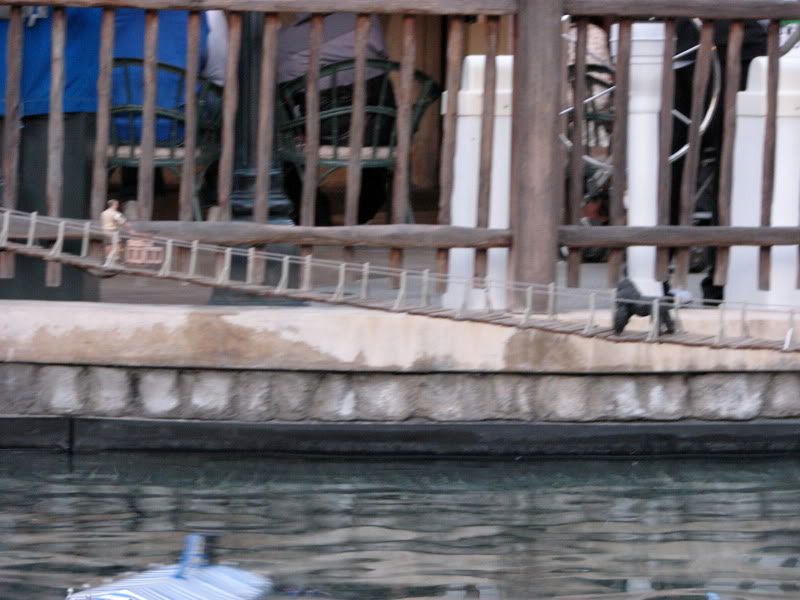 After the 2 turns with the boat, we wandered into DCA. Robert always insisted on going through the Grand Cal, saying it saved time, and he's probably right, but I don't know. I never quite managed to put a pedometer on.
I do know that I actually really enjoy being in the Grand Cal when that huge, light-sucking xmas tree is gone! I love all the rest of the Disneyland Resort with the yuletime decorations, but I cannot be in the Grand for more than a minute, it's just too dark and I feel that I'm going blind. Stupid Lasik....
Anyway, we went into DCA, and with time running short, we went straight to TSMM. Waited in a 40 minute line and as usual, it was absolutely worth it.
I have to say, though...I sure do hope they are going to change out those handles for the pull strings...YUCK! You can tell that most people hold it with their left hand and pull the string with their right, as the left hand side of the handle/wheel is disintegrating, mushy, and downright nasty. I hope that the person that thought of using that material for them has been talked to sternly, and I hope that they bring in some nice, shiny plastic wheel/handles soon, b/c it's just getting gross. Hasn't even been open a year, either! Sad.
ETA...
While waiting in line, we noticed the Fun Wheel. No one mentioned how *pretty* it is! I'm still not totally sure of the whole mickey head thing, but the colors on it are really lovely, and at night it's gorgeous!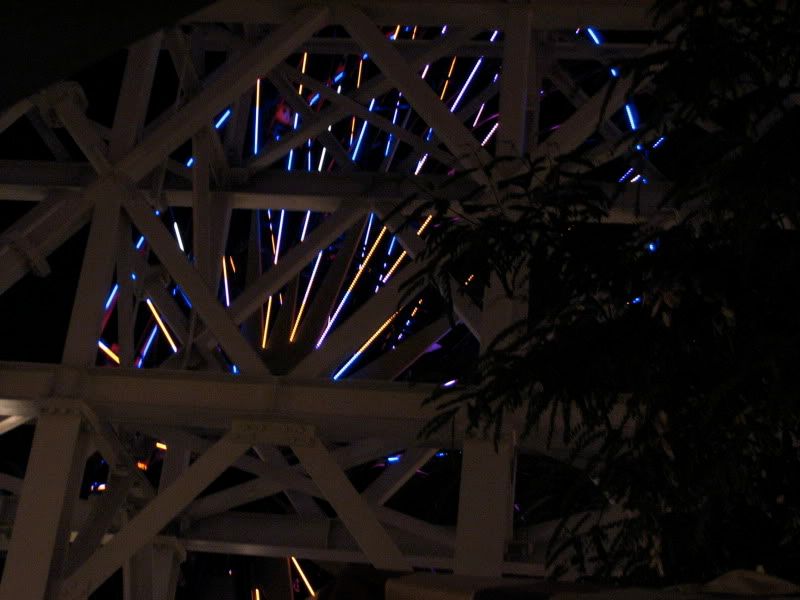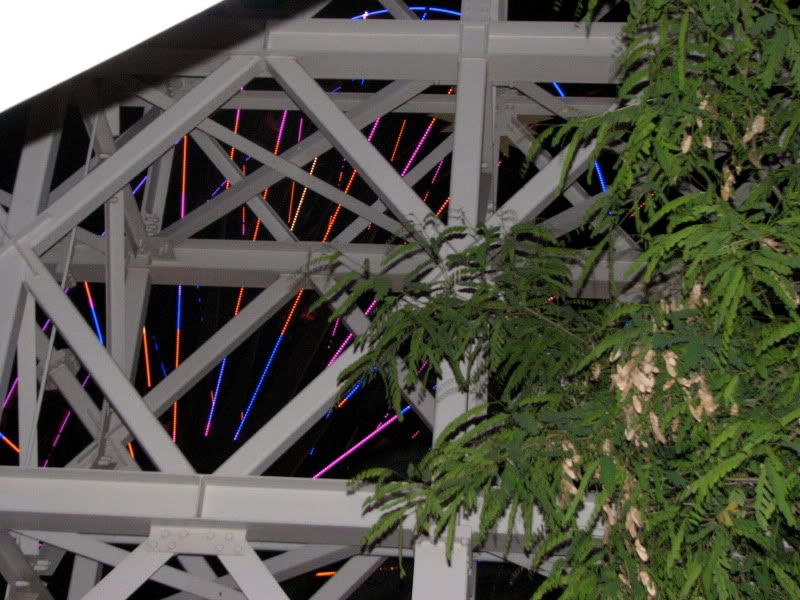 From there, we went right back to the hotel, snagged the movie Beverly Hills Chihuahua from the e-ticket lounge (a perk of that level is that you can check out 2 movies at a time to watch in your DVD player), and watched it. I did it for E, b/c he really wanted to see it...but it was a FUNNY movie!!! We all laughed out loud through the whole movie, it was that funny and cute.
Here was our nighttime pool view.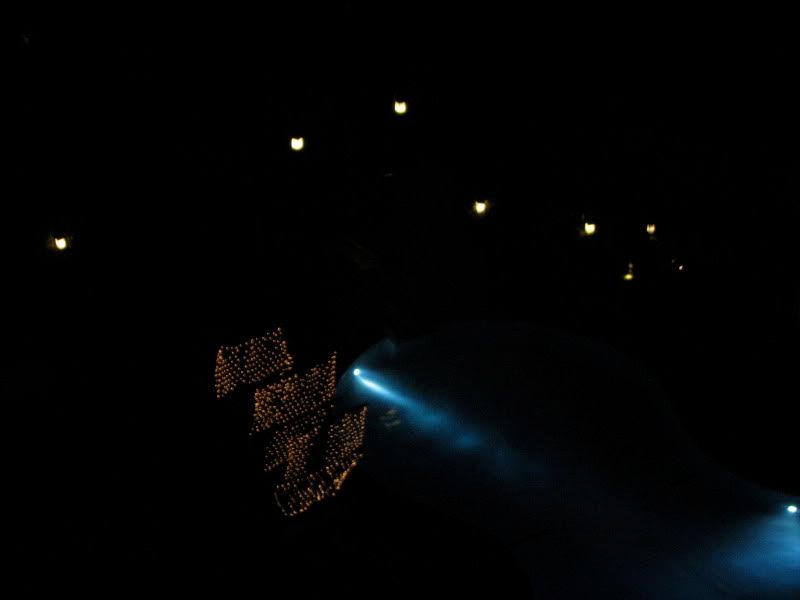 After that we all pretty much passed out.