This is my first trip report so please bear with me. We had been to WDW twice before but the last time was in 2005. We planned a trip for 2007 but had to cancel it. When the Buy 4 get 3 deal came out combined with my DH getting a bigger Christmas bonus than we were expecting, we had to jump at the chance to stay at the Grand Floridian. We were in WDW May 15 to May 22, 2009.
Let me introduce you to the cast of characters you will be reading about.
Me - I am a 39 year old wife and mother of 2 boys who are 13 and 11 years old. I LOVE going to Disney World and think planning the trip is half the fun. I am so happy I have found the DIS. It makes me realize that I am not the only crazy one who is obsessed with WDW. J
DH – 43 years old and loves his family very much but not as big of a fan of WDW as I am. He wants to make his family happy so even though he hates to fly, he agreed that WDW would be the place for our family vacation. One condition…I had to agree that the next family vacation will be a cruise that leaves close enough from our house so he will not have to get on a plane. No problem!
DS13 – He is graduating from Jr. High School in June and he loves WDW almost as much as I do. He still likes character meals but is there more for the food. He was very happy we did the basic dining plan.
DS11 – He is a loveable boy who loves his family but does not get excited about WDW like his brother. This is our 3rd trip and he actually said "Been there, Done that". He loves it when he gets there but does not really show his excitement. He was most excited about going to Japan in Epcot to buy some more Bakugan toys.
Here is a picture of the 4 of us in front of the castle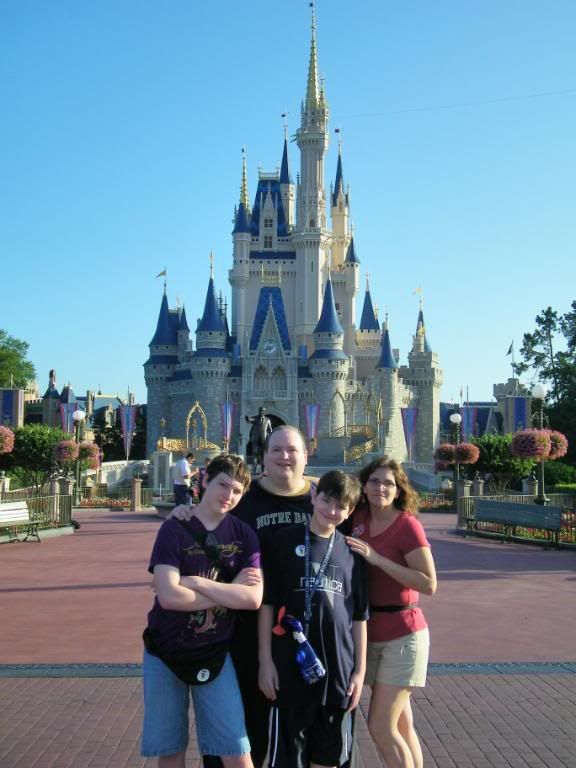 This report will also have some before and after pics. Back on our 2005 trip to WDW I was at my heaviest weight. Since then I have lost over 60 pounds and I tried to recreate some of the pics from the last trip. Seeing the before pics after my 2005 trip really made me realize how overweight I was and started me on my weight loss journey.
Here is a pic of me waiting in the airport to go to WDW in 2005
And here is a pic of me waiting in the airport to go to WDW in 2009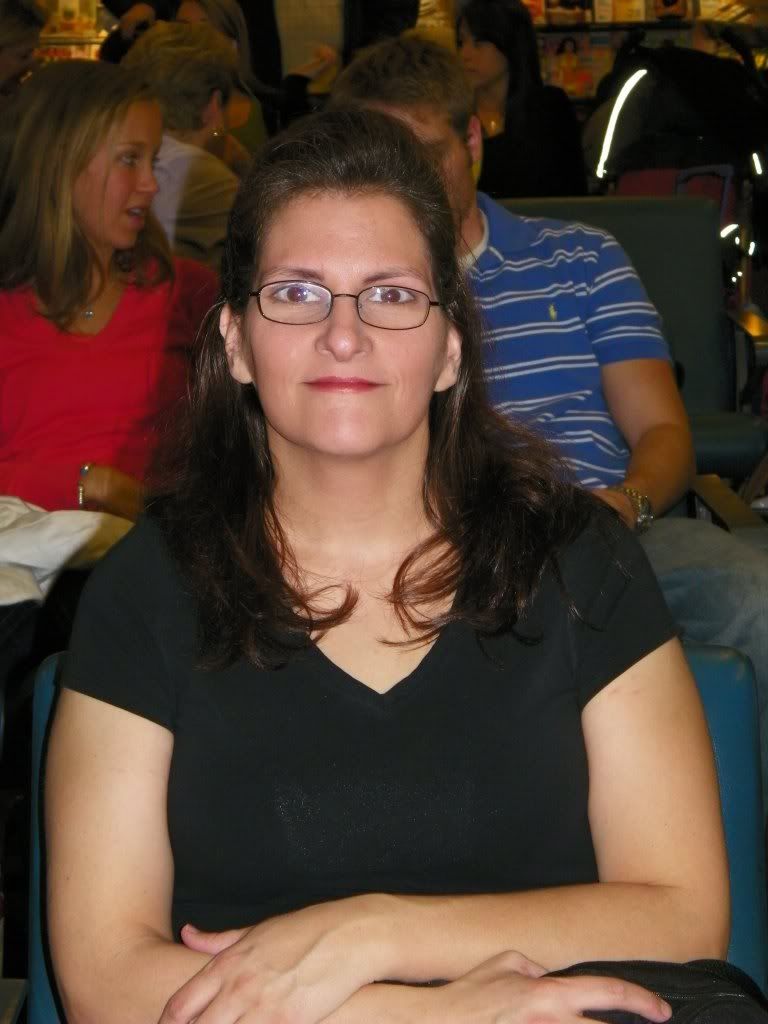 That's it for now…I will post the first day soon.
Loralie