Chapter 17 - Whatever
Ok….so hopefully you all learned everything you ever wanted to know about our bus riding tendencies. Obviously, I am very sensitive to the fact that most people find 15 minute bus rides fascinating…. that's why I took the time to describe it in such detail. For the small minority of people out there who just can't seem to enjoy the wondrous experience I like to call public transportation…..we'll move on…..but I pity you.
This was the second morning in a row that we had made rope drop…….which for us is some kind of record. Don't get me wrong…I'm not comparing it to DiMaggio's 56 game hitting streak or the world's second largest ball of twine….which is just four short hours away….but for us….it's darn near a miracle. On previous trips, we had planned on making rope drops but…like the saying goes…..the road to space mountain is paved with good intentions…..or was it the road to splash mountain? I always get those two mixed up.
Ready for rope drop - by the way...check out the strength in Pal Mickey's arm...he's been working out.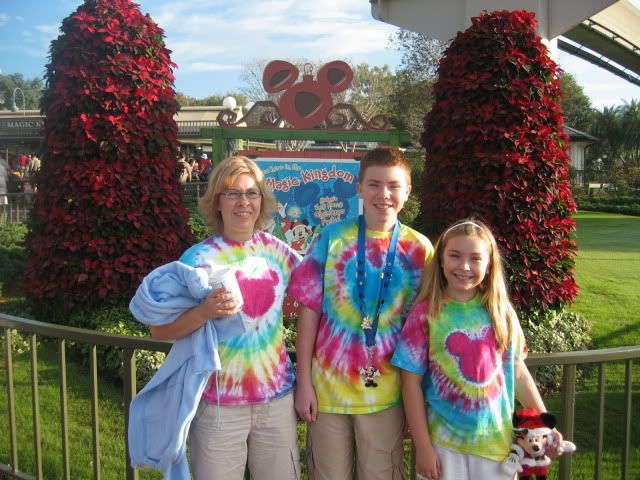 Since we had a little time to burn before they officially dropped the rope, Tinkershell set off in search of a shop from which to buy DD Woobie an autograph book and matching pen. In Disneyland when DD Woobie was five…we had bought her an autograph pen that had turned out to be the writing implement equivalent to a dribble glass. By the time poor Goofy had finished with that pen…he was so covered in ink he was nearly unrecognizable. Now, I didn't actually check his giant tag…..but I'm pretty sure ole Goofy was dry clean only…..which sounded kind of expensive……so we pushed him down and made a break for it….cuz if you've ever caught a gander at his feet…..that guy ain't built for speed.
Maybe we'll get a rare autograph...like Tweedledoodie....Tweedledee and Tweedledum's half-wit cousin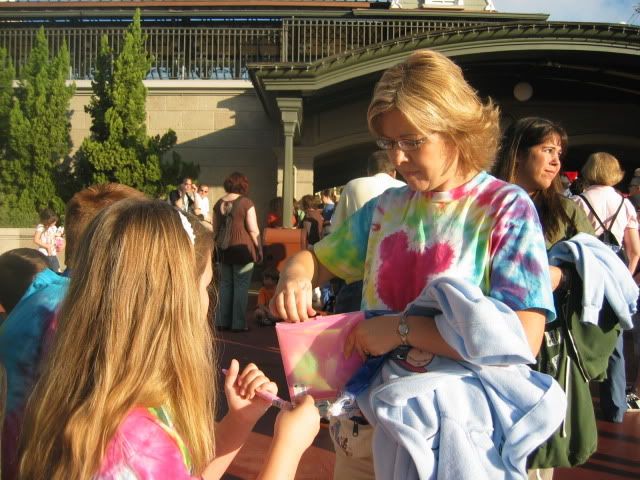 Anyway, while Tinkershell was off shopping, Pal Mickey, the kids and I grabbed a bench under a shady tree and just soaked us in some MK. Ahhhh….is this the life or what? I mean…honestly….the sky was blue….the bird's were singing….and the heavy-set gentleman facing away from us had finally hitched up his shorts to a socially acceptable and definitely more visually pleasing level. What more could we ask for?
Just soakin it all in.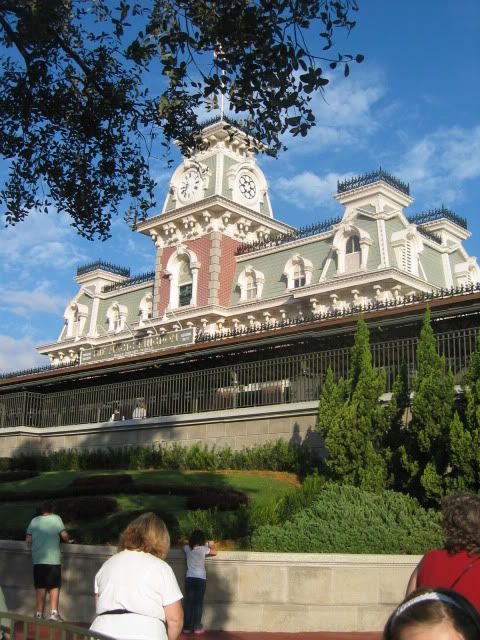 Shortly after Tinkershell returned with the autograph book….I broke out the video camera and noticed that we had 1.4 seconds of tape left. Thankfully….we had packed loads of extra tapes before we left home because this isn't our first rodeo….or trip to WDW for that matter. Yup…..we had loads of extra tapes….right next to the t.v. back in our hotel room…..safe and sound….because you can't be to careful. I mean…if a person carried stuff like that around with them…..they'd be liable to misplace it….and then where would you be? Up a creek…that's where. Nope…..if you're thinking I had made a mistake..you are sadly….mistaken. I left them in the room on purpose. Its called prudent planning.
In any event, Tinkershell was soon headed back to the store to see if they had any video tapes for sale that wouldn't require us to take out a second mortgage on our home. I'm not sure if you heard this before….but there's a rumor floating around that buying stuff like that in the park is not exactly fiscally responsible if you catch my drift. I'm not saying….I'm just saying.
Next up: Chpt 18 - I promise we'll enter the park...probably