And now for some fun! Pictures from our Honeymoon - June 2008, WDW!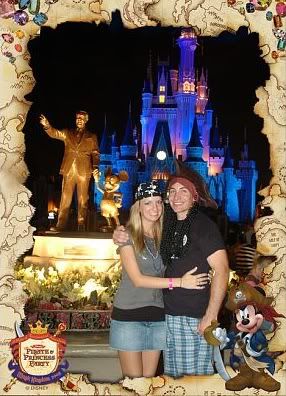 MOST FUN ever! Seriously - this was a great evening and so worth the extra ticket price! Used my birthday gift card from the parents to pay for the tix and it was amazing. I was just all smiles all night. Oh ya, haha, I forgot to mention that I'm a pirate freak!
We spent most of our time at Hollywood Studios - mostly because of Toy Story!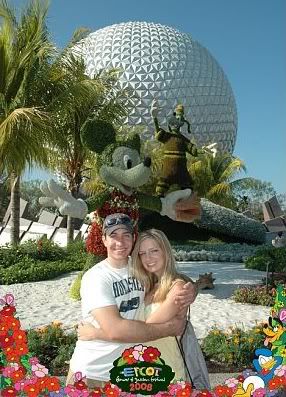 We arrived on the last day of the garden festival. Or maybe the day after. Either way, the pictures from the first day are the only ones with the flower sculptures in them. I guessed they removed them overnight? I was pleased we got a few pics with them!
__________________
(me)...
(DH)...
(DD - 5 months)...
(Puppy Otis) ---
"Your grace is enough for me"
---
Past Trips: WDW
: Feb 1997 BWI, June 2008 *Honeymoon!*, May 2010 OKW & POR *2-year anniversary*, May 2011 OKW/BWV *3-year anniversary*, October 2011 VWL & POP
DLR:
1994, Thanksgiving 2003 Portofino Suites, Oct. 2004, Oct. 2005, Nov. 2006 Carousel Inn, May 2007 Fairfield Inn, May 2009 DH Bday Trip Marriott Suites Anaheim, May 2009 *1-year anniversary*, GCH Suite, June 2009 Worldmark, Sept 2009 PPH, December 2009 Holiday Inn Anaheim Resort, April 2010 Holiday Inn Anaheim Resort, January 2011 Staybridge, September 2011 Red Lion, June 2012 Hilton Anaheim *4-year anniversary (celebrated late), Oct 2012 Ayres Anaheim, May 2013 GCH *5-year anniversary*, Sept 2013 Red Lion, Nov 2013 (1 Day Trip) Red Lion, Dec 2013 *Club 33* Castle Inn
DCL
:October 2013 - HalloWonder (Halloween) Cruise - Wonder 7 Night Bahamas from Galveston